Outside In
Laboratory Theatre Troupe FAQs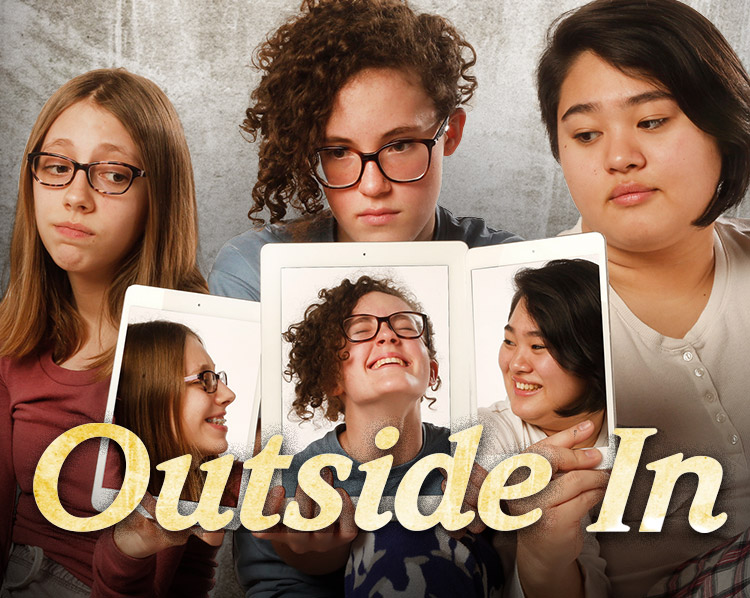 How did you write this show (Outside In)?
Each student worked mainly on physical exploration to create a character that they would like to work with for the show. From the physical work, we explored what they wanted to say. Each student brought in a personal story about their experience with self-image. Then they drew from their own experience and added it to the monologues.  At the same time, the students learned several different ways to create a character. Those characters were used to create one of the monologues. Each student picked a monologue to continue with for the show.
Then we decided on a setting to place the monologues and we came up with a camp. We decided to have it be the last day of camp ending with a Gala. Then we devised little scenes that "trigger" each monologue. By devising, we improv and discuss. The result are two very different feeling styles in the show, the outside world and the inner world.
How did you come up with a theme?
The theme was actually determined in class the year before. We spent three days doing mind maps and writing exercises to determine what the group really wanted to talk about. At the beginning, mostly trending topics are brought up but after further digging, we find more dire topics that the students are passionate about.
How old is everyone in the show?
This year, the age range is 15-19 years old, but we accept ages 13 and up.
How do you approach creating the show?
Every year is a little different. This year, we decided to focus on character and the theme of self-image. This year's format was different in that we worked physically first, then wrote from there. We find that this way of working helps the text become richer and deeper.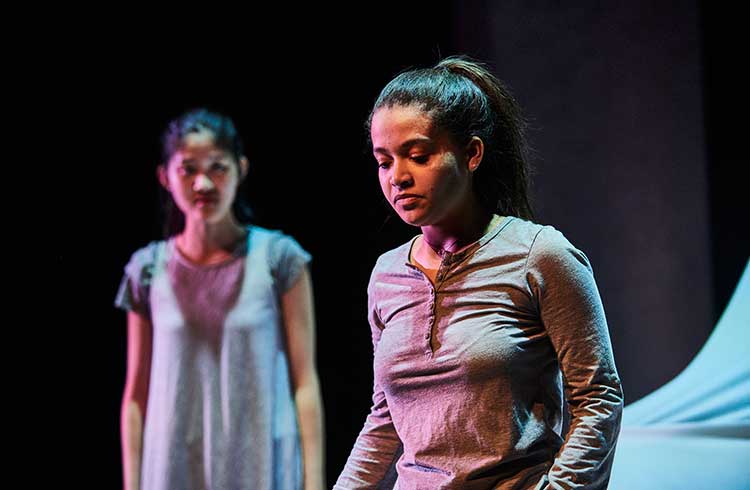 What is Arts Umbrella's Pre-Professional Theatre Program?
Commit, collaborate, and excel. The Arts Umbrella Pre-Professional Theatre Program offers intensive training in our Troupes and Young Directors Program.
These yearlong programs are structured to offer aspiring actors, and directors, a space to sharpen their skills, increase their confidence, and expand their network. Vocal, movement, and theatrical exercises help develop teamwork and cooperation, discipline and technique, creative expression, and individual artistry.
Our instructors are industry professionals who help students explore their artistic potential. Many of our students have gone on to post-secondary theatre programs or professional acting careers around the world.
How is Laboratory Theatre Troupe different from the other Troupes?
There are four other yearlong troupes, and they present professionally developed and written plays. Laboratory Troupe writes and creates their own work. The actors you see on stage are the people who wrote the play.
How often do you rehearse?
The students cover full instruction on acting technique and playwriting. We have a three hour class Monday and a three hour class Friday. We almost immediately start writing and skill building in September, the beginning of our year. In total, it takes seven months to create the show.
How do people join the Laboratory Theatre Troupe?
Arts Umbrella holds auditions for all Troupes in June (Sunday, June 10, 2018) and students are selected and placed in the Troupe that best fits the students' age, experience, skill, schedule and goals. People auditioning need to prepare a monologue and be ready to engage in group exercises.