About the Programs
Arts Umbrella Post-Secondary Dance Programs deliver rigorous dance training for dedicated students working towards a professional career in dance.
Arts Umbrella Dance offers two programs at this level: the Post-Secondary Dance Program and the Dance Diploma Program in partnership with Vancouver Community College.
For years, our programs have developed intelligent and motivated dance students into strong and in-demand dance artists. Arts Umbrella graduates have been hired by critically lauded Canadian companies and cutting-edge contemporary companies around the world. These Arts Umbrella dancers are applauded as valuable company members for their maturity and understanding of the tenets of professional dance. Learn more about our alumni.
Arts Umbrella students in our Post-Secondary Programs are given the opportunity to work with locally, nationally, and internationally renowned guest artists. Learn more about our guest faculty.
Throughout the year, students perform world-class choreography through participation in the Arts Umbrella Dance Company. Performances are an integral part of our post-secondary programs, as they develop in our dancers a sense of community and a thorough understanding of their chosen art form. Learn more about the Arts Umbrella Dance Company.
For uniform requirements, please visit our Dance Uniforms page.
---
Post-Secondary Dance Program
This program provides students with a high-level dance education towards a professional career in dance. Applicants must be at an advanced ballet level with a pre-professional background. Daily classes include ballet, pointe, allegro, pas de deux, composition, improvisation, classical variations, body conditioning, health, jazz, and contemporary techniques. The program also features residencies with renowned guest choreographers as well as rehearsals and performances with the Arts Umbrella Dance Company.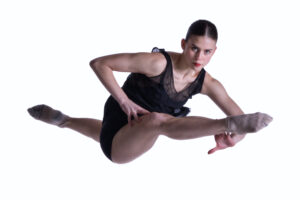 Photo by Michael Slobodian
VCC/Arts Umbrella Dance Diploma
In partnership with Vancouver Community College, this two-year Dance Diploma Program is designed for dancers seeking to develop an advanced level of technical and choreographic skill in preparation for a career in professional dance.
In addition to the dance curriculum outlined in the Arts Umbrella Post-Secondary Program, students take academic classes in arts and culture, rhythm training, and career development.
Students have access to VCC benefits such as health and dental coverage, a discounted transit pass, and eligibility for student loans and a student visa. Upon completion, students earn a post-secondary diploma.
2024/25 Dance Diploma Admissions Guide
For more information, contact Samantha Tawaststjerna, Dance Admissions Specialist, at stawaststjerna@artsumbrella.com.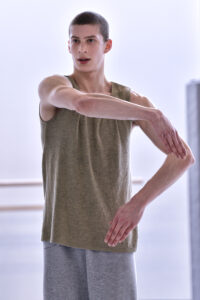 Photo by Michael Slobodian
---
Student Services
Financial Assistance
Arts Umbrella is committed to making the arts as readily accessible to as many students as possible. A bursary fund is designed to assist families overcome financial barriers to providing arts education to students. Based on financial need, Arts Umbrella bursaries allow students to register in programs at a reduced rate.
VCC Financial Aid information is available here.
Transit/Compass Card
All VCC students are eligible for the Translink Compass Card which provides unlimited public transit within Vancouver for just $152 per term. More information here.
International Students
International students accepted to this program will be eligible to apply for a student visa through VCC. VCC Students will receive a T2202 tax form.
More information for International Students available here.
Housing
Arts Umbrella does not provide student housing and housing is the responsibility of the student.
Students are welcome to contact Home Sweet Homestay or a similar agency if they are interested in homestay options.  Alternatively, we can provide information on renting in Vancouver.
Please contact dance@artsumbrella.com for more information.
Health and Dental Plan
VCC provides health and dental plans to all students. More information here.
Other Services
VCC provides a variety of other student services through the Student Union of VCC including Counselling, Disability Services, Financial Aid, ID/Library Card, International Student Services. More information here.
---
Our Alumni
Learn more about our alumni here.