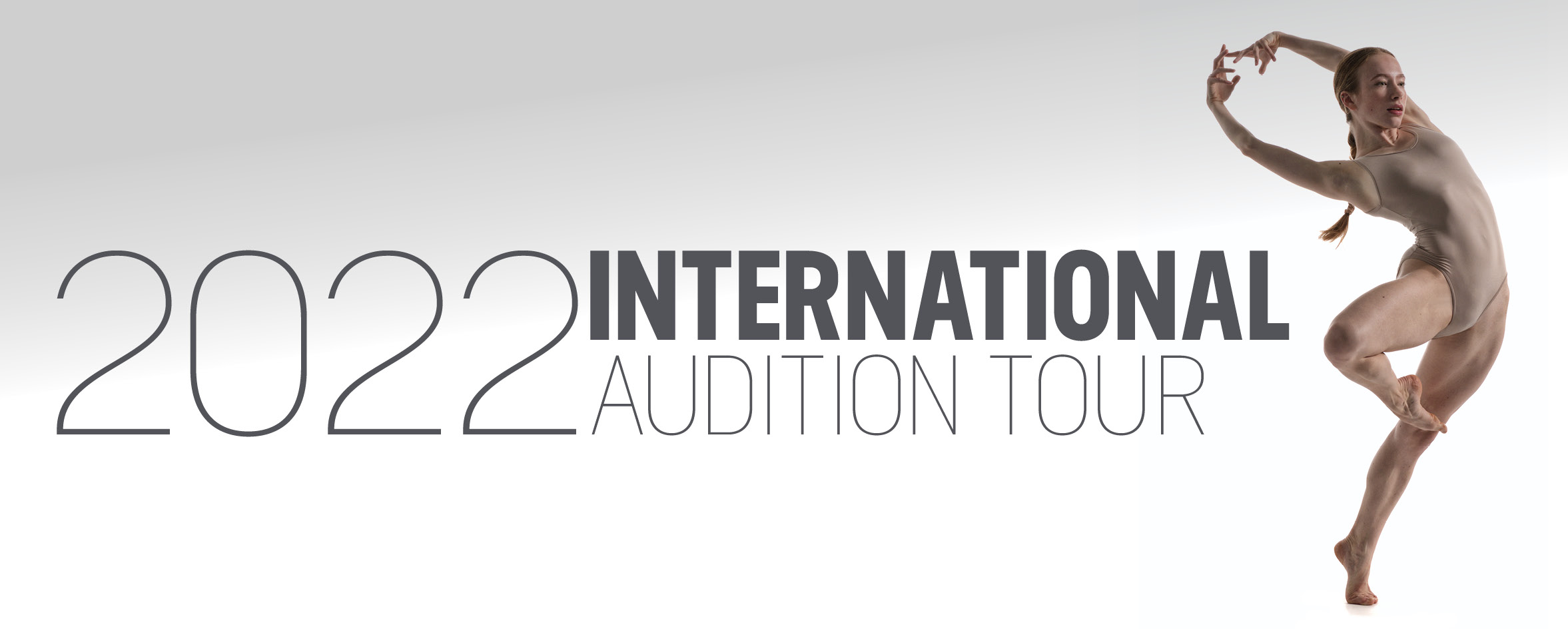 About Our Auditions
Auditions are required for students interested in the following Programs:
*Candidates auditioning for the Arts Umbrella/VCC Dance Diploma Program must also apply to Vancouver Community College by April 1st 2022.
Online audition registration will open in October 2022.
À PROPOS DE NOS AUDITIONS
Les auditions sont obligatoires pour les étudiants qui manifestent un intérêt pour les programmes suivants :
*Les candidats qui passent une audition pour le Programme de diplôme en danse de l'école Arts Umbrella et du Vancouver Community College doivent également faire une demande d'admission au Vancouver Community College au plus tard le 1er avril 2022.
L'inscription en ligne pour les auditions débute le 1 octobre 2022.
---
The Audition (Live)
Please note that masks are compulsory during live auditions.
Classical Ballet Class
All candidates will take an hour-long audition class in classical ballet to assess physical capacity.
Movement Class
Some auditions may also include a movement section for further physical assessment.
Interview
Some candidates may be requested to do an interview with the Artistic Director to assess intellectual and emotional capacity.
Additional Assessment
Shortlisted candidates may be asked to provide a video with a classical variation AND contemporary variation (2 minutes each).
Please Pre-Register
No walk-ins will be permitted.
For more details on the admissions process, contact Natalie Kardum at nkardum@artsumbrella.com or 604-416-3353.
Audition Tour Dates
2022 Tour Dates Coming Soon.
VIDEO AUDITIONS – REQUIREMENTS
Close up of face. Name and age of dancer
Three minutes of barre work (one side only), including plies, tendus and degage, adage with arabesque and attitude lines, grands battements
Centre practice and pirouettes from fifth, second, or fourth position on both the right and left sides, en dehors and en dedans
Allegro, including one warm-up jump, saute, glissade, and assemble; travelling jumps, grand jete en tournant and jete avant
Pointe work (for girls already en pointe): echappe releve in second and fourth positions, retire releve, and diagonal pique turns
Male dancers: tour en l'air (single or double), and batterie
1-2 minute solo variation in classical and contemporary. Please include the name of the choreographer of each variation.
Completed videos should not exceed 10 minutes. Additional footage may be requested from shortlisted candidates.
Some candidates may be requested to do an interview with the Artistic Director to assess intellectual and emotional capacity
Please upload your video using YouTube or Vimeo only. Shared files will not be evaluated.
Audition Process Timeline
February 2 2022 – Online live audition registration closes
February 25 2022 – Online video audition/submission closes
February 21-25 2022 – Audition results for candidates Grades 6-12
March 7-18 2022- Interviews via Zoom (for shortlisted Post-Secondary applicants only)
You will receive your results no later than March 31st 2022. Please note that all Post-Secondary candidates auditioning for the VCC/AU Dance Diploma Program must apply to the college no later than April 1st 2022. Any applications received after this date will be rejected. To apply to VCC, please visit: Dance – Vancouver Community College – International Students (vcc.ca)
L'AUDITION (en personne)
Veuillez noter que le masque est obligatoire durant les auditions en personne.
Classe de ballet classique
Tous les candidats participeront à une audition d'une heure sous forme de classe de ballet aux fins d'évaluation de la capacité physique.
Classe de mouvement
Certaines auditions pourraient également comprendre un volet de mouvement aux fins d'évaluation physique supplémentaire.
Entrevue
Certains candidats pourraient être invités à une entrevue avec la directrice artistique pour lui permettre d'évaluer leurs capacités intellectuelles et affectives.
Évaluation supplémentaire
Les candidats retenus en présélection pourraient être tenus de fournir une vidéo d'une variation classique ET d'une variation contemporaine (2 minutes chacune).
Veuillez vous inscrire à l'avance
Aucune inscription n'aura lieu sur place. Aucune audition n'est permise sans inscription préalable.
Pour obtenir plus de détails sur le processus d'admission, communiquez avec Natalie Kardum. Coordonnées : nkardum@artsumbrella.com et 604-416-3353.
DATES DE LA TOURNÉE D'AUDITIONS
Dates de 2022 à venir.
AUDITIONS PAR VIDÉO – EXIGENCES
Gros plan du visage. Nom et âge de la danseuse ou du danseur
Trois minutes d'exercices à la barre (un seul côté), comprenant pliés, tendus et dégagés, adages comprenant des lignes d'arabesque et d'attitude, grands battements
Exercices au centre et pirouettes en cinquième, seconde ou quatrième position à la gauche et à la droite, en dehors et en dedans
Allegro : sauts d'échauffement, suivis de sauté, glissade et assemblé; sauts avec déplacement, notamment, grand jeté en tournant et jeté avant
Exercices sur pointe (pour les filles qui travaillent déjà sur pointe) : échappé relevé à la seconde et à la quatrième position, retiré relevé et un piqué tourné en diagonale
Garçons : tour en l'air (simple ou double) et batterie
Une variation solo classique et une variation solo contemporaine d'une ou deux minutes. Veuillez indiquer le nom du ou de la chorégraphe de chaque variation.
Les vidéos complètes ne devraient pas dépasser 10 minutes. Il se peut que l'on demande une vidéo supplémentaire aux candidats retenus en présélection.
Certains candidats pourraient également être invités à une entrevue avec la directrice artistique pour lui permettre d'évaluer leurs capacités intellectuelles et affectives
Pour télécharger votre vidéo, veuillez n'utiliser que YouTube ou Vimeo. Les fichiers partagés ne seront pas évalués.
Chronologie du processus d'audition :
2 février 2022 – Fin de la période d'inscription en ligne pour les auditions en personne
25 février 2022 – Fin de la période de soumission des vidéos d'audition en ligne
21 au 25 février 2022 – Résultats des auditions pour les candidats de la 6e à la 12e année
7 au 18 mars 2022 – Entrevues sur Zoom (pour les candidats au programme postsecondaire retenus en présélection seulement)
Vous recevrez vos résultats au plus tard le 31 mars 2022. Veuillez noter que tous les candidats de niveau postsecondaire qui passent une audition pour le Programme de diplôme en danse de l'école Arts Umbrella et du Vancouver Community College doivent faire une demande d'admission au collège au plus tard le 1er avril 2022. Toutes les demandes reçues après cette date seront refusées. Pour faire une demande d'admission au VVC, allez au site suivant : Dance – Vancouver Community College – International Students (vcc.ca)
---