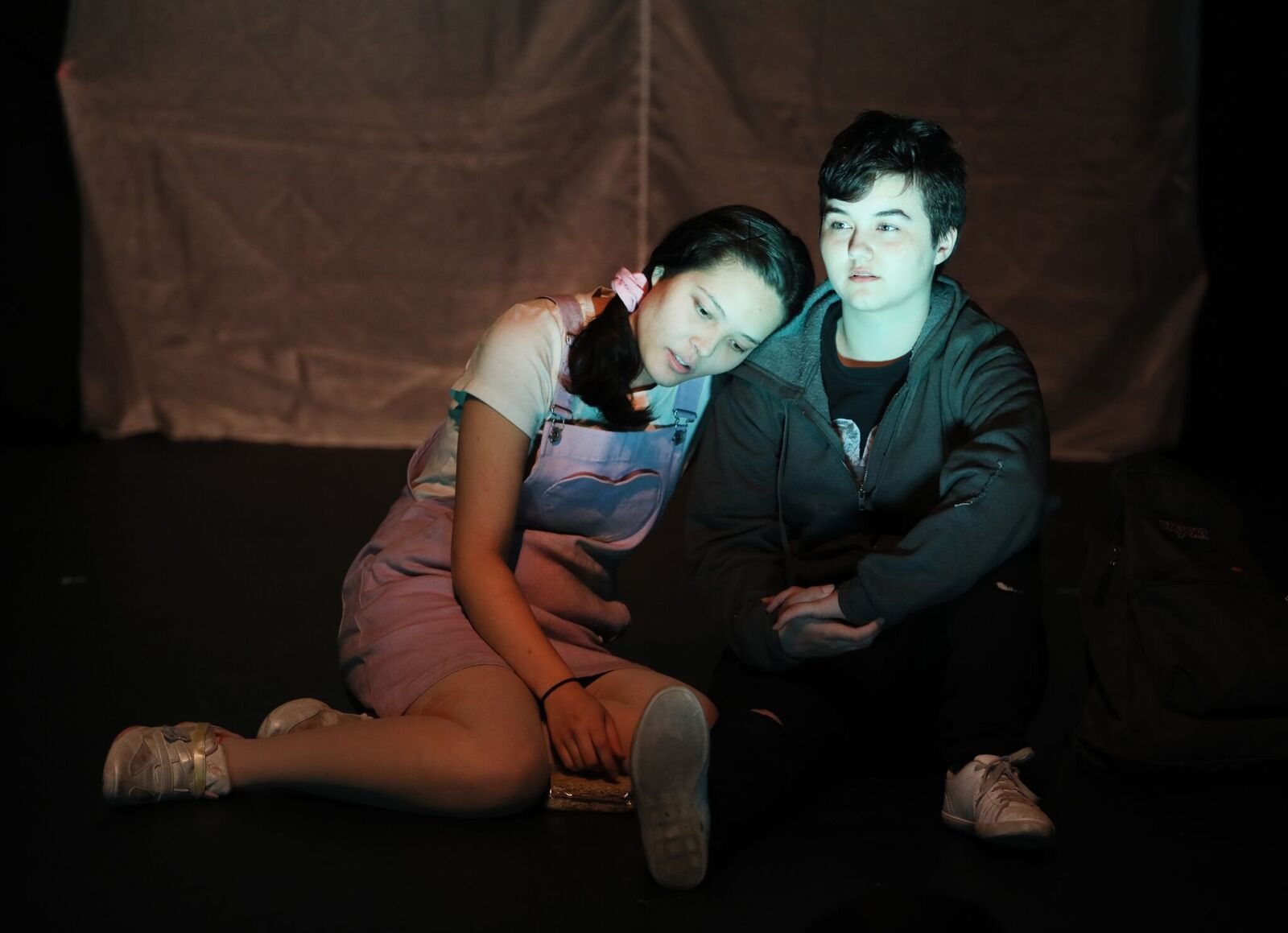 Theatre Conservatory students act in and produce Charles Way's "Missing" for Expressions Theatre Festival.
Setting up for a recent high school showing of "Missing" by Charles Way, the students in Arts Umbrella's Theatre Conservatory program whistle while they work. Well, not quite, but they do plenty of vocal warm ups to prepare for the first of two performances that day. They work seamlessly, setting up a screen and projector, props and set, lights, and marks. After a quick change into costumes, the four actors—Jocelyn Branter, Ace Crowchild, Douglas Ennenberg, and Danielle Hamilton—run through some scenes to gauge their space and make last-minute adjustments. Then, it's show-time.
"Missing" is a play by Charles Way. It blends the classic Grimm Brothers fairy tale Hansel and Gretel with a story based on a real-life missing person's case in the UK. Gretel, played by Danielle, is the younger sister to Hansel, played by Ace. The siblings share a close, loyal relationship in turbulent times. Their father, played by Douglas, has remarried after the death of his wife. Stepmother, played by Jocelyn, enters their lives, and a sinister plot to lift the family out of poverty emerges. It's up to young Hansel to follow the clues and find his missing sister. The play is a nuanced exploration of family, obligation, financial burden, and the decisions people make—a reminder that sometimes there is no simple explanation for our behaviour.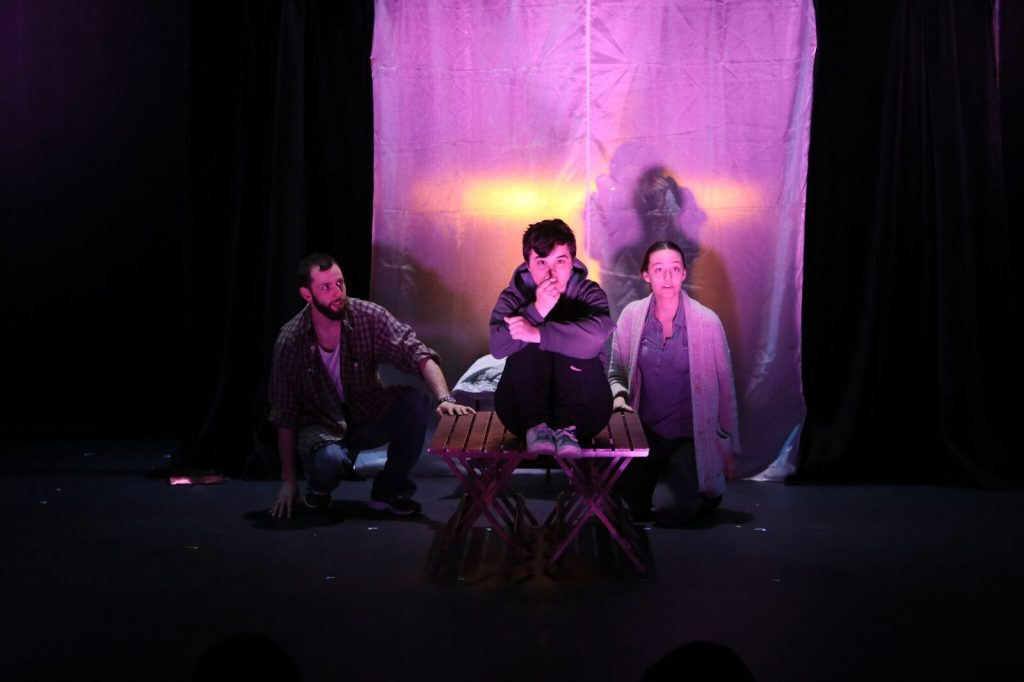 The script is unlike most plays: lines aren't assigned to character. Rather who says what is open to interpretation. Arts Umbrella Artistic Director of Theatre & Music Paul Moniz de Sá worked with the cast to work the script into lines for each of the characters. They also removed some colloquialisms to adapt the piece for North American audiences.
The production is truly an ensemble piece. The cast share many lines and use perspective to tell this story in an interesting way. Projections title the acts of the play, giving audiences insight into whose perspective of the case we're seeing. Danielle and Jocelyn's characters even have conversations with themselves, a particular challenge for the actors. Through subtle shifts in the execution of their lines, these conversations illuminate the characters' inner struggles. All four actors address the audience directly, providing viewers context for the scenes as they unfold. The audience is a witness to this family's thoughts and actions.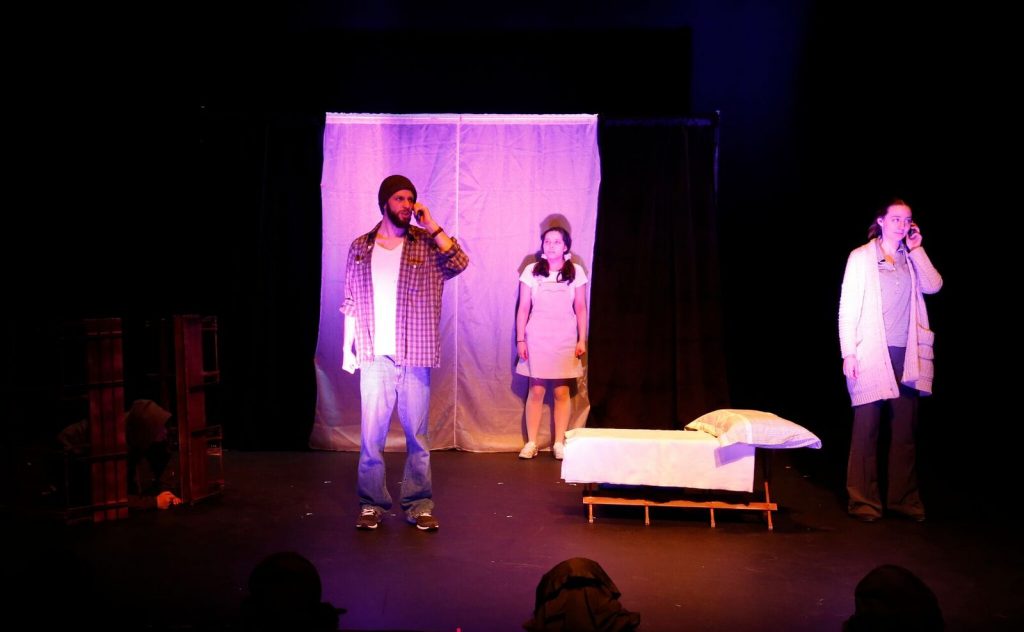 As part of their training in the Theatre Conservatory program, Ace, Danielle, and Jocelyn were responsible for the production aspects of "Missing." Ace designed the costumes and sound, Danielle handled props and production, and Jocelyn worked on lighting and set design. Douglas, an Arts Umbrella alumni, recent graduate of the National Theatre School, and professional actor, was fight captain, responsible for taking care of the physical safety aspects of choreography.
Following the school performance, the teen audience had a chance to ask some questions. Pop over here to read a behind-the-scenes excerpt of this panel discussion.
---
"Missing" will be playing at the Waterfront Theatre Thursday, May 24 at 7 pm, as part of a double bill with "The Phoenician Women."