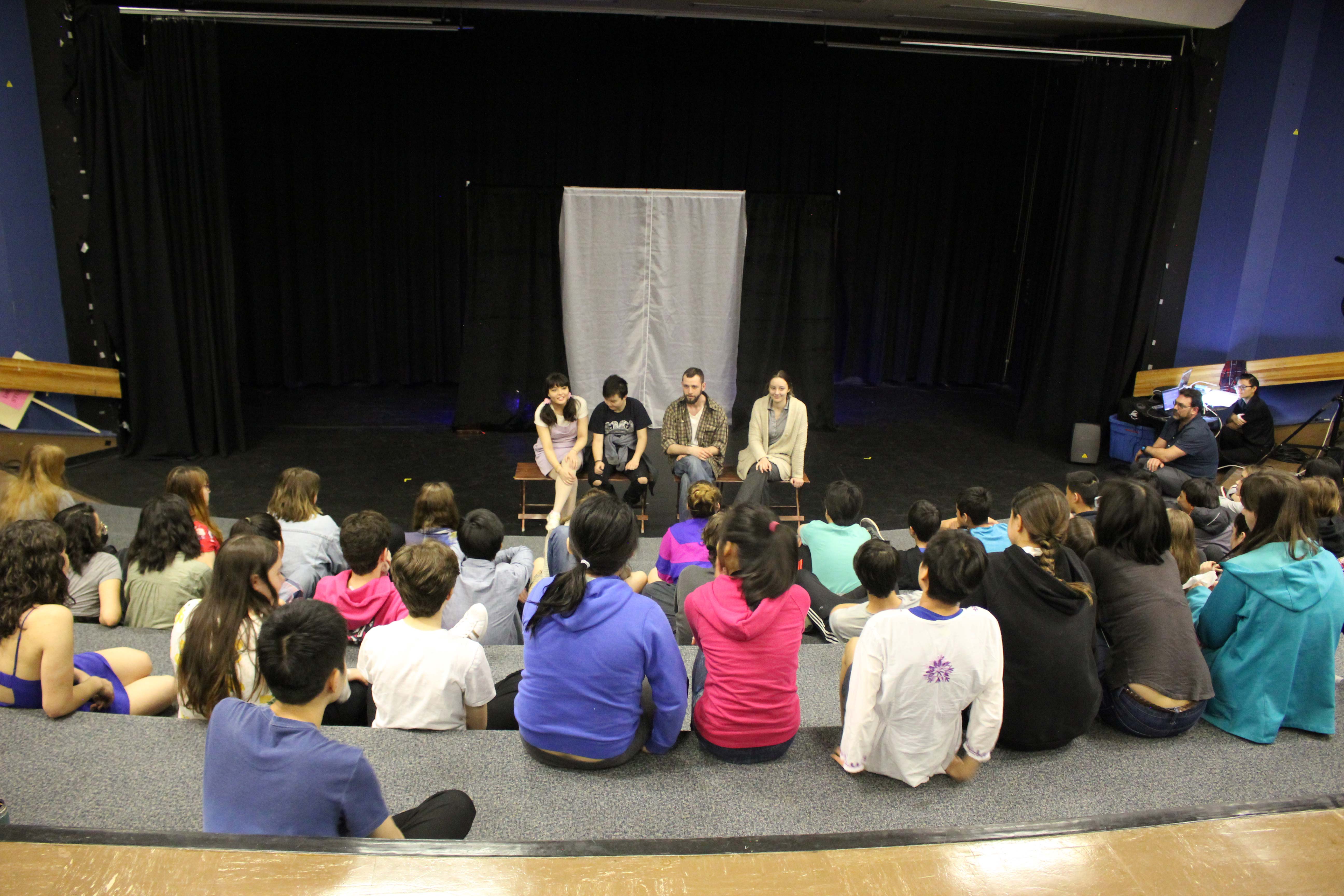 Following a school performance, the cast hosts a panel discussion about the production
The following has been lightly edited for consistency and clarity.
Ace Crowchild, Theatre Conservatory student, Hansel in "Missing"
Danielle Hamilton, Theatre Conservatory student, Gretel in "Missing"
Jocelyn Branter, Theatre Conservatory student, Stepmother in "Missing"
Doug Ennenberg, professional actor, Father in "Missing"
Paul Moniz de Sá, Artistic Director of Theatre & Music at Arts Umbrella
Audience question: What's it like adapting to a new space for every show?
Ace: It can be exciting and stressful. You have to figure out how much you need to project your voice; how your voice sits in the theatre; how the floor is, like if you will slip. There's also where you put everything, how you set everything up, where the audience is going to sit. It's kind of shocking in a way. You practice in one space for a while, and then all of a sudden you're thrust in this environment.
Doug: It's like being house guests again and again and again. Teachers coming along and ask, 'Do you belong here?'
Audience question: For Danielle and Jocelyn, what was it like to do those parts where you're talking to yourself, with the voices and you're talking to all of them. Did you find it challenging? And how did you approach that?
Danielle: I found it really challenging at first. What really helped me was picking where the voice was coming from. Like, it's in my head, but she's over there and I'm over here. It really helped me be specific. The whole piece was really challenging.
Jocelyn: We went back and forth for a while if we were going to have me speaking lines or have them recorded because of the video projection in the scene. There was audio where I'm speaking the lines, but we eventually decided to take out the audio and just have me saying all of the lines. Which was a little more difficult, but also easier. It's both. You have to make it like a conversation, a back and forth.
Danielle: It's hard because when you intake a breath before you speak. And so when it's just you speaking to yourself, it's tough to breathe.
Audience question: How do you prepare for such an emotional and intense production?
Doug: Lots of love.
Jocelyn: What really helps is that we're very close as a cast. So if there are any moments in the show where we have to set certain boundaries, we're all fully there for each other. We know it's a safe environment—where a boundary is too much and where we can go a little further.
Ace: I like to say that day if I'm feeling a bit like less physical touch or if that day it's okay. Generally that helps, especially if you're working with people you don't really know. It's good to go through that, just to ask, 'Is it okay if I grab your arm? Is it okay if I pat your back?' Also, yoga. And I have counselling, so that helps with really heavy stuff. But also just basic self-care. Make sure you're body's healthy. Make sure stuff that you're doing in-scene isn't affecting you when you leave, and you're able to brush it off.
Danielle: For me, it's about being open with each other about what's happening and assessing where you're at every day. Sometimes I'll have a day where I'm like—for a yelling scene—you need to be this far away from me. This is my boundary, please don't come inside. I have a signal, so if something gets too heated, I'll put up my hand up.
Doug: The ritual of putting up this whole thing, then doing it, then taking it down together really helps. We have this setting of getting ready; we know we're getting to work, like wrenching a light to a pole, taping the set down. When we're done, we have this time to cool off, and take it all apart, put it in boxes.
Danielle: We've also started doing group hugs before and after the show. It's good.
Audience question: How long did it take you to put this whole production together?
Danielle: Since September.
Jocelyn: We started rehearsing once a week in September.
Ace: Doug only joined us in November.
Jocelyn: Just before or during spring break we started rehearsing every day. And then after spring break was done, we came back to rehearsing twice a week.
Ace: Also taking in the design aspects.
Paul: This program is the Theatre Conservatory program, which is a gap year program for students interested in looking at a theatrical career, but not quite ready to go into something like Studio 58 or the National Theatre School—Doug's a graduate from the National Theatre School.
Doug: I always tell audiences that we tear down for 20-25 minutes after the show, so if you have time, you can come ask about theatre acting and school.
Paul: In the Theatre Conservatory program, the students aren't just doing this piece, they're taking other classes for about 30 hours a week. At some times in the year, it's 36 hours or more. The program itself has a lot more to it. So, although we're rehearsing just a couple times a week, there's a lot more training that's going into it. And we talk about taking the work that you're doing in class, in training, and then putting it towards how we work in a rehearsal setting.
Doug: Can I ask a question? Anybody who wants to be an artist or an actor?
Audience hands go up.