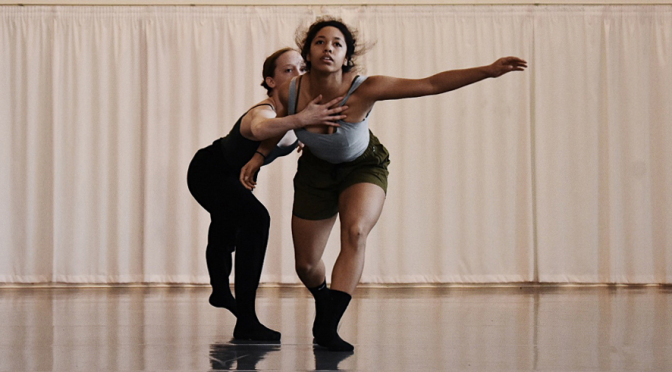 by Denise Gilbert
---
Choreographers: Anna Bekirova and Sophie Whittome
Title: "We Move In Circles"
Program Notes/Description: "See conflict as moments of opportunity: they urge us to recognize that we have the ability to call up the curiosity and courage needed to step away from the cycles of attack and counter attack and to move, instead, with as much grace and skill as we can muster, toward resolution." – Dana Caspersen: Changing the Conversation: The 17 Principles of Conflict Resolution
---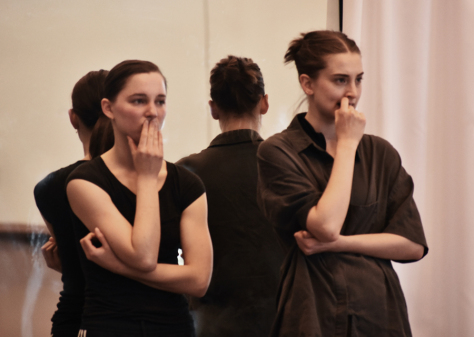 Tell us about yourself.
Sophie: I'm from Edmonton where I studied at various studios. I had also gone to an arts school (Victoria School of the Arts) for all of my years of school until grade 11. I made a connection and was told to check out Arts Umbrella, so I very suddenly moved in August before grade 12. I had my grade 12 year here and went on to the Arts Umbrella Graduate Program.
Anna: I started dancing when I was five years old, jumping around the studios. At age 10 I went to the National Ballet Academy in Amsterdam for eight years. In my graduation year I was looking for a contemporary dance school, but I wasn't sure where to go. I was lucky enough to find connections to come to Arts Umbrella and knew I wanted to come here. Things fell into place from there. I moved to Vancouver in August 2016, when I was 18.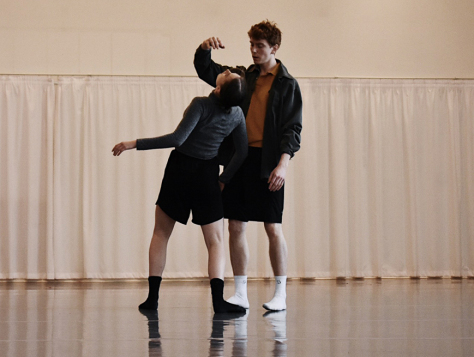 Tell us about your piece and your process: What inspired you? What would you like audiences to take away from your work?
Anna: After we made our duos for this choreographic mentorship, we got together and shared the ideas we had. The theme we have right now was inspired by combining our two ideas — even though it is not close to anything from those originals at all. We used those things as a start-off point and took a different direction with that. Ideas kept dropping in and we found one very clear idea. We started building off of that and kept clarifying. In our first meeting with Crystal, she really understood what we were trying to do. She gave us a book that we could look into and get inspired by. Maybe it's time we mention the theme! We are creating a piece about communication and what it means to us.
Sophie: I think what really propelled everything was just looking around. Everywhere around us right now there are so many conversations that are about attacking — in terms of the political sphere — but also the personal. There is a lot of conversation with a lack of listening and a lot of conversation that is only meant to propel your own voice and your own opinion without a transfer that is functional or that creates change. The book Anna was talking about is by Dana Caspersen, called Changing the Conversation, and it shares very beautiful ways of speaking about functional conversations in conflict.
Did any other elements, such as music, influence or inspire your work?
Anna: I feel that the theme is so big that once we got hold of it, it was important for us to break it down rather than add to it. In a sense, everything we do is communicating something, whether we are trying to do so or not. And like Sophie was saying, this idea of conflict and how people keep throwing their arguments at each other — it actually shuts down all possibility to communicate. It is just as important to listen and consider what someone else is saying as it is to consciously construct an argument. So, we were thinking about these different ways of having conversations, and the book really helped with that because it was looking at how to approach conflict differently. We broke our theme down in a functional and a non-functional conversation. And we were thinking about the type of conversations you can have — with someone else, with a whole group, or an internal dialogue …
Sophie: … and how that transfers to the space and the bodies in space. What it looks like to maybe be stuck, or shut off, or put into your own groove or rut.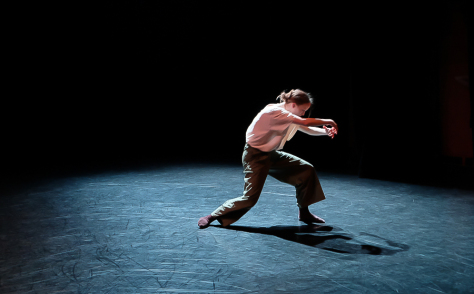 What are you most looking forward to about the final performance of your piece?
Anna: Having a final performance structures the process and gives me a goal to work towards because otherwise, it might keep floating. I think what I'm looking forward to most is having a moment where it can really settle. It's probably not going to be a finished product, and so it's going to be a moment in time where everything is all brought together.
Sophie: Additionally, it will be nice to have the space and time to let it be its own living thing, because I think every piece, especially the ones we've all been working on, are ones that have really taken on their own life form. They're living, breathing, shifting things. So, I think it will be beautiful to have that time to actually let it do that, especially in a space that is set out for that specific purpose [the Dance Centre's theatre space].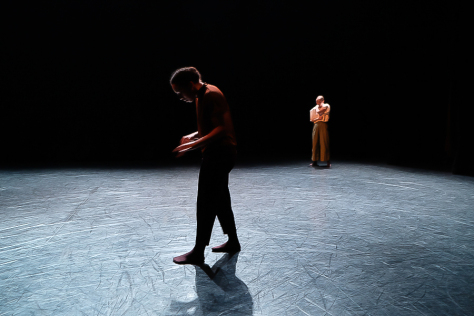 What was the most influential thing you learned from working with Crystal Pite?
Sophie: Everything of course! But one of the things that really stuck with me, and put me at ease in terms of going into a creation process where I felt there was a lot of responsibility, was asking Crystal how she dealt with creation on a deadline and creativity on a deadline. She said that creativity is not dependent on inspiration — on what suddenly strikes you or on lofty things. It's just dependent on doing it, going into the studio, tinkering, working, shaping, and trying new things. What comes of that will come.
Anna: That is such a tough question! Something that was very inspiring was to feel that Crystal was really in the process with us. If we came upon obstacles, she helped to guide us around it and with it. We talked about how it's one thing to have an idea and a structure, but when you put it on people in a studio it's going to shift and do all kinds of things you never thought it would do. Crystal would help us pinpoint what it was we were trying to say, while incorporating all the unexpected things that happened, instead of trying to cancel them out.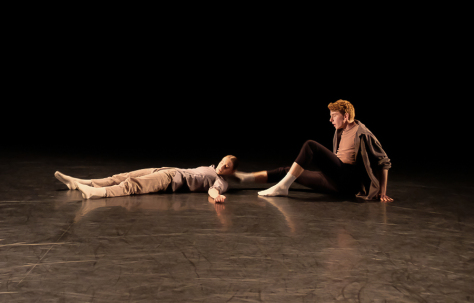 Final Question (post-performance): How did the show at the Dance Centre affect you? What did you learn from taking your piece onto a stage?
Sophie: Getting the opportunity to give our piece its own time and space in front of an audience was a poignant moment for me. It gave me a bit more of an understanding of what it means and how it feels to share my voice through art. I hadn't recognized that in myself so clearly until Thursday's performance. It made me all the more grateful for the experience and for all those involved in the creating and sharing of it.
Anna: The biggest thing I learned from taking it on stage is lighting the piece. It was incredible to get the opportunity to add a new layer to what we had created in the studio. During the performance things really came together and it was very special to have everyone's creations in one performance and share this experience with each other and the people who came out to watch.
---
Read the rest in this series: