Our Dance companies and Theatre troupes produce some incredible performances this month.
Here's what the Arts Umbrella community is up to this spring:
Come Together
Mar 3-5, 2017
Join us as we celebrate Arts Umbrella's present and future where Intensive and Pre-Professional theatre students come together to share their work with each other, family, friends and the theatre community.
This year we will also be presenting Come Together Staff and Alumni Night where the Arts Umbrella Staff and Alumni perform a variety of scenes, monologues and songs to help raise money for our Theatre and Music Department.
Performance Works, 1218 Cartwright St., Granville Island 
Sunday Performance Series
Mar 5, 2017
Arts Umbrella Dance Company performs new and innovative works-in-progress by leading Canadian and International choreographers alongside featured special guest artists. Limited seating.
Performance Works, 1218 Cartwright St., Granville Island – More Info
Canadian Clay Symposium
Mar 18, 2017
Enjoy a documentation of Arts Umbrella student and instructor work that will be showcased in a digital presentation.
Shadbolt Centre for the Arts, Burnaby, BC – More Info
Pull Festival
Mar 22-25, 2017
An annual play Festival featuring a repertoire of seven ten-minute plays. Pull seeks out original, un-produced plays from Vancouver based playwrights, including AU Student Services Coordinator Kevin Hatch, and along with its artistic team, produces, develops, dramaturges and supports the presentation of these new works.
Little Mountain Gallery, 195 E 26th Ave – More info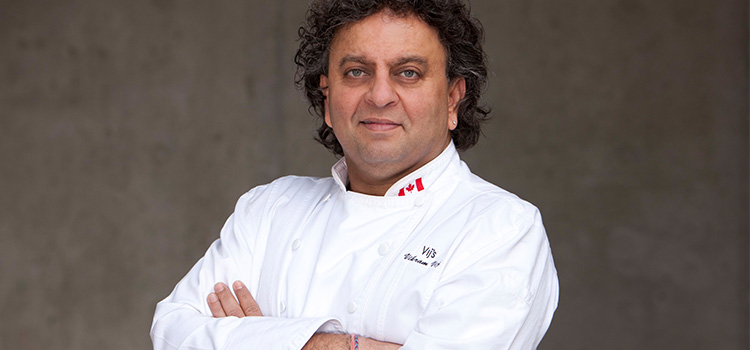 Chef Vikram Vij
Teen Culinary Workshop with Chef Vikram Vij
Mar 25, 2017
Local chef Vikram Vij is partnering with Arts Umbrella South Surrey to share his culinary expertise with teens. The celebrated restaurateur will be offering three separate workshops. There, budding young chefs will learn the fundamentals of producing a family-style dish alongside Vij himself.
For more information and to register for the workshop, contact Arts Umbrella South Surrey.
My Shanti, 15869 Croydon Drive, South Surrey 
Kayak
Mar 30-Apr 8, 2017
Alone on a vast stretch of water, Annie Iversen recounts the strange chain of events that left her stranded in her son's old kayak. A doting suburban mother, Annie is blindsided when her son, Peter, falls in love with Julie, starring Sidney Klips, Arts Umbrella Theatre & Music, Theatre Conservatory student. Unable to reconcile herself to Julie's radical worldview as a passionate environmental activist, Annie struggles desperately to keep Peter from falling further into the young woman's dangerous world. Touching and provocative, Kayak invites us all to confront our choices in the landscape of the growing environmental crisis.
Upcoming
Capture Photography: Shared Approach
April 1-16, 2017
Capture Photography Festival is devoted to exhibiting challenging and thought-provoking photography from local and international artists. The exhibit entitled Shared Approach will feature Arts Umbrella student work from our photography classes paired with artistic responses from their instructors (Lynol Lui, Alex Waber, Kristen Roos). – More Info
Capture Photography: Fail Point
April 1-30, 2017
As part of the festival, Arts Umbrella South Surrey will feature an exhibition and artist talk by Arts Umbrella Instructor, Alex Waber. – More Info
Sal Ferreras Presents: Drum Heat – Live at the Vogue Theatre
Apr 27, 2017
Don't miss this spectacular evening featuring drum traditions from the Caribbean, Latin America, and Asia, and filled with exuberant artistic output, driving rhythm and evocative tunes, all in support of Arts Umbrella. Vogue Theatre, 918 Granville Street