Inaugural Stratford Prize recipients Claire Zhong and Gemma Martin recently returned from their two-week-long theatre intensive program at the annual Stratford Theatre Festival. In those two weeks, they got to receive feedback and direction from professional actors, directors, and choreographers, watch numerous live productions, and participate in workshops and live panels, all while rehearsing and mounting their own original theatre piece in collaboration with nineteen other selected students from across Canada.
We were delighted to sit down with Gemma and Claire to hear about their experience, reflect on their love of performance and their history at Arts Umbrella, and discuss their plans for the future.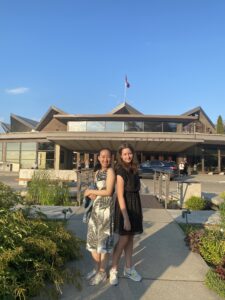 Claire: "With performance for me, three things stand out the most. First, is being able to establish a connection—with cast members, and with audience members. Just to have that sense of connection in the room when you're performing feels great. Second, is being able to assume different perspectives, and learn about different ways to view the world when I am playing a character that's different than my own personality. That has really helped me to grow and learn a lot. Finally, I just pride myself on the ability to entertain people – that means a lot to me, and it's also kind of what keeps me going."
Gemma: "My love for theatre has only grown over the years. When I was younger my mom would take me to shows, and I just really loved watching people perform because it made me happy, and I felt the passion that people had for it. Now [through performing], I can make people happy too."
Gemma and Claire have been coming to Arts Umbrella since they were in grade eight—over three years ago.
Gemma: "When I first auditioned for the Junior Theatre Troupe I had no idea it would open up these kinds of opportunities. The amount that I learned within the first month of me being here was beyond anything that I could have imagined – not just about theatre and acting, but about myself. That's what I think is really valuable at Arts Umbrella. Everyone here has something to show for themselves, and has something to teach you."
Through performance, Claire and Gemma have been able to find and share their unique voices.
Gemma: "[When I was younger] I had a really big personality around everyone I was comfortable with, like my family and my close friends, but around everyone else I was quite reserved and shy. I've gotten so much better at just talking to people and being able to express myself."
Claire shared about the soft and the hard skills that she developed during her time away this summer.
Claire: "I was able to improve my writing, singing, acting, and dancing skills. But I've also been able to learn a lot from a professional training standpoint from watching the shows and talking to the actors about how they work through their processes. The opportunity to just speak with them and learn about how they work has influenced how I'll perhaps approach my own work in the future—that to me was a really important part of the training."
You get out of an experience what you put into it, and both Gemma and Claire clearly worked hard to make the most of their time in Stratford.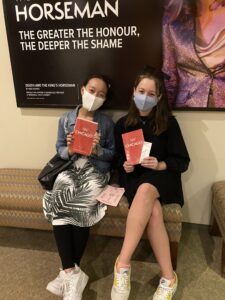 Claire: "I feel very grateful for this opportunity, and for the ability to not only develop as a performer, but also as a person. The love that all of the people we met have for their craft was extremely inspiring, and I think that that's maybe the biggest thing I want to take away from the experience."
While neither Claire nor Gemma know if they will choose to pursue acting professionally after graduating high school, they both are positive that theatre will always remain a very important part of their lives.
Claire: "The skills you learn in theatre—not just in terms of public speaking, but also the ability to assume and break different roles—is kind of how the real world works. In every work place, and in every scenario, you're going to have a role to play—or you can choose to break through that role and circumstance. In that respect, everything that theatre has taught me will definitely contribute to whatever I do in the future."
Gemma: "I'm a self-proclaimed generalist. I find almost anything interesting, so obviously I don't want to close any doors, especially not yet. But I definitely don't see theatre leaving my life, ever. Regardless of what I choose to do in the future, I think it will always be there."
At its core, theatre is about community. It's about connecting with yourself and with others, and cultivating empathy and inspiration through the process of self-exploration and creative expression. It is without question that Gemma and Claire deeply understand and value all of this. As confident and empowered young women and skilled performing artists, they are a living example of Arts Umbrella's mission, and remind us all of the power that art has to transform lives and inspire change. We are excited to see where their next steps will lead.
About the Stratford Prize:
The Stratford Prize Scholarship is a student award connecting the Robert M. Ledingham School of Theatre, Music & Film at Arts Umbrella with The Stratford Festival, North America's largest classical repertory theatre company.⁠ The Stratford Prize is awarded to two current Arts Umbrella Pre-Professional or Yearlong Intensive Theatre Program students in grades 9-12 and supports their attendance at the Stratford Festival Musical Theatre Intensive in July.⁠
For more information on Pre-Professional Theatre Programs at Arts Umbrella, click here.