It's a warm, sunny day as we walk into 1000 Parker Street and find ourselves lost immediately. But that's typical when walking into this sprawling, maze-like artists' building. We're here to chat with Fiona Ackerman, a Vancouver-based artist and one of the 2019 Splash silent auction artists.
We eventually find the stairs and make our way to Ackerman's studio. She greets us at the door and we walk into her space, a two-room studio with north-facing windows—you can just see the mountain tops. Ackerman tells us that she's been in this studio for 12 years. She started with only a portion of one room before expanding into the space she has today.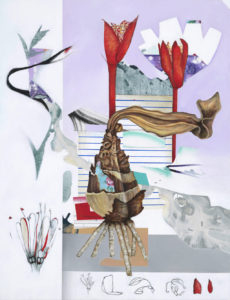 As we sit down, I look around. There are a number of paintings hanging—finished or unfinished, I don't yet know, but I can tell they are part of a series. Ackerman has other works stored off to the side, a small bookshelf and two tables. One is covered with paint tubes and materials, so we sit down at the other.
Ackerman talks us through some of her past work, her past series. Naturally, the paintings hanging on her walls come up first.
"The series I'm working on right now is about historical botanical illustrations," she says.
Her source text and inspiration for the plants in this series? A book called Canadian Wildflowers, written in the 1860s by Catherine Parr Traill, an English woman living in Ontario who, with her niece, documented and illustrated all of the flowers she came across.
These paintings look like collages: they appear to have different mixed media at play, but really, everything is painted. As Ackerman explains, she is able to "[play] with some impossibilities of collage. The foreground and the background in an illustration or collage don't exist in the same way, but in a painting you can break all of those rules."
We also talk about Ackerman's process and how she starts a new piece or new series: randomly. Usually with a large canvas, she will start with it either hanging on the wall or flat on the ground; working from the floor allows her to accomplish things—like pooling paints—that gravity otherwise makes impossible. The beginning of a piece is random and she will continue to add and take things away as her vision for the piece develops.
A series of historical botanical illustration inspired paintings was exhibited at Gallery Jones in the summer, and new work will be exhibited next month in Ontario.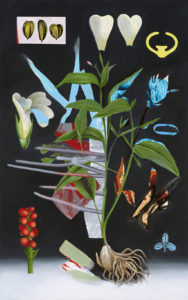 Our conversation shifts from her in-series work to her work in between series. Because the series she completes are huge and lengthy projects, it's key for her to take time before starting the next to "reset." These reset pieces are typically smaller paper works; Ackerman calls them her chance to "try new palates, new markings."
She goes on to explain why she enjoys doing these reset pieces. "The thing with the small format is that it is really low stakes. I can make drastic changes and try things without overthinking it."
Ackerman tells us that the two works for Splash this year are some of her smaller, in-between pieces. The two abstract pieces share a beautiful, soft colour palette, and, like her botanical illustrations series, give the appearance of collage. Take a look at them here!
___________________
We are incredibly grateful to all of our Splash artists for donating their incredible works to Splash Arts Auction and Gala. We are so privileged to work with artists in our community who share the Arts Umbrella vision for a world with barrier-free arts education for young people.
If you'd like to read more about Fiona Ackerman and the other Splash artists, visit our auction page. To learn more about Splash and to see the rest of this year's artwork, visit the Splash webpage.