Walk into Studio 1398 on Granville Island over the next two weeks, and you'll be greeted by the art installation of Arts Umbrella Visual Arts instructor and Assistant of Programming, Holly Clarke. Along with two of her teen students, Trinity Barnes and Alex Hughes, as well as facilitator Sam Taylor, they created something to evoke a post-apocalyptic scene. Old electronics, defunct circuit boards, and old irrelevant posters were used in the lobby installation. They also drew portraits of the cast and crew—because, after all, no digital photography or printing in a post-electric world. Director Madelyn Osborne is a big proponent of extending the production beyond the theatre space. It's an example of mixing artistic disciplines—something often done at Arts Umbrella—in the professional arts world.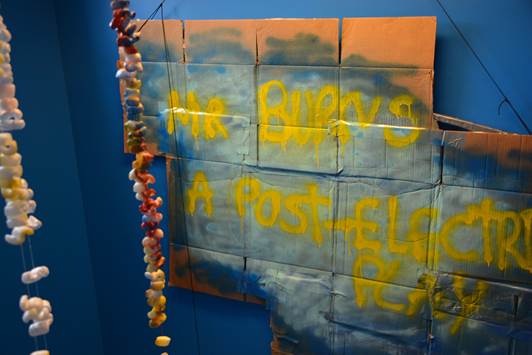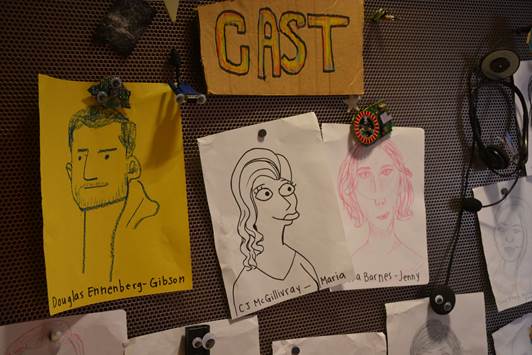 Going into Mr. Burns, a post-electric play, audience members are probably expecting a play that has to do with the Simpsons in a post-apocalyptic setting. But what they'll be getting is so much more than that. Production Manager, Matt Clarke (who also teaches Theatre at Arts Umbrella) shares a bit more context for theatre-goers.
He first came across Anne Washburn's play three years ago, on a trip to San Francisco. There, he popped out to write some postcards at a local watering hole and came across something eye-catching. "I saw a poster for Mr. Burns, a post-electric play and I just stared at it," says Matt. "It was like everything that our company had been working towards."
Little Mountain Lion Productions is a not-for-profit organization composed of writers, directors, actors, and designers who produce theatre in Vancouver. They produce plays that explore the overlap between film, literature, and theatre, and foster the development of youth and emerging artists. By showcasing such works, they hope to create a dialogue between movie or book fans with the theatre community, inviting new audiences to experience live theatre. "We want people who wouldn't normally feel comfortable in the theatre to have some familiar frame of reference. We want them to feel safe, not alienated," says Matt. So a play about The Simpsons, set in a post-apocalyptic setting fits ever-so-perfectly. After all, who hasn't watched an episode or two of Simpson family in yet another ridiculous scenario? It's a pop culture phenomenon.
"Simpsons is very predominant in the play, but so is Gilbert and Sullivan, so is Britney Spears," says Matt. "There are so many other things from modern and recent pop culture that get worked into this post-apocalyptic society." Those layers leave a lot for audiences to unpack.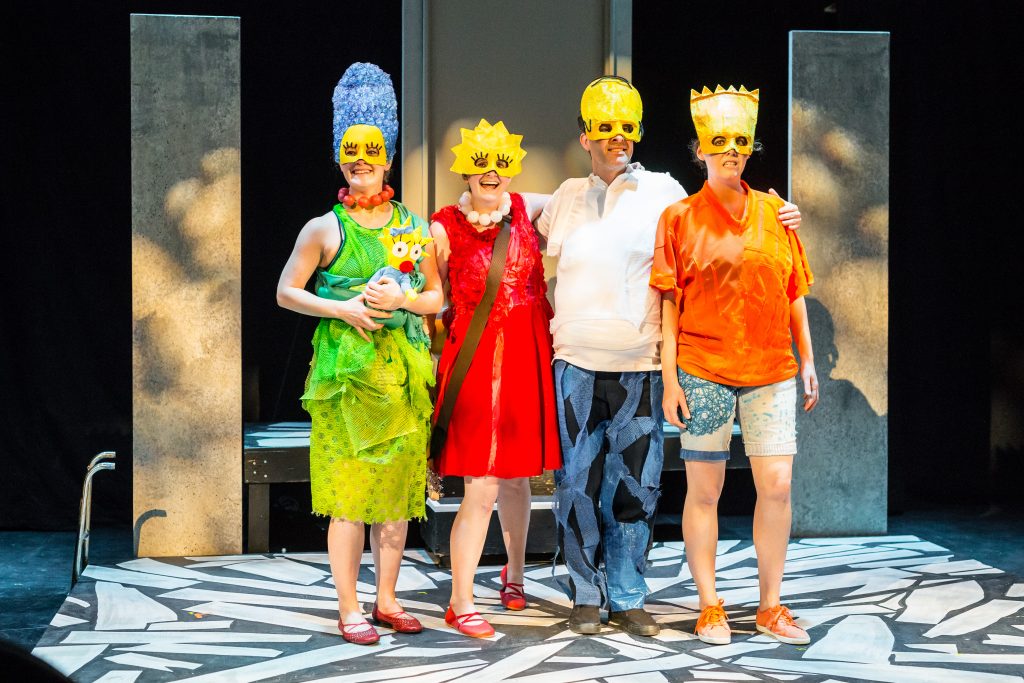 The play explores what would happen in a post-electric world, one in which a catastrophic event rendered society completely changed. Without electricity, our major forms of entertainment are removed: television, (digital) music, movies. "When that's taken away, we want those familiar stories, we want the nostalgia hit," says Matt. In Act One, a group of people attempt to remember the details in a famous episode of the Simpsons: "Cape Feare." The episode itself has innumerable references, which are explored in Mr. Burns as well, including musical performances like "Three Little Maids from School Are We," a Gilbert and Sullivan song from The Mikado.
By Act Two, the story remembered has evolved into a performance—one that re-enacts "Cape Feare" among other woebegone snippets like commercials. Set seven years later, this act explores how stories evolve over time—a long form game of telephone. Finally, in Act Three, after another 75-year jump in time, the stories have transformed into myth.
All told, the three acts add up to a whopping two-and-a-half hours. While each act could stand on its own, together they amount to a luxurious thought-experiment. At this length, Mr. Burns refuses to be a gimmick. "Post-apocalyptic Simpsons episode is the easy sell for me," says Matt. "But it takes time to develop those different worlds and make it about something so much deeper, so much richer." We experience nostalgia, storytelling, and the evolution of myth—and savour the complexity of how, in a post-electric world, a new media is born. "I think ultimately, it's saying that performance is an experience that connects us. One hundred years after an apocalypse, you don't see somebody pointing to a book and saying, 'This is the word.' You see characters who tell the stories this culture needs to hear."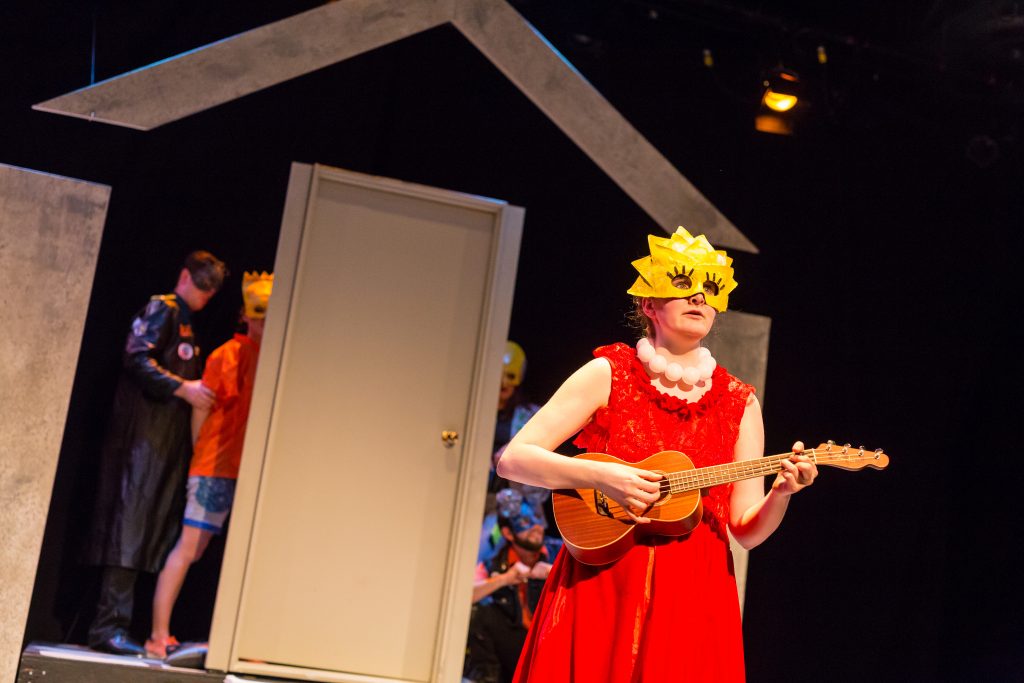 Mr. Burns is a big production. While Little Mountain Lion Productions has produced shows with large casts before, this play also brought in a big technical crew. Though the play has an original score, LMLP brought in Katerina Gimon as a composer and music director. Some of the songs used are part of the original, but Gimon and Osborne updated the lineup with "Lights Out" and "Radioactive." "Those songs weren't written before the play was originally written," says Matt. "But Kat and Madelyn both felt really strongly that they had a place in this place and they needed to be there as modern references."
Matt himself is also responsible for the sound effects for this production, and since its post-apocalyptic, it's an interesting mix of ambient sounds. "What would the world sounds like at night," asks Matt, "with no cars going by in the middle of the forest, or on the side of a highway?"
Buckle in. It's going to be a fun and thought-provoking ride.
---
Arts Umbrella students, parents, and instructors use promo code: bluecrayon for a discount on tickets.
Mr. Burns, a post-electric play
April 3–21
Studio 1398