When the doors open to our new Granville Island facility on April 10, our Theatre, Music & Film department will have a space to truly call its own.
Despite limitations with space, the department has grown and developed immensely over the years. To match the ambitions and dreams of our faculty and students, this has often meant renting unfamiliar spaces for rehearsal and performance.
But that will all change come April 10.
Our new building's stunning 132-seat Jack and Darlene Poole Theatre will allow students to share work with the public in a space in which they feel comfortable and at home. A space in which they can take ownership.
Beyond the theatre, four dedicated rehearsal studios, one with retractable walls and bleacher-style seating, and high-quality audiovisual equipment offer spacious, beautifully lit environments to design, craft, construct, and rehearse shows.
"It's no longer a borrowed space, it's their space," says Artistic Director for Theatre, Music & Film Paul Moniz de Sá. "It's so important for students to have this safe space for them to explore and create."
These programs are about helping young performers build skills that benefit them on stage and in everyday life. It's about fostering self-confidence and self-belief and improving performers' instincts; but it's also fundamentally about creating empathetic human beings.
Our faculty stress the important of the space where the work happens to this process.
"It's going to change things for the kids," says Andy Toth, Associate Artistic Director for Theatre, Music & Film. "No longer will we have destabilising energy when we move from a rehearsal to a performance space. Because it's going to feel familiar."
"The safer we can make people feel, the more risks they take, and the greater the performance we get in the end."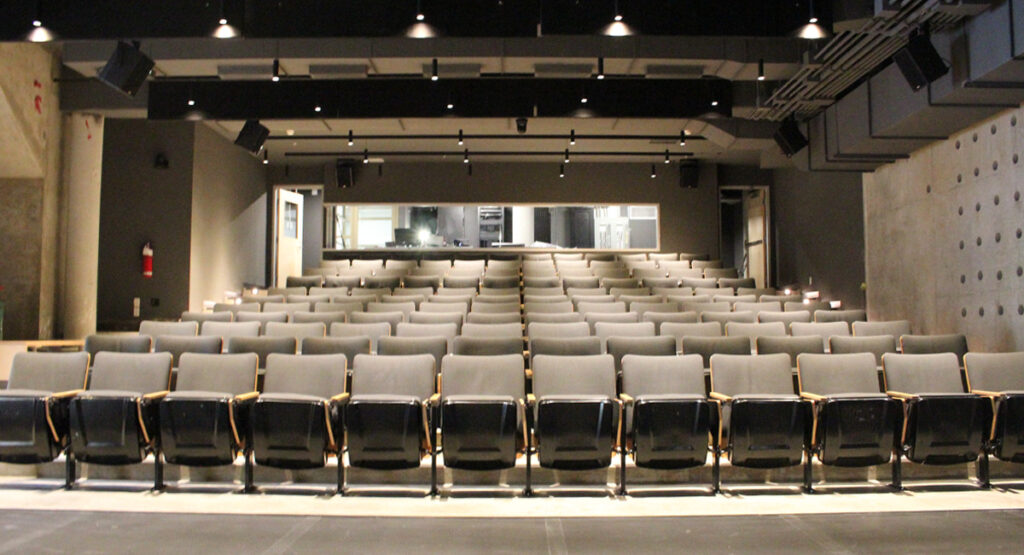 The first classes in the new space will be part of Arts Umbrella's Spring Session, including Acting, Musical Theatre, Sketch Comedy & Improv, Puppetry, and Public Speaking. Longer term intensives and programs will also be hosted here.
Additionally, there are tremendous ambitions for new programming that fully utilizes the building's new technology and facilities in the months and years to come. A new wood workshop offers us the chance to develop what would potentially be Canada's first stagecraft program for teens.
New, high-quality equipment also means far more scope to explore the technical aspects of theatre and film, like lighting, sound, costume and set design.
Our faculty are renowned industry artists with expertise in a wide range of performing styles, from on-camera acting to ensemble performances. They are eagerly anticipating the opportunity to expand and develop the department's work in a setting appropriate to the program.
"This place is far more than a structure," says Paul of the new building. "It's that place where we can allow ourselves to be vulnerable, and ask those hard questions of ourselves which allow us to grow."