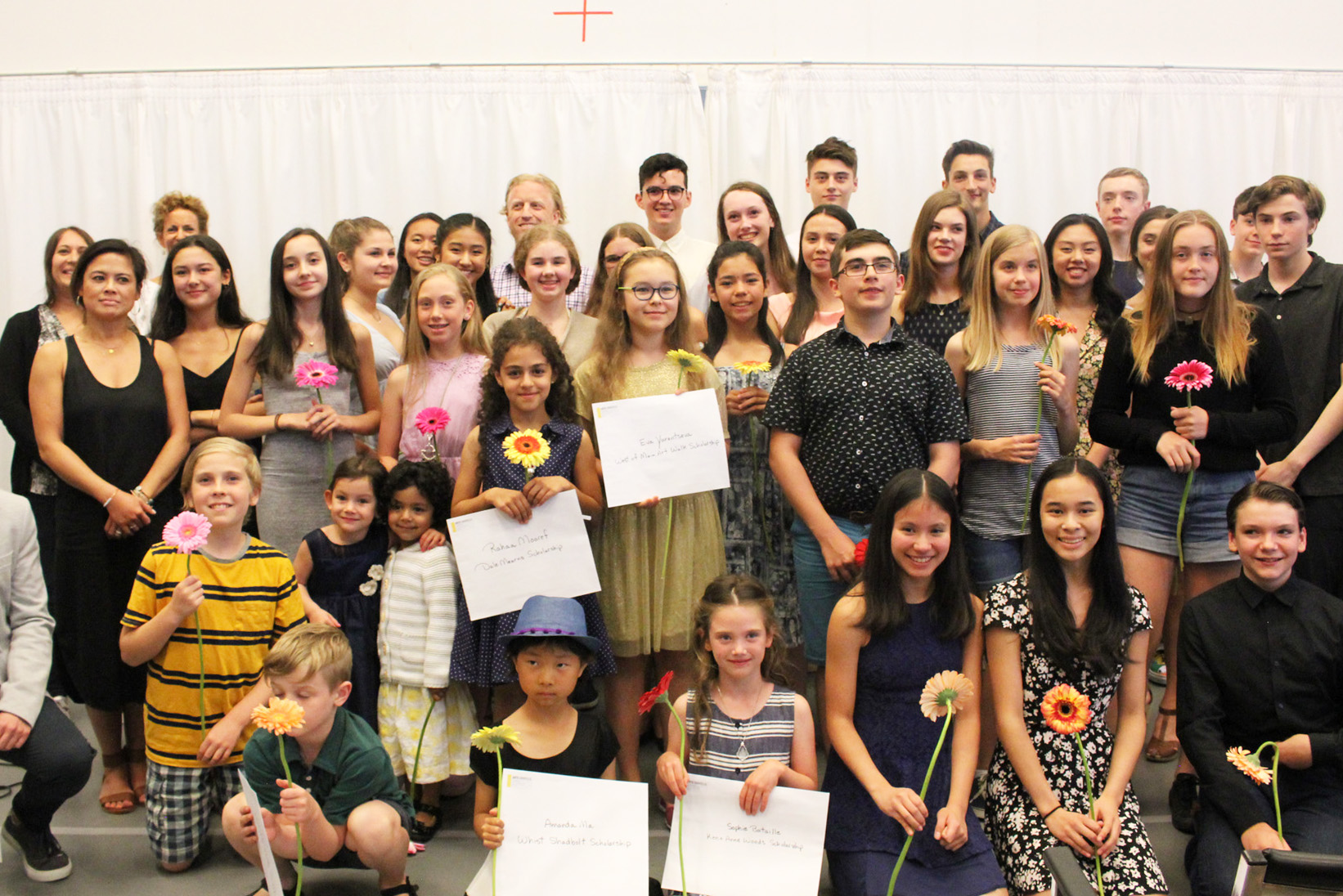 Every year at Arts Umbrella, we come together for a night of celebration. Thanks to a generous group of donors, we have the immense privilege to award scholarships to some of the outstanding students we teach. On June 18, 2018, we announced this year's scholarship recipients.
"The young artists we are honouring this evening have inspired all of us at Arts Umbrella and remind us why we do what we do," said CEO Paul Larocque to open the show. Congratulations to this year's recipients.
Phyllis Ashley Endowment Scholarship
Recipients: Olivia Lum and Richelle Gordon
"I first met Olivia when she was eight years old in my level three ballet class. Right away, I was taken with this extraordinary young dancer. I just saw a little twinkle in her eye even back then. She clearly possessed all of the qualities of a dancer. Olivia pours her heart and soul into every piece, into every rehearsal. She performs with the spirit of a dancer much more experienced personally. I appreciate her rigorous approach and mindful attention to detail, as well as her unfailing energy and commitment as it has set an example for the younger dancers in the apprentice company. Her best achievement of all is that she has accomplished all of this without losing that twinkle in her eye. It's been my privilege to share these years in the studio with her." —Andrea Hodge, Dance instructor
Rita Eichenger Endowment Scholarship
Recipient: Avril Ma
Anonymous Scholarship
Recipient: Quillan Koehn
"Quillan has demonstrated a standard of excellence since he joined the Youth Acting Intensive. His acting instincts are spot on and he brings unique characters to life on a regular basis. He makes creative choices to express himself physically, vocally, and emotionally, and he enjoys taking risks well and leads by example and is respectful in his offers to help other students. It has been an absolute joy to have Quillan in my class and I look forward to what he chooses to do in the future." —Karen Worrod, Theatre instructor
Azra Young Scholarship
Recipients: Emma Kuusela, Nevan Boyden, and Jackson Eaton Parfit
West of Main Art Walk Scholarship
Recipient: Eva Yarantseva
"Eva is a star. Her quietly passionate and honest responses to all aspects of clay and themes is beautiful to encounter. Her work exceeds itself with each project. Sometimes Eva brings in elements from home to embellish a piece she's been thinking about. She's taking on drawing and painting to further increase or sculptural and artistic abilities. It is a joy to witness Eva's ongoing tenacity, learning process, and growth. I just love her latest Betty Woodman vessels which were featured in our year end show." —Suzy Birstein, Visual Arts instructor
Dale Mearns Scholarship – Visual Arts
Recipients: Rahaa Moaref, Ian Dyck, and Isabelle Trenton
Dale Mearns Scholarship – Dance
Recipients: Laura Berard, Nathan Coburn, Kaya Tsurumi, and Tayler Whitehead
"Nathan can be described as courageous. He has the courage to be himself. He has the courage to commit to what he believes in, and he has the courage to work on things that he doesn't always understand. His humility, his considerate demeanor, marks everything that he does. He is supportive, he is positive of everyone in the studio. He is not only a light in the studio, but he's a dancer that everyone can watch to learn what it means to have compassion and what it means to be generous. I know that Nathan will do great things because he's already done some amazing things in our studio." —Artemis Gordon, Artistic Director of Dance
Dale Mearns Scholarship – Theatre
Recipients: Morgan Abele, Agnes Pedersen, Kathleen Liesl Jeremiah
"Morgan is the ideal student. I don't usually make blanket statements like that. They're very unearned, except by Morgan. Morgan exemplifies what happens when students diligently apply craft, rehearsal, and a duty to each other that goes beyond the roles they play. Morgan is what happens when talent grows over time; you count on it; you are inspired by it; your peers are inspired by it; and everybody loves to be around you. Morgan, I love to be around you, so thank you for being you." —Andy Toth, Associate Artistic Director of Theatre & Music
Dale Mearns Scholarship – Early Learning
Recipients: Torre Tang and Ario Khadempour
"Torre is an extremely special artists to me that struggled on his first day to attend class. But after he overcame his fear, he found his place and excelled at everything he came across. Torre is an amazing artist who is eager to learn, try new things, and demonstrate what it takes to be successful. He is an absolute pleasure to work with and I look forward to seeing him next time in class." —Roxanne Gagnon, Artistic Director of Visual, Media, and Applied Arts
"Ario radiates positive energy as soon as he enters the room. He is so focused on when I tell the story and when we act it out. Even at his young age, he creates character voices and embodies his character. He's able to quote lines from the story and helps to lead his classmates in participating in the show. He very much looks forward to theatre and I love having him in class." —Renee Iaci, Theatre instructor
Whist Shadbolt Scholarship
Recipient: Amanda Ma
Dancing with Jocelyn Scholarship
Recipients: Zack Preece, Kiana Jung, Victoria Morrison, Shaolin Temrick-Young, and Ashley Sankaran-Wee
"If you saw Zack this May in our Season Finale, you would understand my challenge. There are so many elements when we're talking about what makes great artist: humility, curiosity, courage, and of course the gifts, the gifts that we must have that translate into the craft and into the thing that we're trying to do. Zack has them all. He approaches his work with intelligence; he approaches his work with maturity; and he creates an experience from what he was given and he translates it into something that is both inspirational and beautiful. When I think of some of the things that I've seen Zack do, I never thought it was possible. There was a very special moment for me in Season Finale when James Kudelka—one of our greatest artists in Canada—came and did the most outrageous, outrageous work. As minimal as it could be, as challenging as it was, I looked at it and I thought our audiences are going to hate it. Well, somehow Zack managed to create something out of it that was both spellbinding and a memory that I will take with me forever." —Artemis Gordon, Artistic Director of Dance
Lucille Pacey Legacy Fund Scholarship
Recipients: Isla Glynn, Devon McLean, and Hermione Tankard
"This is Isla. She's awesome. Really, really awesome. You don't say much though, do you Isla? But isn't that so great about the visual arts? Because you don't need to say anything. You can just work and will learn so much about you from just all the amazing artwork you do. And in the last two years, just watching Isla work has been really quite an incredible. She came in with no animation background. And with Isla, you've just made story after story, character after character. She's got the tiniest hands, you see. And so they make really insanely microscopic, detailed little guys that I could never hope to even come close. I think it's just amazing that you're always asking yourself the right questions. She's asking herself, do I need to move the character a little bit further in the screen? Do I just kind of want to increase the spacing? These are all very advanced things for Isla. She's seven years old and already a full blown animator." —Emily Nguyen, Visual Arts instructor
"Devon is a delight. She is so much a part of the fabric of the dance program. She is that kind of student that pushes a teacher to be better, because Devon deserves the best of us. She has a keen mind, she has a strong mental fortitude, and a capacity to increase her understanding of the work. I have so many wonderful stories about Devon, but this Season Finale was a very special one for me. It just so happened that one of our dancers in the graduate program got injured and at the last moment Devon had to go in. She's in grade 11. She's dancing with the grads and, she was petrified. And what I adore about what Devon did, is she kept it all to herself. She very thoughtfully felt 'the grads deserves the best of me.' And I think her greatest fear was not that she wouldn't do well, but that she wouldn't do the grads justice. And that to me says that Devon is a citizen not only of dance, not only of Arts Umbrella, but it's going to be a citizen of the world." —Artemis Gordon, Artistic Director of Dance
"I have the privilege of working with Hermione… and it was really wonderful because Hermione has such a wonderful essence in rehearsal, a curiosity, and she's also so smart and she tackles the text in a way that she wants to further understand the characters. And this year she's really grown. For those of you that didn't check out the Senior Theatre Troupe show this year, this year we did a Greek tragedy, and originally Hermione asked to be the lead chorus member. Well, we had one member of our Troupe this year that couldn't continue with us, and that a member was playing Jocasta, so that is Oedipus' wife and mother—Greek tragedy. And I asked Hermione to step in. She took this character and every day in rehearsal she went deeper and deeper and deeper with it, and she really took that older character and embodied that in a way that I've never seen Hermione do before. And she really stretched herself in a way that I think is very professional." —Paul Moniz de Sá, Artistic Director of Theatre & Music
Stephen Denslow Endowment Scholarship
Recipient: Iyaa Karapareddy
Gary Switlo/Orpheum Scholarship
Recipient: Juliet Shenher
Edna Davies Memorial Fund Scholarship
Recipient: Trent Bannister
"I've had the pleasure and privilege of teaching Trent for the last year and a half, but I've known him for longer than that because Trent's Arts Umbrella story, like a lot of Arts Umbrella stories actually starts before he set foot in the classroom. And that was through his older brother, Lyle. So Trent's older brother Lyle was in the same class that he is in currently a couple of years. Trent, after class and before class, would always peek his head in, even though he was about four or five years old at this time, he would peek his head in to see what was happening. A couple of times he snuck into class with for warmup with his brother, at which point we have to gently nudge him out and say not yet. But we were excited to have them step into the classroom and when he did, Trent did not disappoint because the measure of a student isn't just about what the output at the end of the year; it's not about how many lines they memorize, it's not about how they control their nerves, it's about the entire process leading up to that point. And it's about how they contribute to the ensemble of the class, the energy of the class. And Trent, as phenomenally talented as he is, delivered on every performance. He really makes that process very much enjoyable because he doesn't just put out a fantastic performance and commit himself to learning, but he inspires others around him to do the same. It's an honour to witness that." —Paneet Singh, Theatre instructor
Glenn Gilmour Scholarship
Recipient: Nolan Fahey
Barry Scott Legacy Fund Scholarship – Visual Arts
Recipient: Raymond MacKay
Barry Scott Legacy Fund Scholarship – Dance
Recipient: Meilyn Kennedy
Barry Scott Legacy Fund Scholarship – Theatre
Recipient: Aiden Patrick Flloyd
Barry Scott Legacy Fund Scholarship – Early Learning
Recipients: Sari Wolinsky and Mei-Lin MacDonell-Bienvenu
"Mei-Lin has been dancing with me for two years. She was one of the youngest in my three-year-old class right away. She was very attentive. She executed everything beautifully and with a lot of care. Now, this year, everything that I'm saying is still true, but her creativity and her improvisation have grown. It is when she tells me an idea of her own, such as moving like a frog or a spy, or moving like everything, that I noticed that her physical embodiment is so committed, so fulfilled—and yes, we're talking about a four year old. I wish she could see her spy rendition. I've had assistants from the grad program, we all wait in anticipation to see what her ideas will be and we all are blown away. Mei-Lin, I hope you keep dancing. I hope you keep working hard and I hope that you exploring and creating with your ideas in your head." —Kay Barnes, Dance instructor
Ken and Ann Woods Awards – Theatre
Recipient: Hannah Mitchell, Piper Trounce, Kelsey Jakoy, and Nathan Shack
"The Laboratory Theater Troupe spend their year writing and creating original theatre, and it has been so wonderful to watch the growth of that program and also wonderful to watch the growth that's been happening within Piper. She is the most dedicated Troupe member for her writing, with regards to deadlines, attendance. She strives to help her fellow classmates in any way she can with thoughtful feedback, emotional support, which—let me tell you—often needed when you're exploring original work. And with all of her hard work, she's improved the most this year and she's such a great team member. Very worthy of emulation." —Darcy Johnson, Theatre instructor
Ken and Ann Woods Awards – Visual Art
Recipients: Diana Liang, Adele Lu, and Grace Hannay
"Adele is in my Advanced Drawing and Painting class. And Adele, she's just so good. When she first came to me two years ago, she was just really quiet and we'd look at her work with kind of a lot of suspicion, you know, not really sure if this is where she was headed. Two years afterwards, she's just got this master technique that she's been working so incredibly hard on. And her work this year was selected for some showcases, so I'm so terribly proud of her." —Emily Nguyen
Ken and Ann Woods Awards – Dance
Recipients: Matthias Vaucher, Kierra Kelp, Ben Waters, and Jack Henderson
Ken and Ann Woods Awards – Early Learning
Recipients: Naya Arneja, Sophie Bataille, and Sylvie Turenne
Ken and Ann Woods Awards – Post-secondary
Recipient: David Gorodetsky
"It has been a pleasure to watch you navigate spaces, challenge ideas, and reflect on your contributions to a greater collective in a multitude of programs here at Arts Umbrella, including the Westminster Savings site-specific installation, South Surrey Teen visual arts exhibition, Contemporary Art Gallery summer intensive, and more. I've witnessed you become a more confident, exploratory, and insightful artist, an artist that works extensively in his sketchbook to explore ways that push the boundaries of narration and applications. I'm sure if I was standing here tonight, I'd be crying by now. Please know this: You truly are a remarkable human being and that I and others have been honoured to work alongside. I am excited to see the impact you will have as you continue to share your voice and talent in the arts. You've made a difference, inspired others, and contributed a high level of dedication to the collective more than you will ever know, and for this, among so many other things, I thank you. Looking forward to celebrating your continued success as you enter foundation year at Emily Carr University of Art and Design. You got this." —Roxanne Gagnon
---
Take a look at our gallery for photos of all the recipients!