What's the secret to getting a laugh? Comics know all too well that there's a subtle and mysterious distinction between success and failure in that regard.
But the tools of sketch comedy and improv can be used for much wider purposes. Within these, you can also find skills for life: in listening, problem-solving, team-building and communication.
Matt Clarke is a long-time faculty member in the Theatre, Music & Film Department, teaching Arts Umbrella Sketch Comedy & Improv classes among several others. When not in our studios, he's running his theatre company: Little Mountain Lion Productions.
We spoke to Matt about what students can expect in class, conquering nerves, and why listening is the key to good improvisation. Scroll down to learn how to get involved in Sketch Comedy & Improv classes with us this summer.

Which activities typically take place in class?

The idea is that when we get to the writing, we've already created a sketch comedy ensemble – people we can bounce ideas off. So we use improv to connect to each other and bring what is essentially an empty space to life. There's a lot of games, play and team-building. We write independently in our journals, and share it with the group if we want – or I can write stuff on a white board and we can all create something together.
The idea is that we use the improv and the games to play, explore, bond and create a team. Sketch work is really on the fly, so it's important to go on stage knowing that if something goes a little bit wonky, your team has your back.
What sort of things do you write and how do you make it funny?

What we end up writing really depends on the group. But the approach is always: play and explore, then build those writing tools and see what we come up with as a team. Building that muscle memory and impulse to rely on yourself and your team – that's the ultimate goal right there.
Calling something "funny" puts so much pressure on it, so at the beginning I like to frame it more as what's "fun". We start with exercises like lists, and hopefully every kid feels like they can share something. From there, we get into basic scriptwriting and read those out loud together.
Then we go back to improv, creating scenarios and reflecting on what we liked. In some classes I've had kids create really cool character monologues, or we've written big intertwined pieces featuring duos, scenes in pairs, circulating through every member of the group.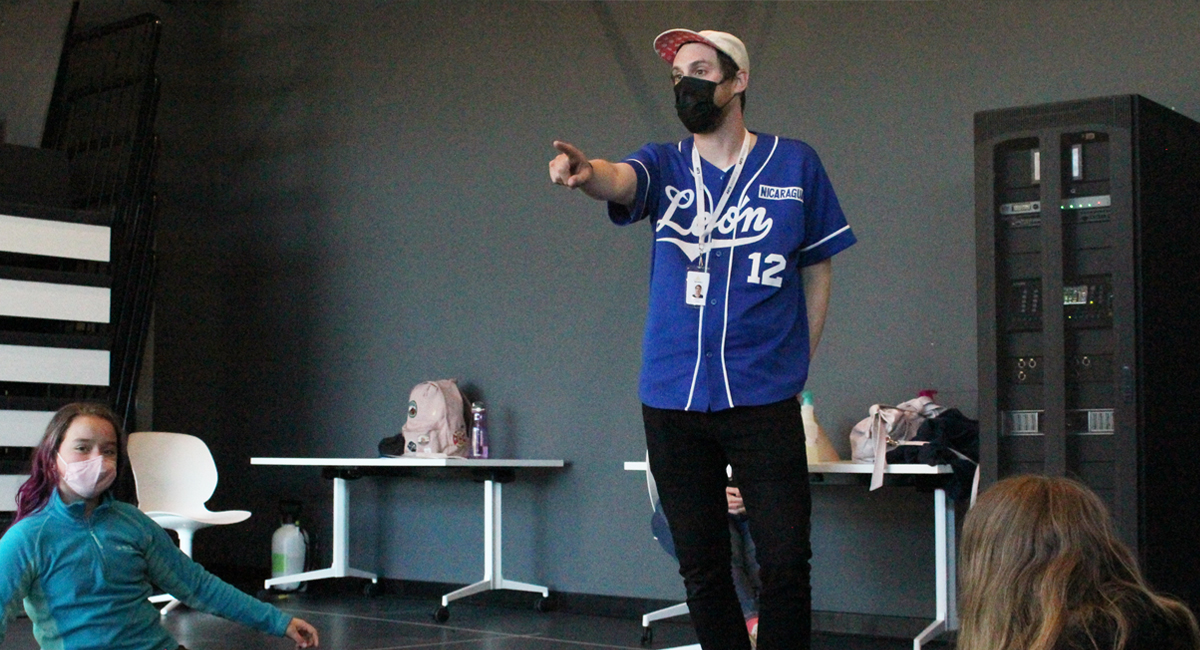 What do you see young people gain from these programs?

I've often had students come along who are really creative, funny people; who come up with the most hilarious, amazing, wild characters on stage. But through the work, they also learn to listen to others, learn some give-and-take, become someone who people feel safe partnered with. They develop the strength of listening and relating, of Yes And-ing, and building on the ideas of others.
And through this, these larger-than-life characters gain a journey through from beginning, middle to end in a succinct clear way. It's very magical.
What helps students get over nerves and build the confidence to perform?
All Arts Umbrella Theatre programs are really good in terms of breathing, visualizing a performance, doing a proper warm-up – all of which helps with nerves and confidence. For improv, there's an aspect of being open in the moment and trusting your impulses. It is like a muscle, the more you do it the more it helps.
A huge part is having the permission to fail. Everybody should expect for stuff to go wrong – for a joke to flop or for a sketch not to have an ending. Elsewhere in life, there's so much pressure on kids to succeed and excel and do well. So a big part of being here is allowing them to fail – to fail and fail again, but to still have fun, walk away smiling, and to get up and try again.
Matt's company Little Mountain Lion Productions has been working with classes at False Creek Elementary School on "41 Stories Written by Kids", a series of new plays written by the students and presented as professionally staged and filmed readings. Learn more on their website.