Parents Visit Granville Island and Henderson Elementary for School Performances
For many children, the holiday season means one thing: vacation! It's time off to spend with friends, go on journeys near and far to visit with relatives, and eat all your favourite treats. There are many holiday traditions, but at Arts Umbrella, this festive time of year also means performances! Kids of all ages are putting on a show—whether they're at the studio on Granville Island or in school with one of our community programs.
Creative Dance on Granville Island, Ages 3-5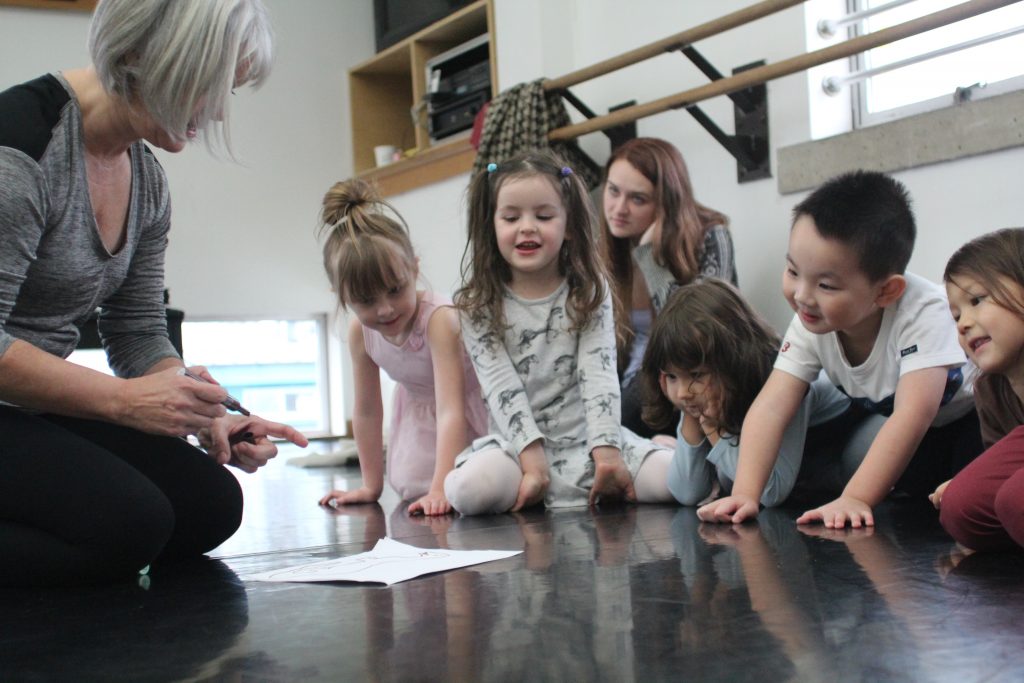 Little ones in our Creative Dance class on Granville Island showcased their progress for parents this week. Led by instructor Lorraine White-Wilkinson, the children danced with painted cardboard chairs and leaped across white dots on the floor—"milk" according to one youngster, alluding to the supermarket game they were playing. At a young age, the kids are demonstrating the ability to listen to their instructor and follow instructions.
What's more, Lorraine's exercises teach the kids how to respect one another's space and creativity. During one exercise, she explained that as you wait in line at the supermarket you maintain a respectable distance behind the customer (i.e. dancer) in front, and wait your turn. And then you leap through the checkout! Each child jumped their way through the white dots on the floor in a unique way: little patters, gigantic bounds, and skipping were all spotted.
Lorraine also incorporates our other artistic disciplines into the dance lesson. The children paint their chairs in another class, and one of their games is called "Clay Sculpture," in which the kids pair up to "sculpt" their partner into an expressive shape before dancing around.
One thing's for sure… these kids are leaping into the holiday season!
Click here for more information about Creative Dance and other programs for children ages 2-6.
Dance It Out at Henderson Elementary, Community Program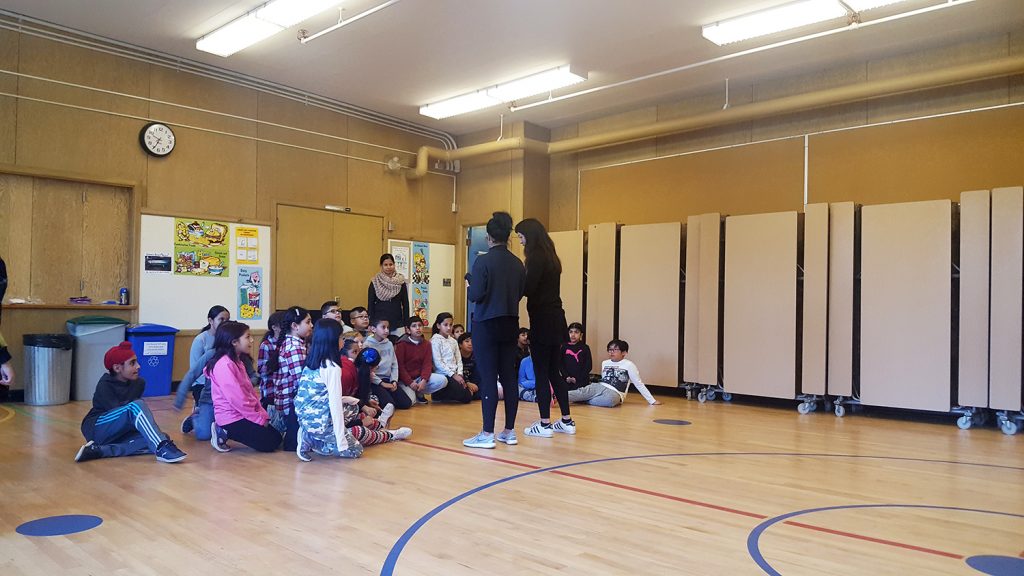 As elementary schools wind down for the holidays, students in Kay Barnes's Dance It Out classes at Henderson Elementary are rehearsing their dance numbers. We stopped by to see the Grade 1 and 4 classes rehearse and perform for their parents. They'll also be performing in their school assembly at the end of the year.
The younger kids got their jazz hands twinkling to "Jingle Bell Rock." With lyrical cues (and sometimes whispers from their teacher), the Grade Ones raised their hands in the frosty air and did a snow-shovelling dance move for snowin' and blowin' up bushels of fun. As they gathered together for a final pose at centre stage, parents clamored to get photos. A holiday card in the making.
The Grade 4 class had a more complicated choreographed piece to rehearse. Dancing to music from a video game, they told a story of robots and control. Energetic and quick-paced, Kay got the kids literally running across the stage, confidently performing solos, and working together to generate very cinematic scenes. In rehearsal, Kay broke down the components of each movement to ensure that every child understood what to do. The final piece will be a treat for the whole school to witness at the year-end assembly.
Both teachers at the rehearsal/performance say they noticed a change in their students over the course of the four-month program. Kids are engaged. They're cooperating with one another. They're supporting one another. They're active. They're expressing themselves. Most importantly, they're having fun.
Click here for more information about the Dance It Out program and to find out how you can support it.