Architecture is not just about designing buildings. It's about developing a new way of seeing; about understanding the built environment in an entirely new way.  
Graham Smith has 25 years' experience as an architect and currently runs his own Vancouver-based firm. An advocate for sustainable design and socially conscious architecture, he has also taught the Arts Umbrella Summer Architecture Intensive, a full-scholarship program supported by BTY Group, for several years.  
The one-week scholarship program gives participants ages 15-19 the opportunity to learn from experts, participate in critique with leading architects, and develop a design project to specifications.
This year, Graham will again teach the scholarship program, which will run August 9-13, 2021. We spoke to Graham about what the sense of power young people get architecture, advice he has for young designers, and why Vancouver is such an ideal setting for aspiring architects.
What do you aim to do with the program?
The city's like a forest for most people. They walk through it and it's just all trees. They don't question why that tree is there, and what this one does. They don't know how the ecosystem works. I try to zoom back and look at the city as a broader organism and see how it has evolved over time.
Here, we're trying to develop your basic architectural skills alongside a reckoning of the urban environment they live in and start seeing things from an architect's perspective. What are the typical tasks, issues and roles that an architect has to address.
Vancouver is a great laboratory. We've got everything from mountains to waterfront and a range of building types: classical, modern, Chinatown, houseboats. You can go see almost anything you want to absorb. We also have international architects like Norman Foster and Bjarke Ingels doing buildings here. To me it's just a great big world of opportunities and ideas.
Why architecture? What do you find young people take from this program?
Architecture brings in history, it brings in art, it brings in materials, engineering, fabric and texture and colour. And humanity; each building is usually for a group of people doing certain things, and you need to know enough about them.
It's really about changing your mindset. That's the beautiful thing about architecture as a thing to do. It's as much of a lifestyle as it is a job or profession. And the kids also just have a lot of fun with it because it's like a giant nerdy playground.
There's certain kids that really get the idea: this is my chance to do something that expresses something that matters to [them], but yet still has some kind of perceived legitimacy in the larger world. It has to have some utility, it has to work. It's kind of the best of both worlds in that regard.
Do you feel that these classes are producing the designers of the future?
I have kids in my classes right now that are heading [towards a professional career in architecture] and are seriously contemplating it. Not only are they interested, but they're talented, they get it. A lot of people when they embrace it sooner and start thinking that way, it's very beneficial for them. Not just as possible architects but they could become urban designers, product designers, sustainability advocates, or planners.
What will young people have accomplished when they complete the program?
They will have done some sketches, the kind of which they would likely not have done before. It could be 3D, it could be 2D. I don't care if they're primitive, as long as they have an idea that they're pushing along and trying to develop. They'll have a model or two. And a vision of the city as something more than just a street to walk down.
That reality give some kids a sense of power. That they can affect things in the world through their intellect, through their skill. Isn't that a cool thing for a kid to start to do?
Teaching in Arts Umbrella's new building, with all these different disciplines taking place – how will that affect things?
I think that Arts Umbrella, because it is co-location of all these different disciplines, I think there's a lot of potential. We've got instructors down the hall [teaching] graphic novels, or we've got computers upstairs doing 3D models.
Reach out like an octopus, grab everything that you can. Synthesize it, use it. They always say about writers: write what you know. So… the more you know.
The deadline for applications for the Architecture Summer Intensive is Monday, May 31, 2021. Learn more about how to apply.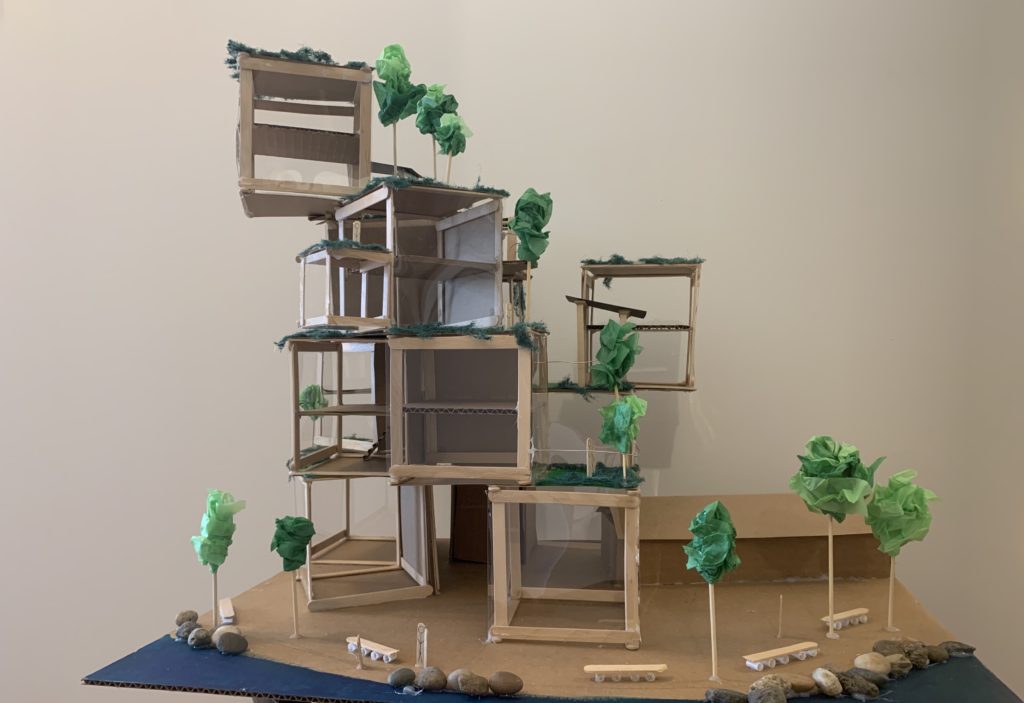 Model by Camille Gratton, from False Creek: The Architecture of Resilience, an exhibition from the Architecture Summer Intensive 2020t