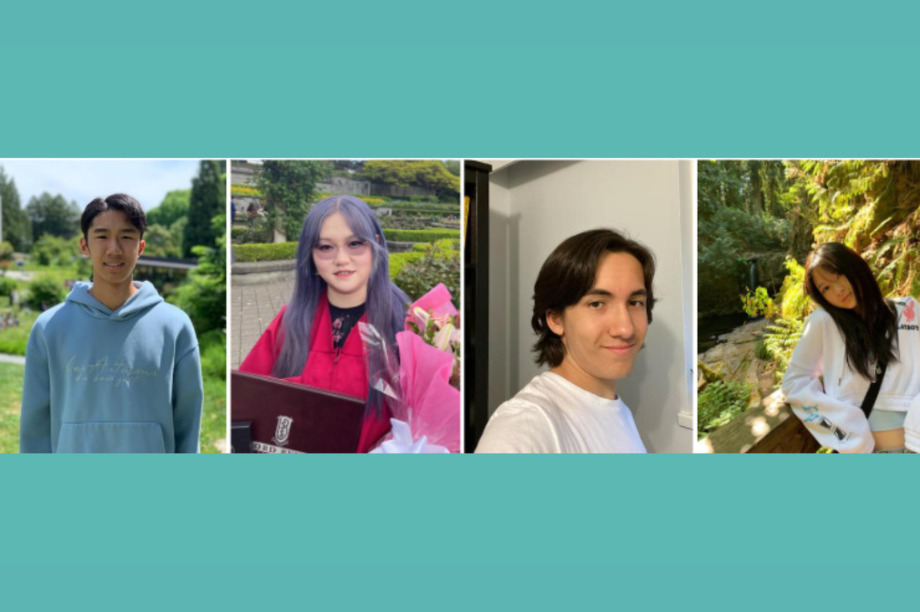 We recently had the pleasure of sitting down with four of Arts Umbrella's senior Architecture students— Samantha Lu, Lily Zhang, Joshua Taylor and Adrian Wong—all of whom are going on to pursue architecture in their post-secondary studies.
Samantha, Lily, and Adrian will start their journeys at the University of British Columbia (UBC) in the Bachelor of Architecture, Landscape Architecture, and Urbanism program, and Joshua will attend the University of Calgary (U of C) in pursuit of a degree in Environmental Sciences, with the end goal of practicing architecture. Both institutions boast world-class architectural studies programs, with UBC in particular accepting only 50 students each year.
Although each student has a unique path ahead of them, they all credit their time at Arts Umbrella, and the instruction of Graham Smith in particular, as fundamental in helping them discover and pursue their passion for architecture. "Graham always gives us really unique and challenging prompts and projects," said Adrian, agreeing with Samantha's sentiment that Graham is a patient and knowledgeable teacher who regularly encourages them to think differently about complex problems. "It's really just idea generating," Joshua explained. "We're always doing something new and being challenged to think innovatively." Graham is also conscious of building an awareness of sustainability into every project, something that Lily highlighted, bringing up the concept of resilience. "Resilience for a building refers to how a building will accommodate for climate change, for example how a building will withstand water level rise," she noted. "It's a topic that we've always talked about with him—before I didn't really think about that too much, but after taking the class and talking about it I see it as a step that all architects should be thinking about."  
As well as being enrolled in the yearlong advanced architecture classes, all four students participated in the Architecture Summer Intensive Scholarship Program, an opportunity made possible by Arts Umbrella's program partner, Urbanarium. They talked about the way in which the intensive opened up new opportunities for them—personally, professionally, and academically—and highlighted in particular the value of the scholarship in allowing them to engage in the experience. "The instructors are great and it's not expensive" said Lily of the Summer Intensive. "Definitely try it out!"
Thanks to our generous sponsors, and specifically BTY, who provides a full scholarship for each student, Arts Umbrella has been able to continue to offer the summer intensive program each year. Last year, our special guest contributors, the Black and Indigenous Design Collective, Atelier Anonymous, and Happy Cities made invaluable contributions to supporting and expanding the students learning. For many of the students, one of the most memorable aspects of the class was the relationships they were able to form with professionals in the industry. "Graham is super connected to architecture and to the community, so he can always share an insider's perspective and really connect us in" said Lily, pointing out the value of relationship building and experiential learning.
In addition to the technical skills they've gained, each student spoke of the sense of community that they feel with one another, expressing that one of their biggest takeaways from the program has been the friendships that they've formed. "I've made a lot of friends here," said Lily. "Three of us are going to UBC and a lot of us are going to pursue architecture. We all inspire each other." Adrian reflected on how this environment helped him to grow and push himself as an artist: "A big takeaway was meeting the other students in the program. I got the chance to look at what everyone else did and it made me realize that I was actually lacking a lot of creativity—that really pushed me in general and for my UBC creative test to really think outside the box."
The community fostered in Graham's classroom is something that his students will continue to carry with them as they forge new relationships and grow into themselves as young professionals. "I'm most excited for the new environment," Joshua said of starting university. "I'm just going to go in, see what it's like, and try to have fun with it, no matter what happens. I'm excited to connect with the people in my program."
All of these students are talented visual artists, and several took other Art and Design classes at Arts Umbrella prior to joining the architecture program. Staying true to their artistic roots, they expressed their desire to explore the creative side of architecture. "I've always been interested in art, and it led me to try out some Arts Umbrella classes. I started going to Graham's architecture and model making class in grade 9 or grade 10, which really amplified my passion for architecture," said Samantha. "I realized that I'm not exactly into the technical aspects of architecture—I want to focus more on playing around with design, which is what UBC is more catered towards." Lily echoed this feeling while reflecting on her motivation for choosing to pursue an undergraduate program in architecture: "I didn't really want to do pure art, I wanted to do something more design. And that kind of mingles together and makes architecture." Adrian agreed, saying "I think ever since I was little I always knew I wanted to go into a profession focused on design that would allow me to exercise my artistic talent. A big part of being happy in life is having a job that you really like and enjoy, and that's one of my goals."
The passion that Adrian, Samantha, Lily, and Joshua have for architecture is clear—and they are excited to share it with the world. Adrian summed it up well: "I really want to use my creativity to help make the world a better place; to design spaces that are more inclusive, more interesting, and more appealing to the eye." As they embark on the next phase of their journeys and dive into exploring the intersection between creativity and functionality, we have no doubt that Adrian, Samantha, Lily, and Joshua will use their foundation at Arts Umbrella to build community—and, bit by bit, a better world.