Once a week, elementary school students from across Metro Vancouver come to visit Arts Umbrella Granville Island and Arts Umbrella South Surrey on a free-of-charge field trip. The Shaw Creative Journeys Program at Arts Umbrella provides a unique opportunity for students in grades 1–7 to immerse themselves in a day full of artistic exploration: through Theatre, Media, and Visual Arts workshops. Today we bring you behind the scenes on one of these magical workshops at our South Surrey location.
On the morning of November 14, a grade 6/7 class from Semiahmoo Trail Elementary filed into Arts Umbrella South Surrey bursting with enthusiasm. Field trip days always seem to get children excited, so before the workshop started, their school teacher gave the students a few minutes outdoors to let out some of their energy.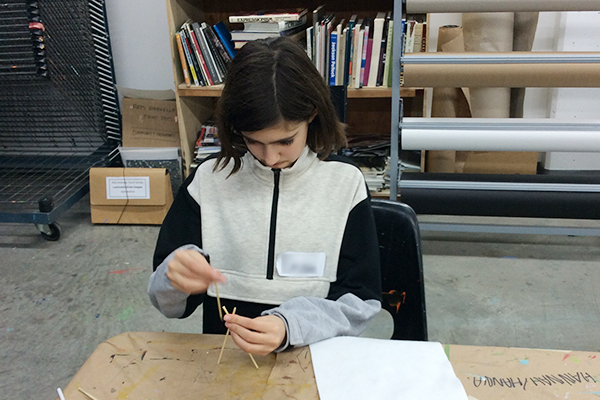 For an instructor, energy like this needs to be nurtured with a delicate understanding. Forcing students to entirely stifle this kind of energy can inhibit their expression; conversely, giving this energy boundless space and no direction can cause the classroom environment to become unfocused and unproductive.
As the clock struck 10 am and our spirited young artists found their way into the classroom, a generous dose of Arts Umbrella magic sprinkled itself through the air and created what our instructors call one of the most memorable Shaw Creative Journeys field trips in the recent memory.
The students were engaged, vibrant, sharp, supportive, and bold. They allowed themselves the freedom to explore, and afforded one another the same courtesy to foster an environment of creative risk-taking. In addition to the projects being created, what really set this class apart was the razor sharp wit that students peppered into their conversation as they were creating.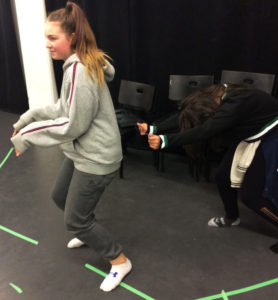 "Not only did they work super cohesively as a group, they were also the funniest class we've worked with to date," says Karliana DeWolff, Assistant Instructor for the Theatre Workshop. "It's incredible, the kind of effortless comedy that can come from the mind of a ten-year-old. I imagine their teacher comes home with some of the most ridiculous stories."
This is the kind of artistic play instructors relish. It facilitates a safe, creative space where young people can discover new opportunities while unpacking big ideas. This year, the Shaw Creative Journeys Program is exploring the theme of inclusion. At the South Surrey facility, classes are exploring this context through a focus on "voyages" and "human migration."
Enthusiasm for the theme was reciprocated by the students. "The thing I liked most about this field trip was that I felt more comfortable about being myself and being goofy and weird," recalls one artist. "The visual arts was my favourite."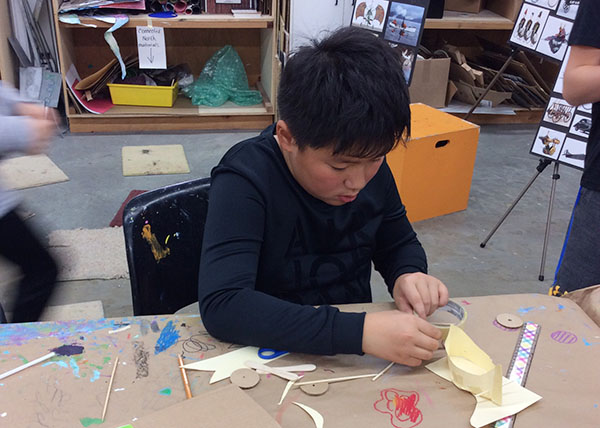 This idea of being comfortable enough to explore was echoed by another classmate: "At the beginning, I thought I would enjoy the visual art more because I like drawing, and I don't like to talk or act. But once I did the theatre part, it was actually really fun."
An exchange of positive energy and ideas between instructors and students like this one cultivates a sincere and special artistic experience. The Arts Umbrella family will be fondly reminiscing about the students of Semiahmoo Trail for quite some time.
___
The Shaw Creative Journeys Program explores the theme of diversity through Theatre, Visual, and Media Arts. An immersive day of arts activities helps students in grades 1–7 develop critical thinking skills, explore creative expression, and better understand the world they live in. During this one-day field trip, students are given the supplies to craft an artistic interpretation or response during a number of thematically linked arts classes.
To learn more and to apply for your school to participate in the Shaw Creative Journeys Program, visit artsumbrella.com/shaw.