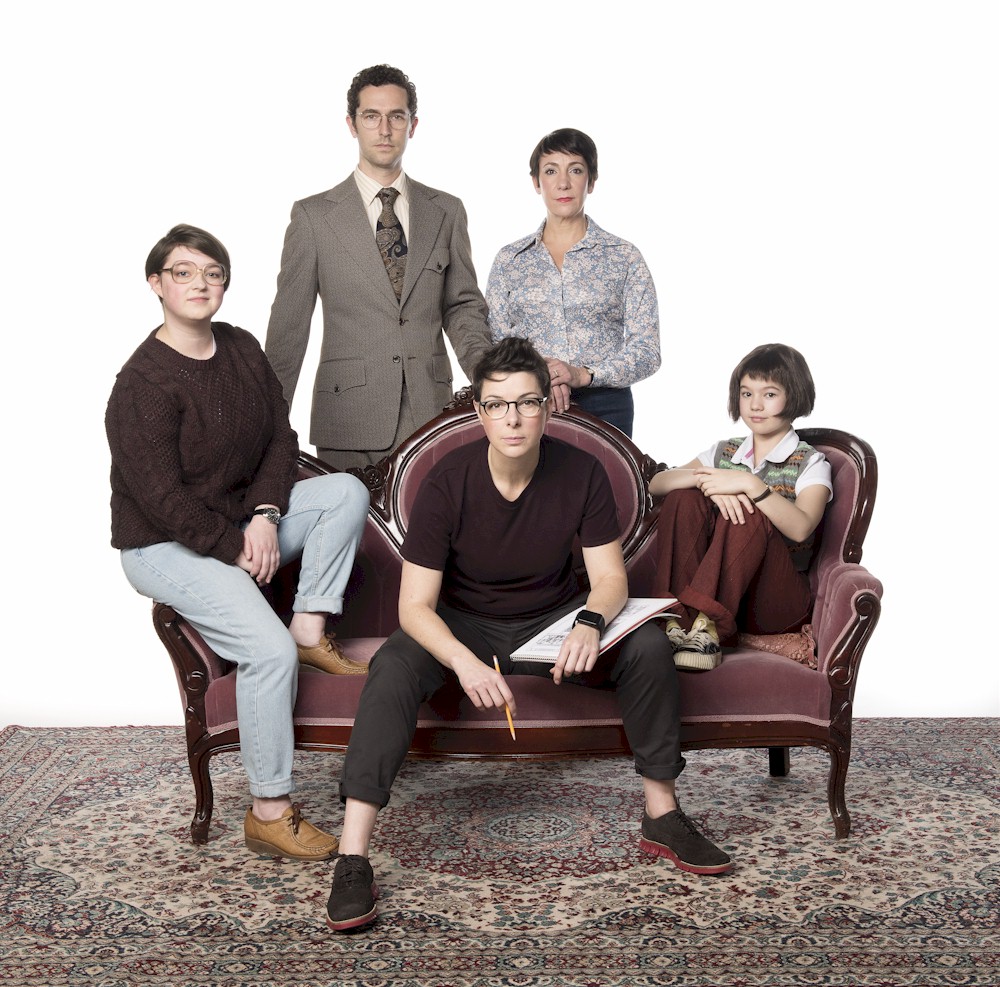 The 36th Annual Jessie Richardson Theatre Awards are tonight, and Arts Umbrella is so proud of our theatre alumni and staff who have been nominated this year.
Parents and students who attend classes at our Granville Island location may recognize Kelli Ogmundson from our front desk. Beyond her job as a Student Services assistant at Arts Umbrella, Kelli is an improv, theatre, TV, and film actor. We caught up with Kelli to talk about her Jessies nomination and all things acting.
Kelli is nominated for Outstanding Performance by an Actress – Large Theatre, for her role as medium Alison in Arts Club Theatre Company's Fun Home. The musical is about Alison Bechdel, a cartoonist and graphic novelist. In 2006, she published an autobiographical graphic novel, Fun Home, about her relationship with her family that chronicles her childhood and the years before and after her father's suicide.
The musical features Alison at three stages in her life: as a child, young adult, and adult. Kelli plays her at 19.
"She's a woman that I've always respected," says Kelli. "She's funny and she's so smart, and it was just a really wonderful character to get to play, and something I've never done before—I've never played a real person before. There's such a sensitivity around that. You can feel their life is very precious in your hands, and you don't want to do anything that she wouldn't do. The process of working on that was really hard at some times, but it was so invigorating to drop myself into a different person. I'm like a human leprechaun and she's very straightforward."
In order to capture Alison's mannerisms and character, Kelli did a lot of research. Her observations informed her portrayal: "[Alison] doesn't move unless she needs to. She's so calculated."
Because there were three Alisons, Kelli says she was able to work with the other actors to hone her portrayal as well. Sara-Jeanne Hosie plays the eldest Alison. "That was amazing," says Kelli. "I learned so much from her. She's such a talented actor. There was so much support working with the cast in general. We were playing a family, so we had to be familial with one another."
Lois Anderson directed, someone Kelli has long admired. "[Lois] was just incredible," says Kelli. "She really got me where I needed to go in the end."
On being nominated for a Jessie, Kelli says, "I was very shocked, but very honoured. The group of women I'm nominated with are insanely excellent. I put a lot of work into the show, I put a lot of heart into it, so it's very overwhelmingly kind and generous."
Acting has been a huge part of Kelli's life since she was 15. She joined the improv club at her high school (they even made it to nationals in Ottawa) and started Musical Theatre at Arts Umbrella around the same time. As a member of the Pre-professional Musical Theatre Troupe, Kelli performed in "Honk!," "Pirates of Penzance," and "Into the Woods." Even from that young age, she knew acting and being on stage was something she could do forever.
You can catch Kelli with Little Mountain Improv at Little Mountain Gallery every Tuesday at 8:30 pm. She's also attended many comedy festivals, most recently Combustion Festival in Toronto.
As for her next role? Stay tuned. Exciting things are ahead.
---
Arts Umbrella Staff and Alumni Jessies Nominees
Kelli Ogmundson
Nominated for Outstanding Performance by an Actress – Large Theatre
For Fun Home presented by Arts Club Theatre Company
Douglas Ennenberg
Nominated for Outstanding Performance by an Actor – Large Theatre
For The Events presented by Pi Theatre
Yoshié Bancroft
Nominated for Outstanding Performance by an Actress – Small Theatre
For The Double Axe Murders presented by Rusticate Theatre/Presentation House
Yoshié Bancroft (with Joanna Garfinkel)
Nominated for Significant Artistic Achievement – Small Theatre
For Japanese Problem presented by Universal Limited
Outstanding use of a site-specific historical venue for the purpose of connection, experience, and impact
Daniel Doerksen (with David Newham, Kurt Schindelka)
Nominated for Outstanding Performance by an Ensemble – Small Theatre
For A Steady Rain presented by Seven Tyrants Theatre
Daniel Doerksen (with Kurt Schindelka)
Nominated for Outstanding Sound Design or Original Composition – Small Theatre
For A Steady Rain presented by Seven Tyrants Theatre