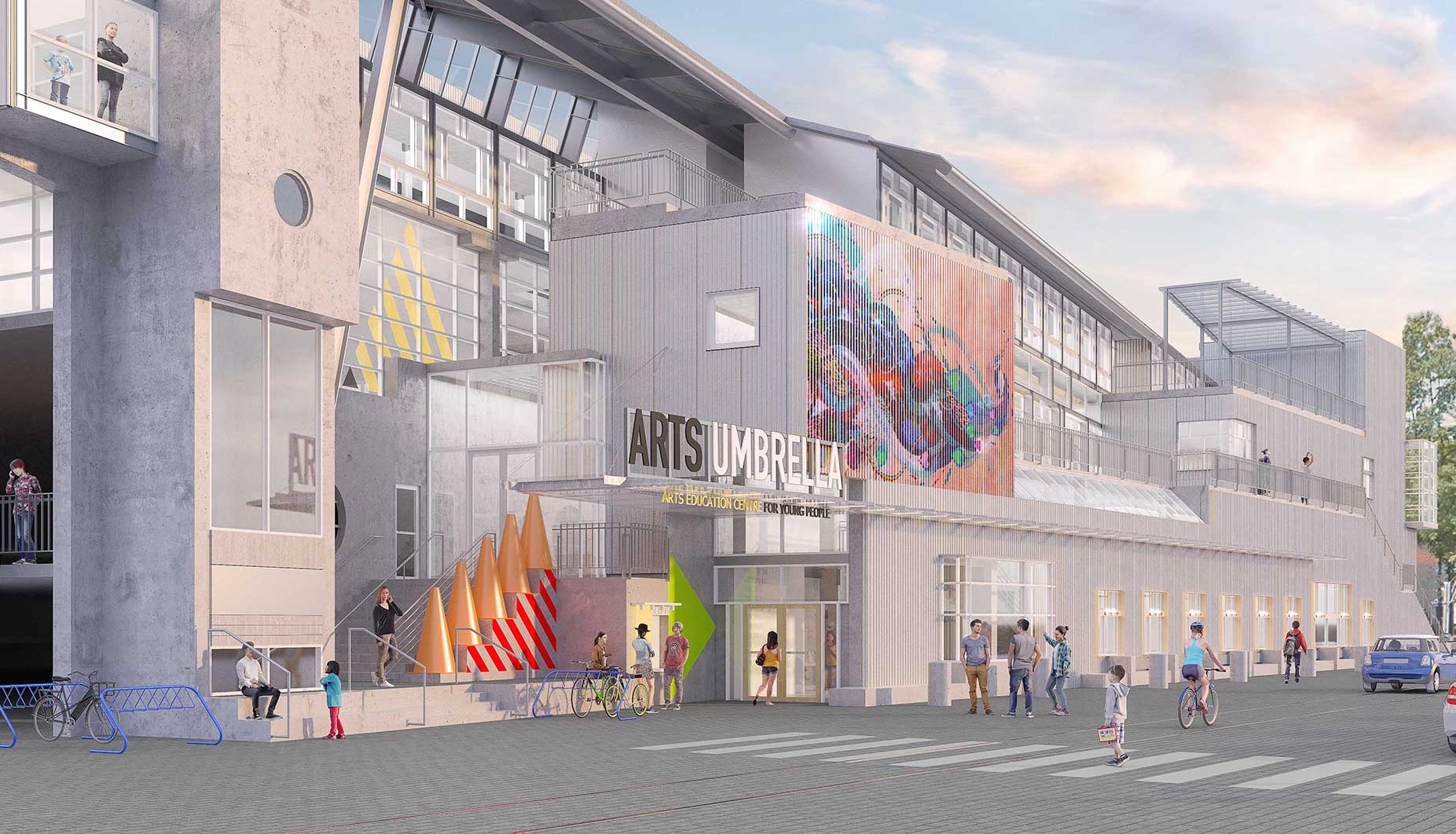 Today was an exciting day! Today was a brilliant, shining-like-wet-paint-on-fresh-canvas kind of day. It was the launch of something that will impact generations of young artists in this province, and we couldn't be happier to share it with you.
This morning on Granville Island, The Honourable Mélanie Joly, Minister of Canadian Heritage, and the Honourable Lisa Beare, Minister for Tourism, Arts and Culture, made funding announcements about Arts Umbrella's new home at 1400 Johnston Street on Granville Island.
Minister Joly announced a historic $7 million in funding from the Department of Canadian Heritage through the Canada Cultural Spaces Fund. This funding will support the reconstruction of our new building, giving it a much-needed renovation to create a purpose-built facility for young artists.
In November 2017, the Province of British Columbia announced the transfer of the building to Arts Umbrella. Today, Minister Beare announced an additional contribution of $1.4 million, which will provide the organization operational sustainability in the years to come.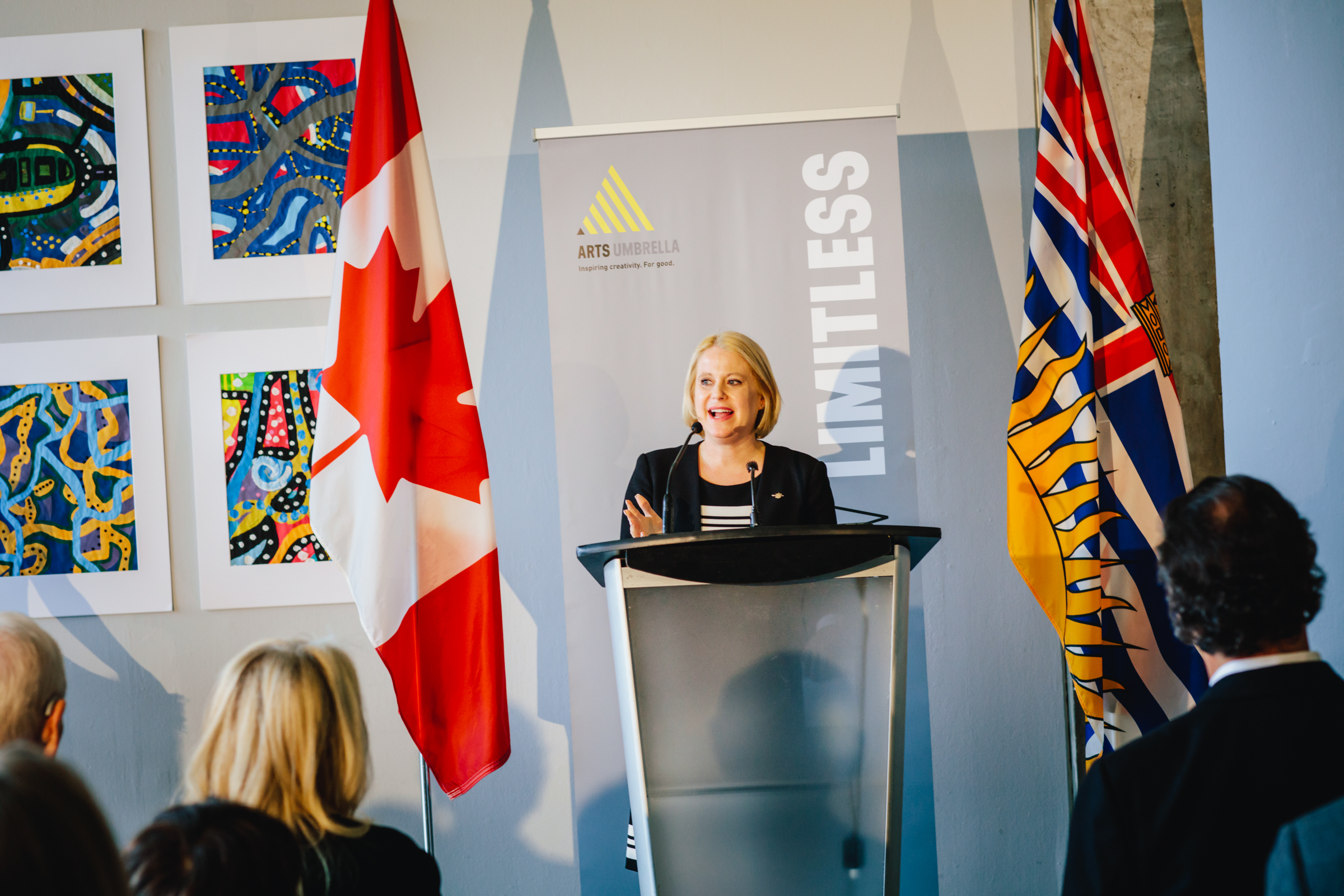 We're also thrilled to announce the launch of our private sector capital campaign to raise an additional $20 million to realize this transformative project. The campaign has already raised more than $10 million, including a $1.5 million donation from the Richardson Family Foundation, as well as several $1 million gifts from donors including the Audain Foundation, John and Nina Cassils, Goldcorp Inc., Richard and Carol Henriquez, David and Darrell Mindell, Barry and Drinda Scott, along with a generous gift from the Christopher Foundation. It's an incredible start, and we're ready to get to work raising the funds needed to provide the next generation with the best in arts education.
The new building will more than double Arts Umbrella's net square footage, ensuring innovative spaces and technologies, increased access to arts education programs for children and youth, and expanding our significant and ongoing contribution to the creative economy.
From our new building, young artists will continue to get the highest quality dance, theatre, and visual arts programming in the province. For nearly 40 years, we have helped more than half a million children and youth explore their potential and build community. In fact, each year we serve more than 20,000 young people, reaching close to 16,000 through free community programs across Metro Vancouver.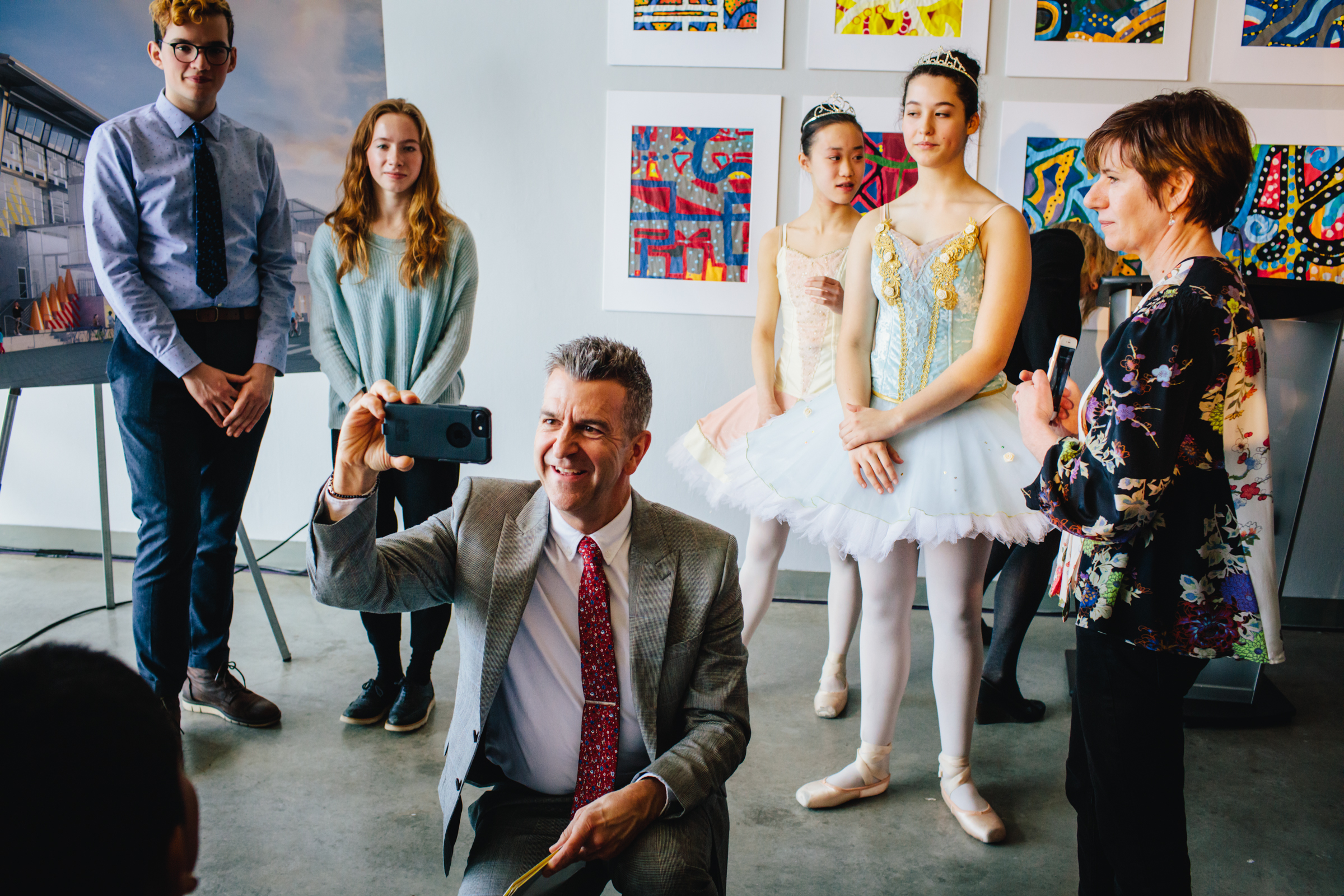 Award-winning architect Richard Henriquez, O.C., of Henriquez Partners Architects will lead the renewal of the Patkau-designed building, which was built in the 1990s. We hope to open our doors for the Fall 2019 session, with outstanding new facilities for our students and staff to enjoy.
Timeline
March 2018: final design development, building code consultation, electrical, mechanical, structural engineering consultation.
Aug 2018: construction and renovations begin
Sep 2019: New facility opens
Facilities
7 Dance studios designed to suit dancers of all ages and experience.
5 Theatre & Music studios with specialized technical and audio equipment that support multi-media applications.
8 Visual, Applied & Media Arts studios with state-of-the-art media labs, a darkroom for photography, and two kilns for ceramics.
A 160-seat professional theatre open to Vancouver's arts community.
A publicly accessible exhibition space to showcase the works of students and visiting artists.
New workshop spaces for woodworking, stagecraft building, and general fabrication will enhance our capacity to train professionals for the industry.
---
Learn more about Our New Building, and the Impact on Our Community
Stay up to date with the latest news and announcements at The New Limitless campaign website.