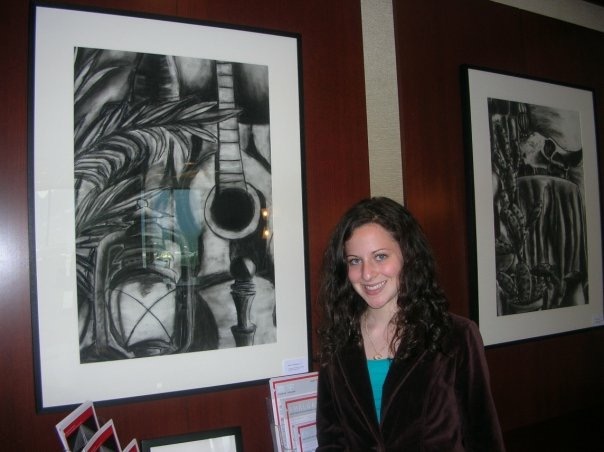 Arts Umbrella alumni start taking classes at all different times. Some may have joined us as a teen, a transplant from another city looking to connect with likeminded peers; others have taken summer camps classes for years in a row; some even started at Arts Umbrella when they were just two years old.
Becca Wertman is one of those alumni. As a two-year-old, Becca came to our Parent & Me classes with her mother: "There's a picture of this dragon that my mom and I made," Becca recalls. "That was the first class, and then I just kept taking painting and drawing, and I did sculpture also."
Becca's parents enrolled her in a lot of programs when she was young, allowing her choose which ones she liked most. "Art and gymnastics were the two that I stuck with," she says.
Growing up at Arts Umbrella, Becca has taken class with some of our longest-working instructors, including Maureen Proctor, Suzy Birstein, and Andre Seow. "I took Andre's [advanced] class from the time I could and then also worked at Arts Umbrella as his assistant." She would assist in his Saturday classes until the Advanced Teen class began, then she would switch hats and be a pupil once more. Becca also came to summer camps year after year, a big fan of Fine Art of Hanging Out, which she's also assisted.
It was in her grade 11 social studies class that Becca first studied politics. "There's one unit on Canadian politics and you learn about how the government works," she says. "According to my teacher, everyone hates it, but I thought it was the greatest thing ever." Her teacher recommended she study international relations at university because Becca did well with languages and likes travelling (in addition to her found love of politics). "I googled what [international relations] was and thought it sounded amazing, so I applied directly to IR and I loved it."
After visiting cousins at Berkeley, Becca was determined to go to school in California, and fell in love with the University of Southern California for its reputation, sure, but also for the sun. She got in, and spent the next four years working towards her degree in international relations. Though she wanted to do a minor in art as well, scheduling conflicts and limited studio time made it impossible, so she settled for a double minor in economics and French instead.
"I also did a semester abroad in Paris," she says. "And I took art class there." The Parisian vibe was in full swing for those art classes. Becca gestures at the floor-to-ceiling windows of the café we're sitting in and says they drew nudes in rooms at street level just like this. "It was a great experience to be in Paris and have the ability to do that."
*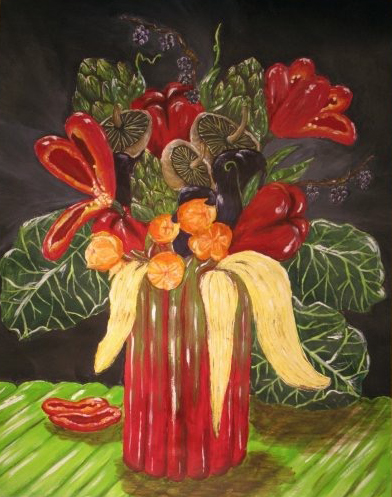 "Art influences you," Becca says. "Even if it's not direct." She thinks back to her time at Arts Umbrella; she learned a lot of life lessons over the 16-year period she took classes here. "The sun doesn't have to be in the corner of the page," she says. "I must have been little, but that's a big thing. Arts Umbrella is such an important place because they're telling kids they don't have to fit into this little box."
The summer before her masters at Columbia University, Becca interned at NGO Monitor, a research institute that looks at the activities of human rights organizations in the context of the Arab-Israeli conflict. Though she originally wanted to do a PhD, Becca was ready to be on the ground after her masters, so she decided to take a job at NGO Monitor. "It was always in the back of my mind that I could be using the same skills: research and writing, detail-oriented work, but somewhere I could write reports, articles, and op-eds and have an impact."
Before moving to Israel, Becca had travelled there several years before. She was a staffer at Birthright, a program that brings 18- to 32-year-olds to Israel for 10-day trips. Living in Jerusalem has been challenging and rewarding for Becca. It's expensive and her apartment is small, but she has found community there. To improve her Hebrew, she first took night classes, but it was time intensive. So to keep improving her Hebrew, Becca decided to take an art class at a museum. "I've met people in the class and we have a nice little community."
"I didn't have 'art' vocabulary in Hebrew," Becca jokes. "My Hebrew is very good and I get by in everyday life. I can order food or have a conversation with someone." But she got by in art class because of her foundation from Arts Umbrella. "I was able to answer questions without knowing the exact words, but by understanding enough of the context."
A believer in process, Becca enjoys the projects she's recently worked on. She describes one: "We did a giant self-portrait: the lights were off and we had a candle beside us." With candles at everyone's work stations, the light and shadow cast in the room was moody. They started in pencil, then made a giant version to paint in monotone.
Wherever she is in the world, Becca practices her art. "As a creative outlet, it gets rid of stress, it's relaxing," she explains. Her artistic practice has also been useful throughout her career. It impacts her decisions as an editor, but she's also pulled into creative meetings because her coworkers recognize her expertise.
In Vancouver for a visit with family, Becca was not prepared for snowy weather. "I hate the cold," she says. But now she's back in Israel, keeping warm and representing Arts Umbrella through all that she does.