What does art mean to you?
At Arts Umbrella, we see young faces light up when given the opportunity to create—whether it's being part of new choreography, writing and performing a play for the stage, designing an opera-singing robot for the screen, or pushing the boundaries in the visual arts.
Art means different things to different people. That's what makes it so powerful. Every young person gets something different from their artistic journey, and we help make that happen. Every year, the staff at Arts Umbrella—with the support of our donors and volunteers—bring arts education to thousands of children and teens across Metro Vancouver, including free programming to young people who face barriers to participation due to socio-economic, cultural, or family circumstances.
With the gift of art, you're opening a whole new world of possibilities for a child. Because to them, art is everything.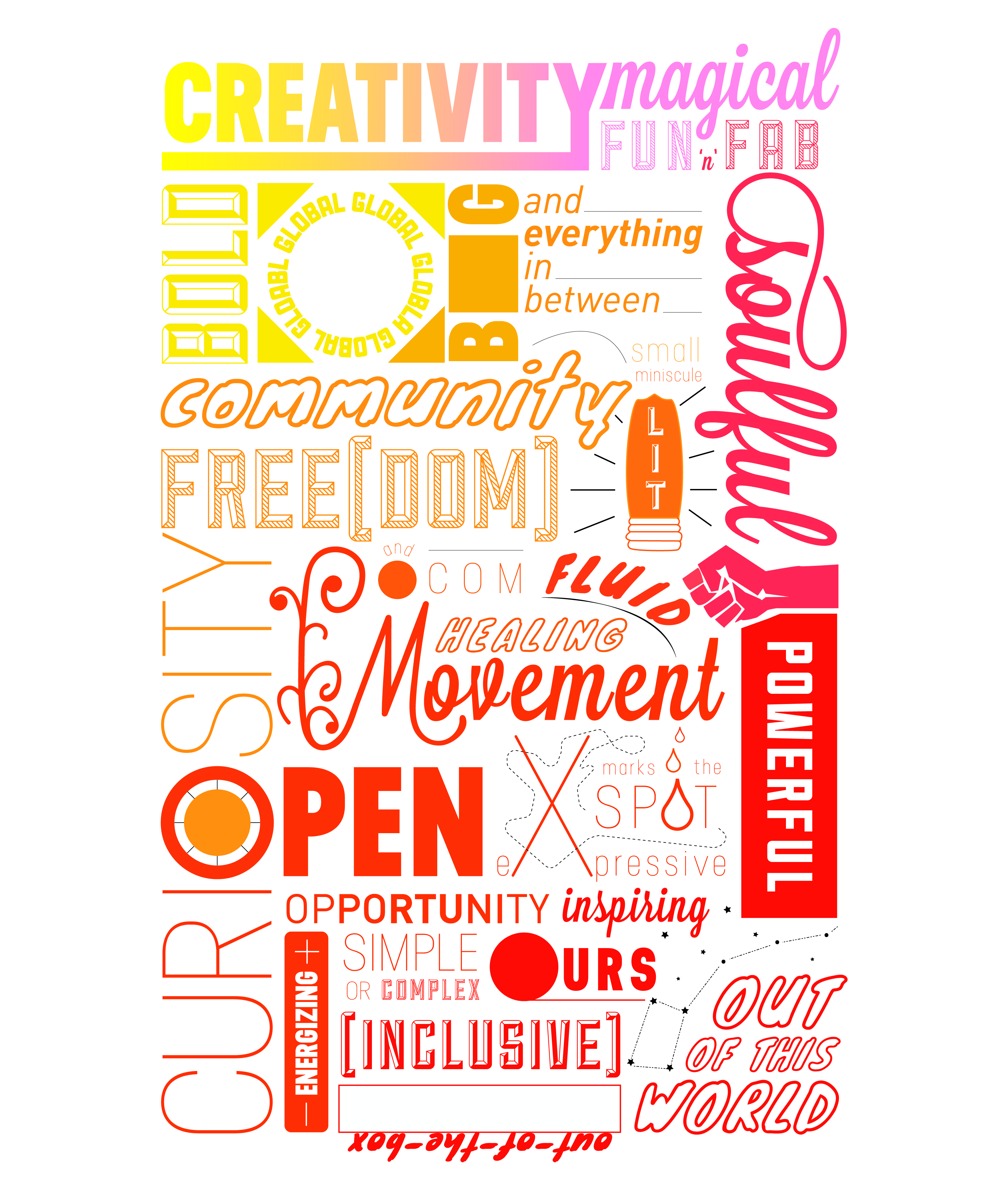 Contents
Message from the CEO & Board Chair
New Program Highlight: Pacific Storm
Our Reach & Impact
Partner & Programming Highlights
Dance Funding: Arts Umbrella Dance receives funding from the Department of Canadian Heritage
Art is Healing: A new partnership with BC Children's Hospital brings art to young people
Splash 2016: The community came together to overcome hurdles and break records
Golf 2017: A new name and a hole in one
Financial Information
Our Supporters
Our Board
---
Message from the CEO & Board Chair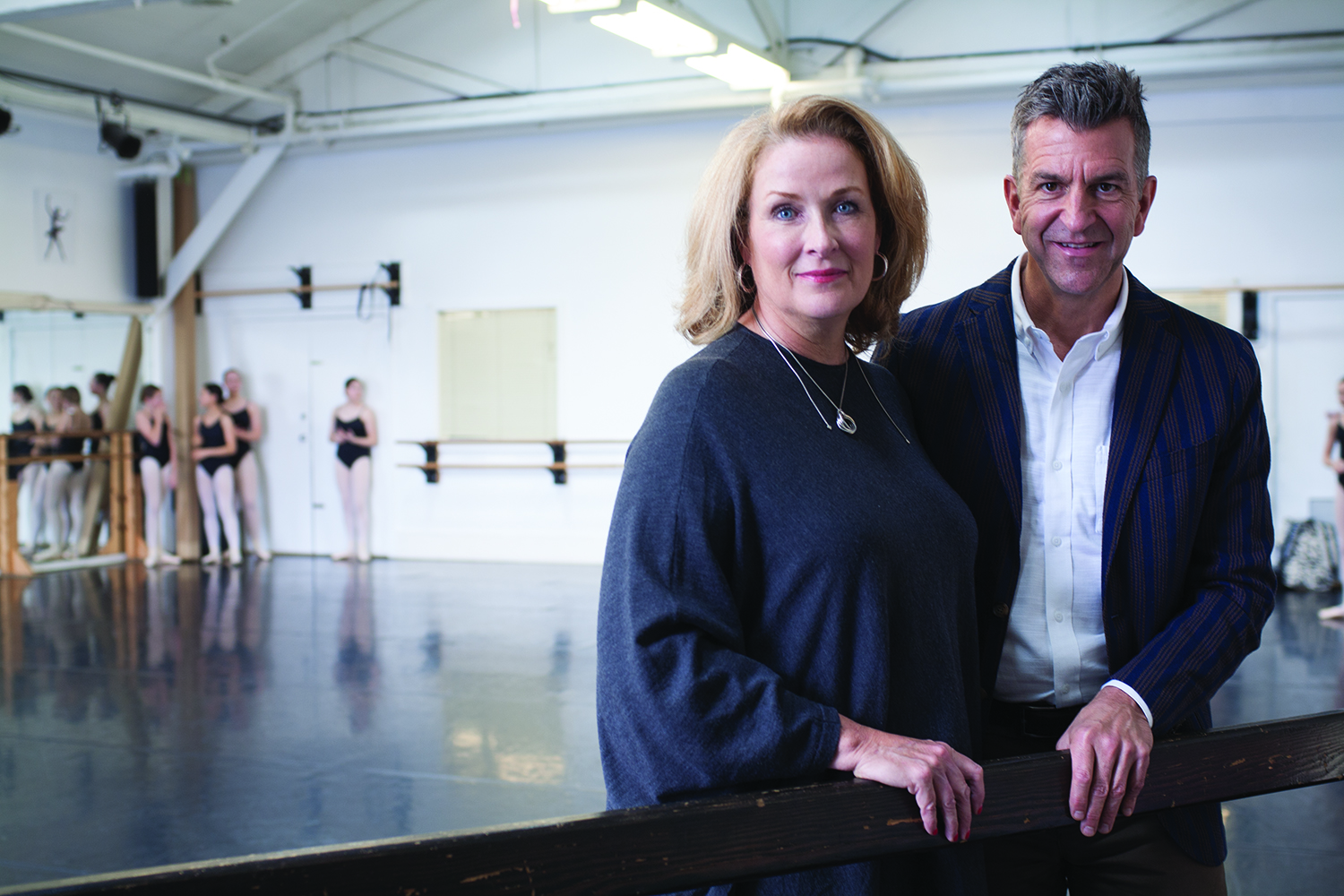 Arts Umbrella President & CEO Paul Larocque with Board Chair Jill Price. Photo: Lynol Lui
WHAT A YEAR! On behalf of the Arts Umbrella Board and staff, we are thrilled to share the many highlights and successes of our 2016/17 programming season.
During this past year, we have seen growth in our student enrollment, exceeded our targets in fundraising, and achieved a budgetary surplus. Working closely with community partners and generous sponsors and donors, we're very proud to share some highlights:
The launch of Creative Arts, in partnership with BC Children's Hospital, bringing visual arts education to young people in the Child and Adolescent Psychiatry Units.
Pacific Storm, a new social development program at Britannia Secondary School
Our first Culinary Arts workshops, launched in partnership with celebrity chef Vikram Vij.
Exciting new exhibiting opportunities for teen visual arts students, made possible through partnerships with The Vancouver Playhouse,
Contemporary Art Gallery, Simons, Westminster Savings, and Blakes.
Arts Umbrella Dance Company European Tour 2017, with stops in Amsterdam, Paris, and The Hague.
The fifth anniversary of Arts Umbrella's active presence in Surrey, with permanent facilities in South Surrey and Surrey Centre.
Nicola Wealth Management's commitment to a five-year title partnership for our annual golf tournament.
After rescheduling Splash 2016, the community came together to raise record funds.
Arts Umbrella Dance was thrilled to receive a $100,000 initial grant from the Department of Canadian Heritage through the Canada Arts Training Fund, an annual granting program recognizing high-level professional training schools in Canada (p.11). We're very proud of this new designation, which is a testament to the determination and dedication of our dance students, staff, and supporters.
We completed a Strategic Plan for 2017–2020, with five key objectives: raise our levels of innovation, excellence, and inclusivity; evolve our business model to ensure effective and sustainable operational performance; engage new communities, families, and students; increase our fundraising capacity; and expand and improve our facilities, infrastructure, and technology.
This past year saw major activity for our plans to expand the Granville Island facility. Together, we're confident that we will create a new, dynamic space for Arts Umbrella, designed for young people to fully express themselves.
Arts Umbrella continues to make a profound difference in the communities we serve—helping to nurture creativity, innovation, and positivity for generations to come. To the entire Arts Umbrella family, we thank you for your tremendous support. It's because of you that we're able to inspire creativity… for good!
With gratitude,

---
Community Program Highlight: Pacific Storm at Britannia Secondary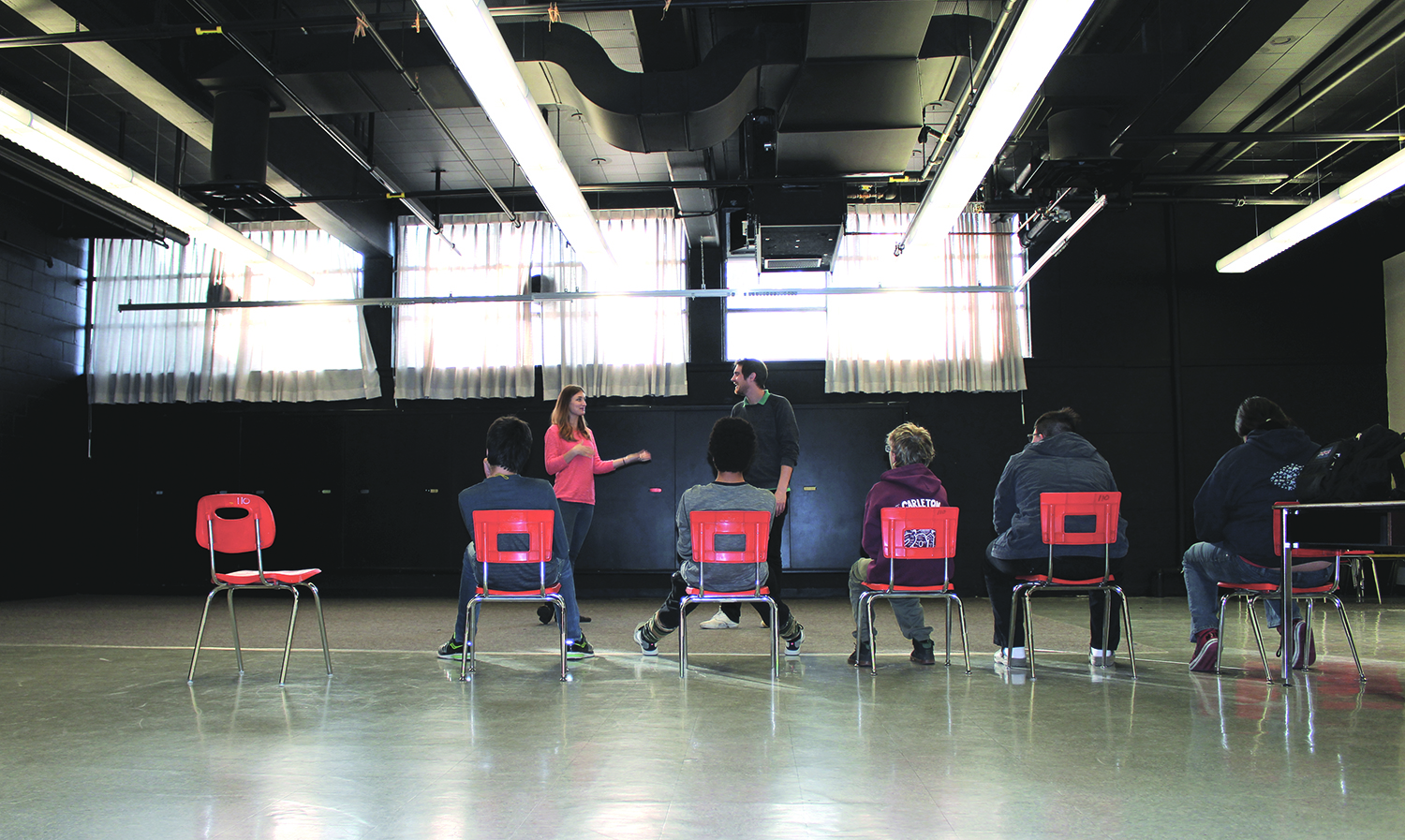 Pacific Storm instructors Daryl Fretz and Matt Clarke in the classroom with students at Britannia Secondary
Pacific Storm is a social development program for youth with emotional and physical disabilities at Britannia Secondary in East Vancouver. In spring 2017, program research and development was completed, thanks to the generous support of Dana and John Montalbano. The full implementation of the program began in September 2017, with major support from Cadillac Fairview.
Programming like this allows us to explore really exciting subject matter, get away from stand-up teaching pedagogy, and branch out into a more humanistic realm where the kids are going to have to rely on personal development and courage. That, in today's educational world, is priceless.
—Troy Hardwick, VSB teacher
Instructors Matt Clarke and Daryl Fretz, along with VSB teacher Troy Hardwick, mention a shining moment during the program's pilot months. One teen, a selective non-verbal girl, systematically avoids participation in her classes. According to Troy, she almost never speaks, and sits to the side for every group activity in school. "And then, one day, Daryl and Matt were doing an assignment with [the students]—voiceovers to cartoons—and, all of a sudden, she started talking." Incredibly, she was vocalizing; she was coming out of her shell. "As far as getting her to step out, that was the one segment of our programming this year that facilitated that," says Troy. "Nothing else did."
Pacific Storm at a Glance
14 students
Ages 13-15
10 weeks of programming
15 instructional hours per student
2 professional theatre instructions, plus guests
Outcomes:
• a wider personal view of themselves
• improved self-confidence and self-worth
• increased creativity and innovation
• independent decision-making
• improved teamwork abilities
---
Our Reach and Impact
---
A Year at Arts Umbrella
Our 2016/17 season was jam-packed with incredible classes—from returning favourites to shining new partnerships and programs. The impact our programming makes in the lives of young people, including many in vulnerable communities, is only possible because of the continued support of our donors.
Here are just a few of the highlights showcasing that Art is Everything. Visit us at artsumbrella.com/stories for more stories.
ART IS OPPORTUNITY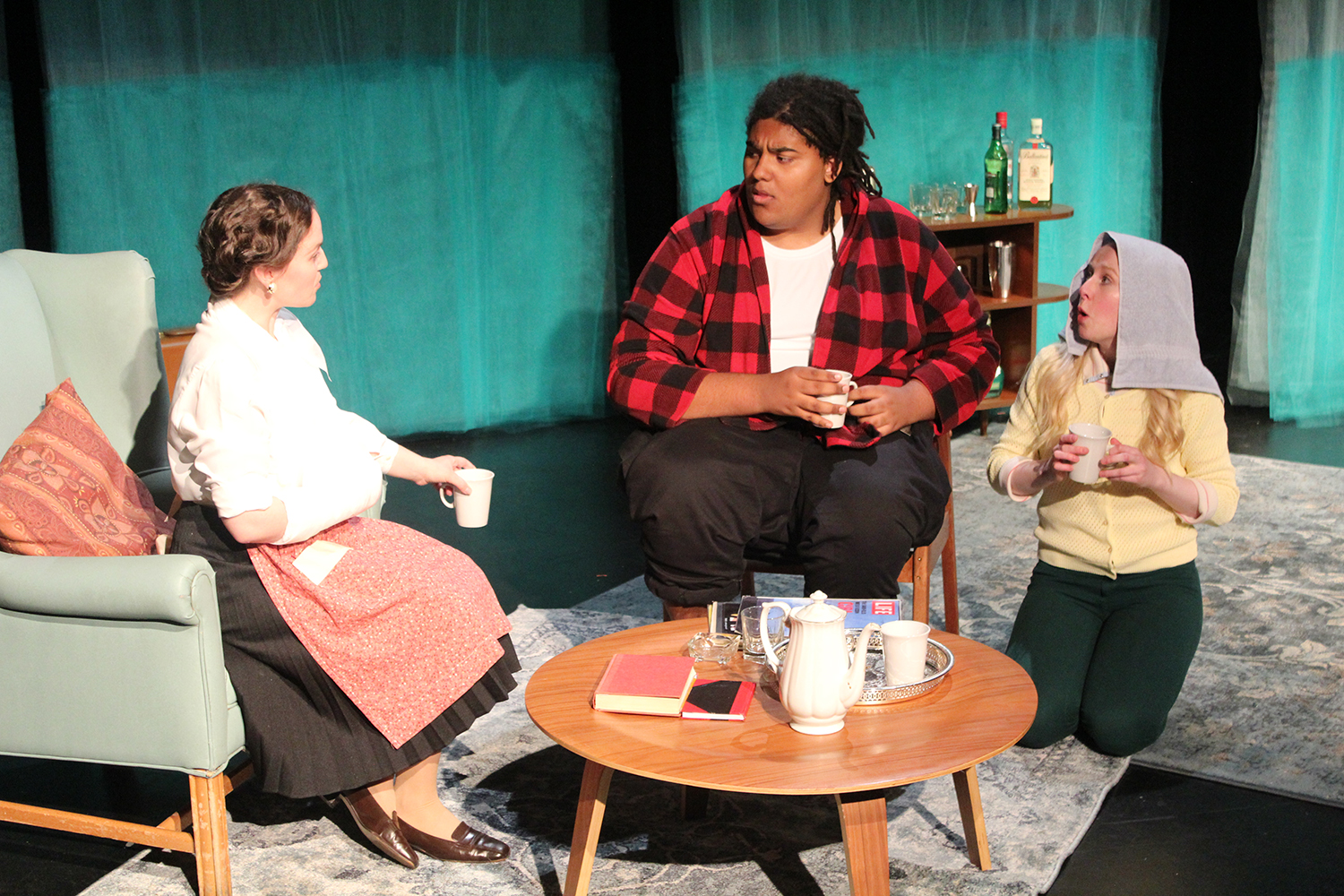 Theatre Conservatory students Isaac Hotchkiss (centre) and Sidney Klips (right) perform Morris Panych's "Girl in the Goldfish Bowl"
High school students across Metro Vancouver apply to leading post-secondary theatre programs around the world every year. These programs are small, intense, and potentially career-making. Sometimes, applicants don't get the results they want. But it doesn't mean the end—it means a beginning. We reached out to the theatre community to find out what students were missing in their applications. To bridge the gap for the next generation of theatre, we created the Theatre Conservatory program—an intensive, eight-month program for 12–16 students. The program teaches more than just acting—like how to better get to know yourself, and how to manage your time—while providing an early sense of the professional world. In other words: in-depth theatre life experience. Through the program, teens get a sense of working in theatre, in an environment that empowers them to pursue their passions.
The teachers have been so invested in our uniqueness, developing our strengths, and catering the program to what we need out of it. It's a supportive environment, and exactly what I needed for this year.
—Sidney Klips, Theatre Conservatory graduate
Art is Sustainable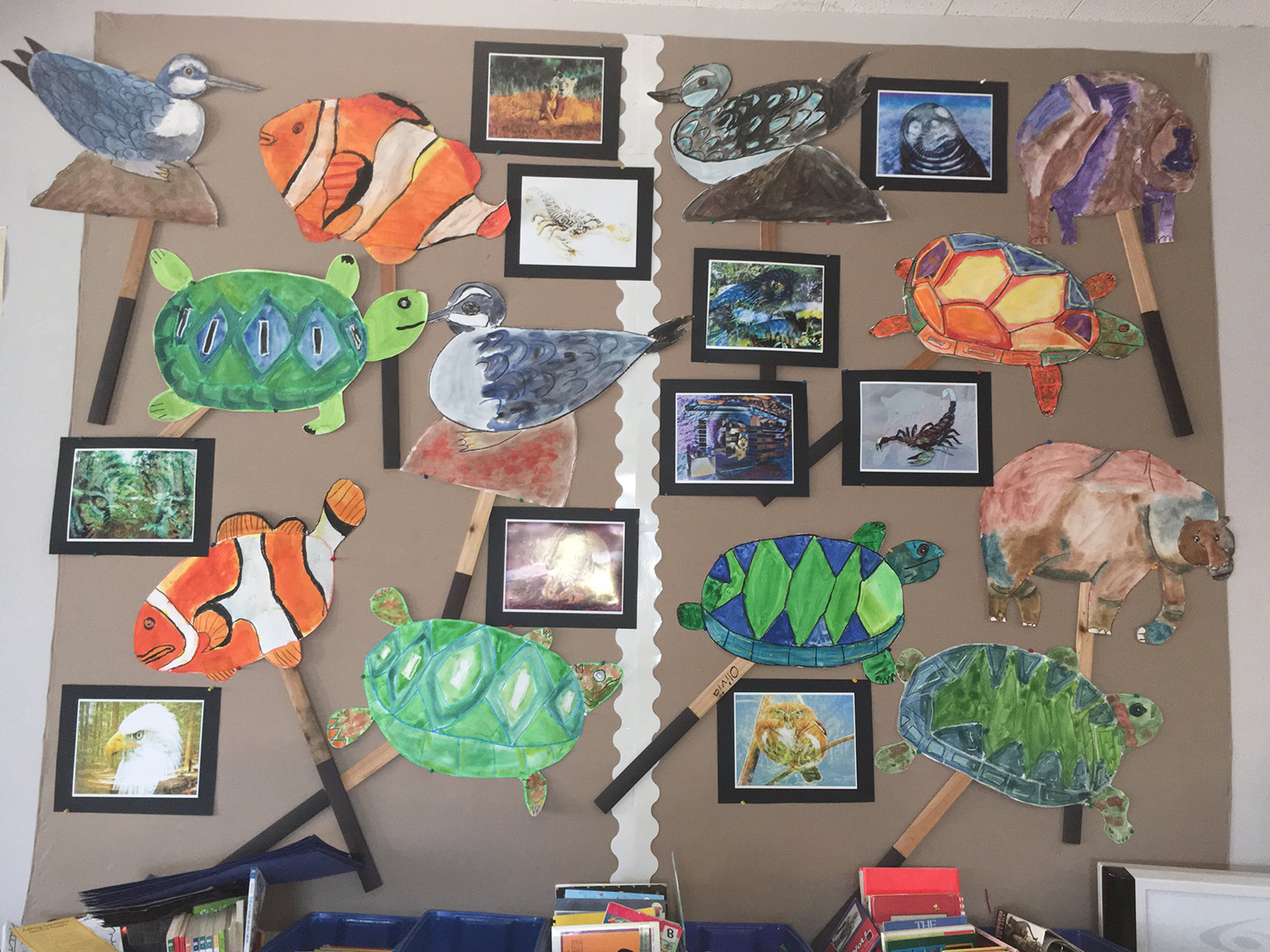 Student work at the HSBC Environmental program. Photo: Angela Jimenez
The HSBC Environmental Program is one of our longest-running community programs, connecting students from vulnerable communities to the arts and the environment since 1998. HSBC provides funding that covers bus trips, art supplies, and instructional hours for over 1,200 students in grades 1–7 each year. Arts Umbrella works with local school boards to select approximately 40 diverse classes to participate every school year. With 90-minute workshops in Theatre, Visual, and Media Arts based upon a central unifying theme—like champions of nature, or urban wildlife—it's a unique experience for kids who might not otherwise have access to high-quality art supplies or computers. These workshops are delivered onsite at Arts Umbrella on Granville Island and South Surrey, giving young people an opportunity to leave their regular surroundings and be exposed to new ideas in an energizing environment. Working in small groups, students have room to roam in a creative space, allowing them to explore their freedom of expression. Over the past two decades, instructors have expressed their gratitude to HSBC for helping over 20,000 students discover a newfound passion, and for broadening their horizons. Additional support for this program is generously provided by Jeff Mooney and Suzanne Bolton.
Going to Arts Umbrella and having artists share their expertise is a really valuable experience for students. The digital media project is an excellent outlet for children who struggle with hands-on art projects and feel like they do not enjoy making art. It really changes their perspective!
—Alessandra Simonut, Hastings Elementary, Grade 6/7 teacher
Art is Delicious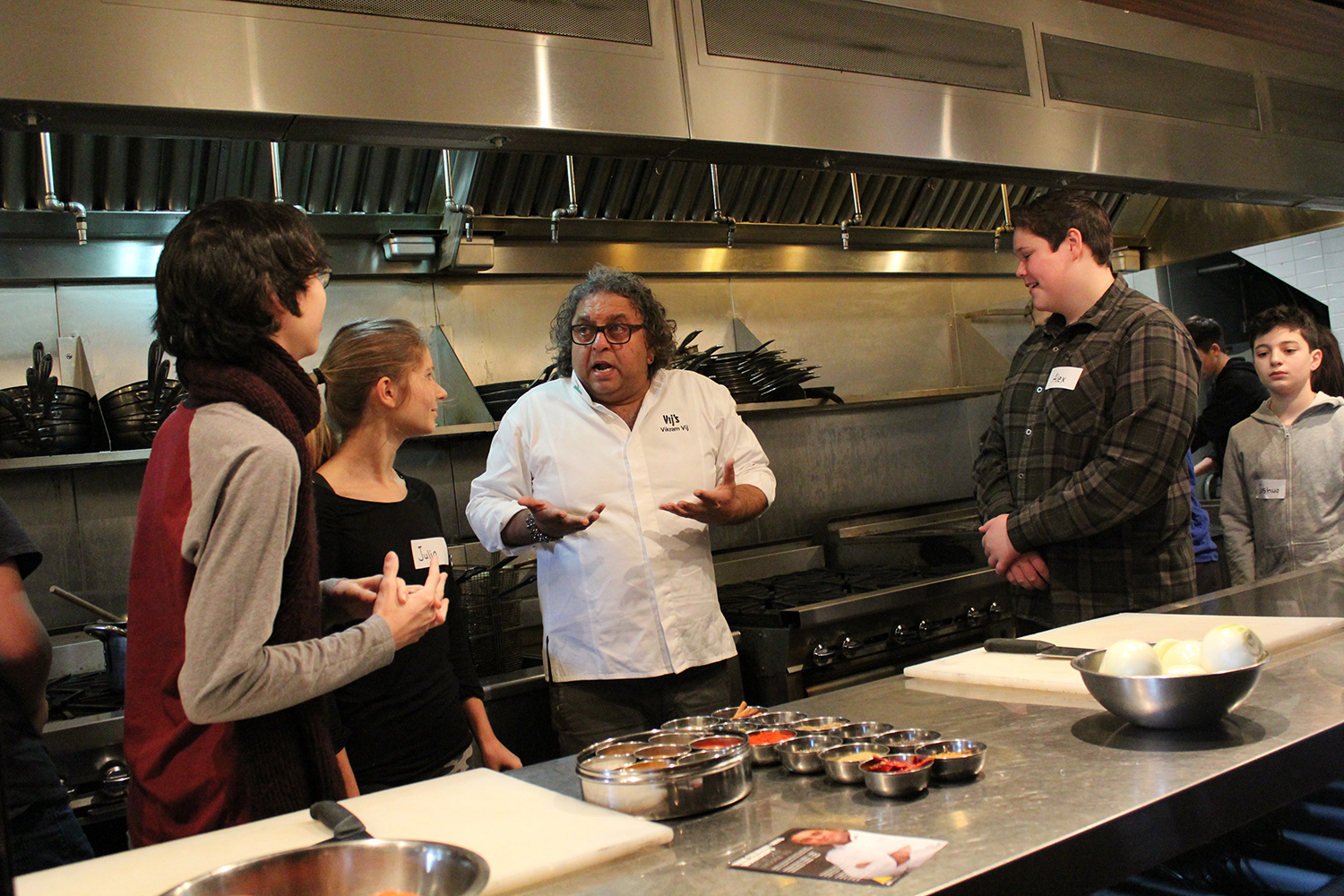 Vikram Vij cooking with Arts Umbrella students at one of his Culinary Arts workshops in South Surrey
With the help of internationally acclaimed chef Vikram Vij, we launched our first ever Culinary Arts program: cooking workshops with this iconic chef at his South Surrey restaurant My Shanti. The sold-out workshops were about culture just as much as they were about food. Participants communed over delicious food, shared their cultures, and cultivated new friendships.
Art is Everywhere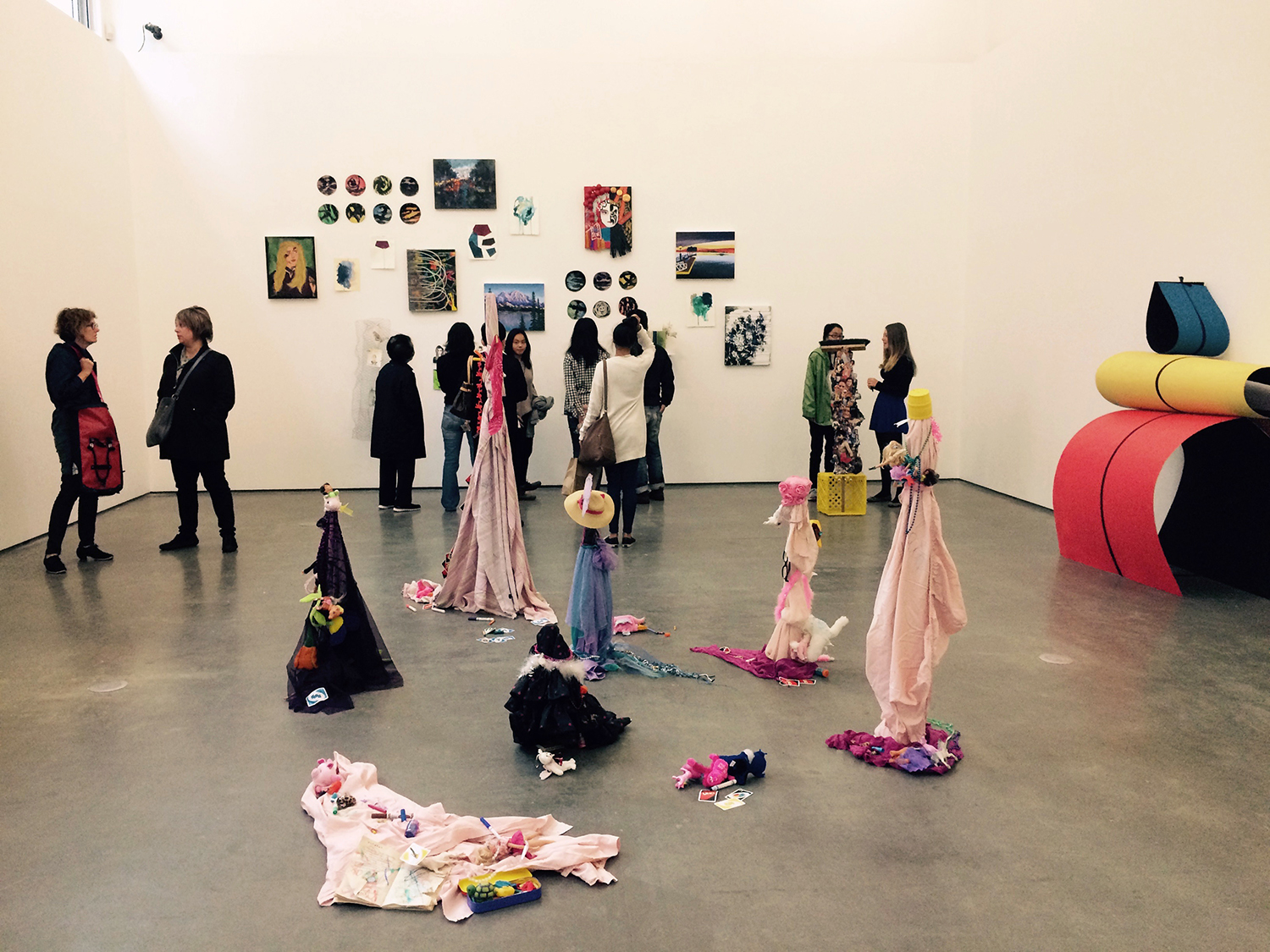 Student work on display at the Contemporary Arts Gallery
At Arts Umbrella, one of our goals is to provide exhibition opportunities for our students. Working with community partners, we give students a place to express themselves, show their work, and celebrate what they do. It's an extension of the learning that goes on in the classroom, where students can engage with and inquire about what their art means in the world. At The Vancouver Playhouse, the curated, teen-led exhibition turns over every quarter. At the Westminster Savings corporate headquarters in Surrey, a large-scale student art installation is exhibited in the main reception area. As part of our Art Lending program, Simons at Park Royal in West Vancouver exhibits a committee-selected series of work by artists ages 8–18 in their café. Through the same Art Lending program, student work is also on display year-round at the Blakes office in Vancouver. Students in the Visual Art Summer Intensive program exhibited their work in the windows of the Contemporary Art Gallery.
Art is On Screen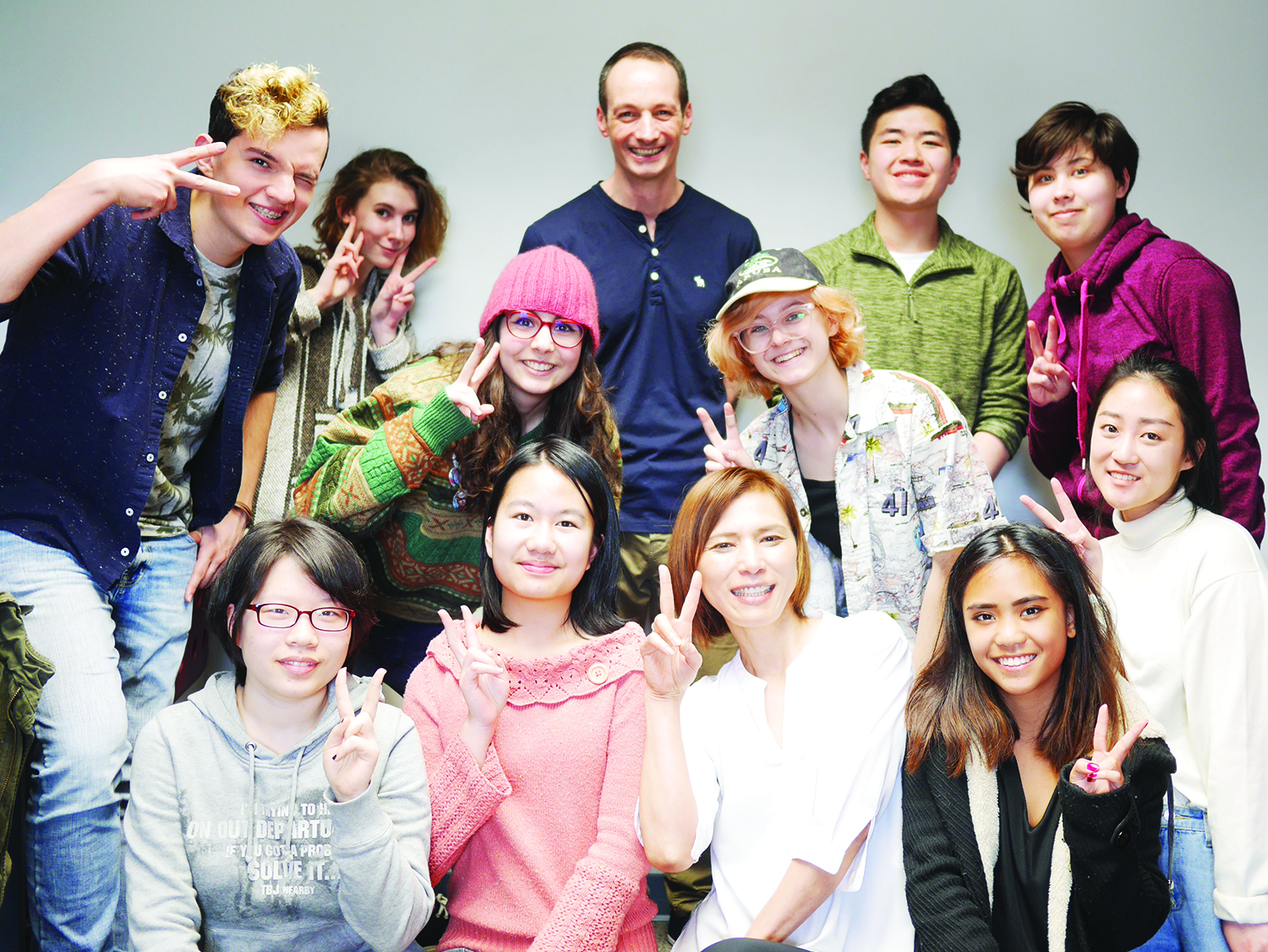 Students in the 2017 EA Teen Animation Scholarship program. Photo: Kaori Kasai
Hours in front of a computer seems a likely pastime for many teens, but for those in the EA Teen Animation Scholarship program, it's artistic passion that drives them. Instructor Kaori Kasai and EA art director Ian Lloyd wanted to create a program that would both inspire teens and prepare them for the future. "The emphasis is squarely on visual storytelling as a skill that is widely applicable to a broad range of careers," says Ian. The program is welcoming and safe, but it also exposes teens to project planning and tight timelines—without the stress of tests and graded evaluation. "The key is not to intimidate them, but to help them set and achieve realistic goals for themselves."
Our students represent a broad and diverse cross-section of the population, and, as such, they each come to the program with a range of interests, aptitudes, and challenges. Games, animation, and illustration are often a place where these students can excel and feel empowered as creators.
—Ian Lloyd, art director at EA
Art is Celebration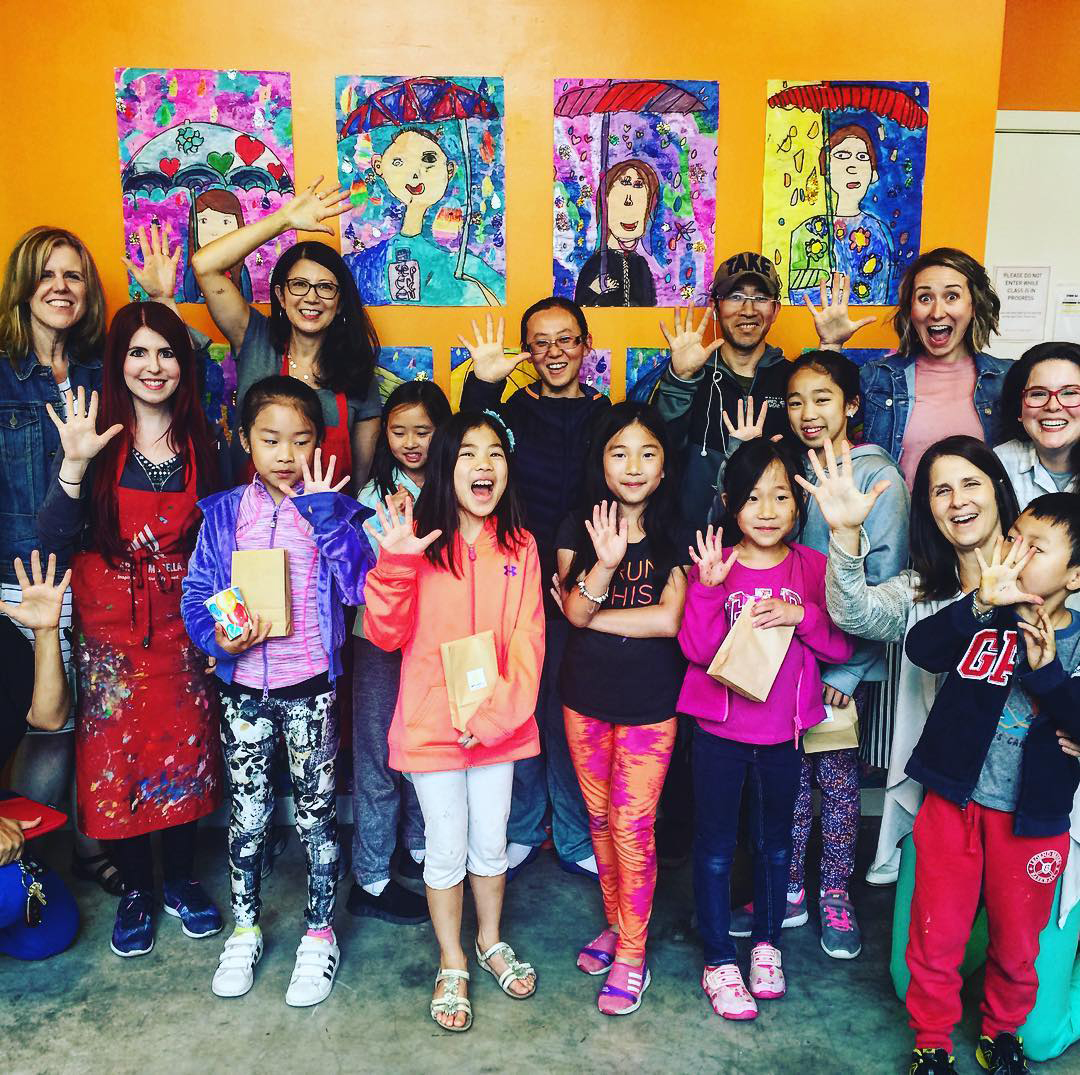 Students and staff celebrate five years in Surrey
Our Surrey locations celebrated their fifth anniversaries in 2017. Expanding into Surrey has been both a challenge and a thrill. Our two Surrey locations provide parents and children with access to top-quality art, theatre, and dance programming, and connect local artists to the community. With your feedback, we've been able to expand our footprint in Surrey, reaching more youth through free community programs in schools and community centres in the area than ever before. Additionally, AUDC and our Theatre Troupes perform in Surrey schools throughout the year, engaging new audiences and encouraging the next generation of artists. Now, time for some cake!
---
Art is Movement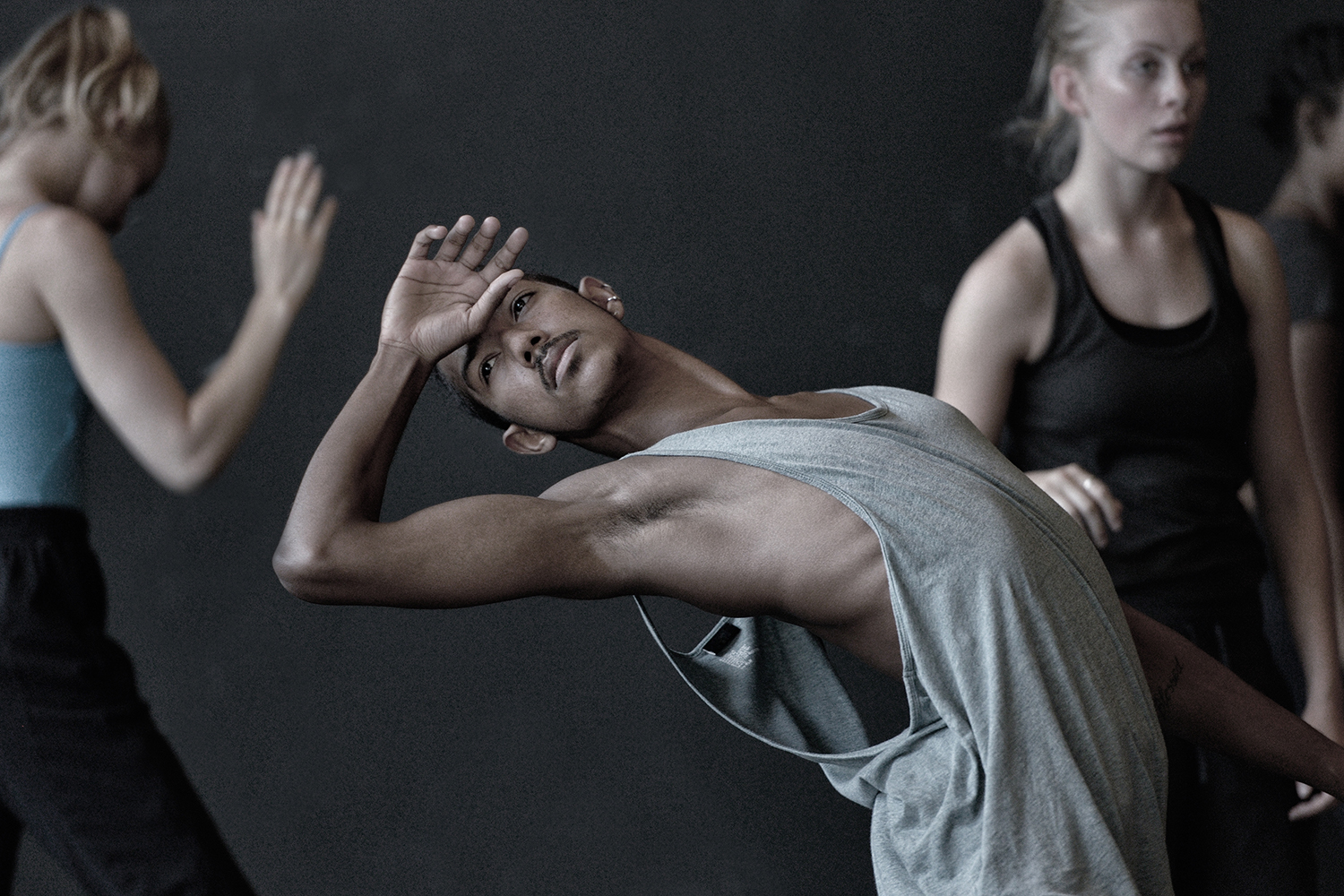 Dancers at the 2017 International Summer Dance Intensive. Photo: Michael Slobodian
Breakthroughs come in all shapes and sizes. Announced at the opening night of the 2017 Season Finale at the Vancouver Playhouse, Arts Umbrella Dance received a $100,000 Canada Arts Training Fund (CATF) contribution from the Department of Canadian Heritage this year.
The CATF provides financial support for the ongoing operations of Canadian organizations that specialize in training artists for professional national or international artistic careers at the highest levels. Arts Umbrella is among just four recipients in the dance category nationwide—a testament to the determination and dedication of all students, staff, and supporters.
With the funding, Arts Umbrella Dance will be able to expand its programming, bringing more world-renowned choreographers to the city, and providing dancers in Metro Vancouver with top-quality training and career preparation. Ultimately, this will support production and creation for other artistic organizations, and further Vancouver and Canada's reputation as a cultural destination.
Strong artistic and cultural communities help build vibrant cities, where economies grow and Canada's middle class can thrive. Together, we must encourage our talented young people to discover their individual voices and celebrate their creativity. That is why we are proud to support Arts Umbrella and its work in delivering professional dance training to young people.
—The Honourable Mélanie Joly, Minister of Canadian Heritage
European Tour 2017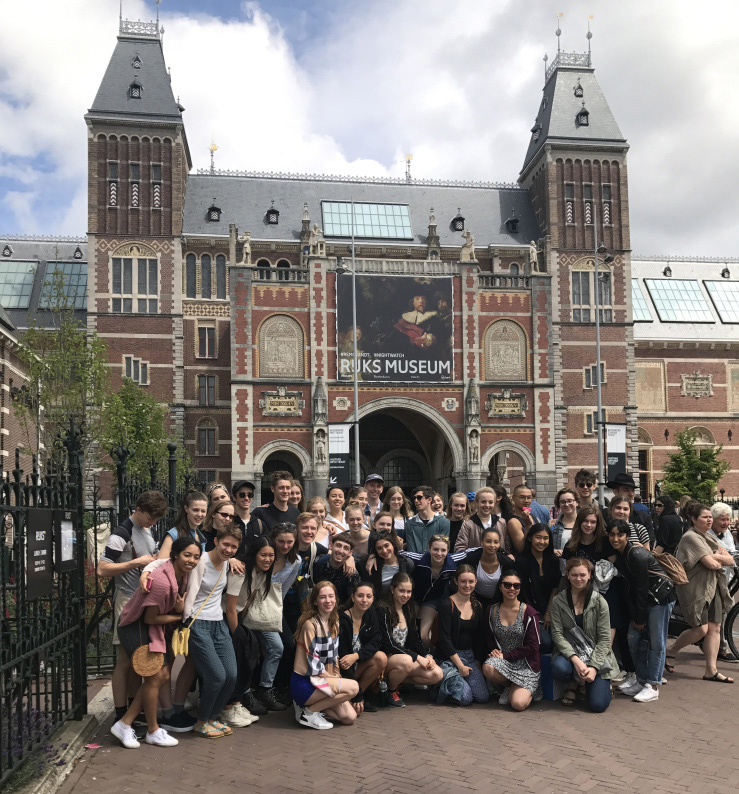 Arts Umbrella Dance Company in Amsterdam during their European tour
European Tour 2017 With your support, AUDC whisked off to Europe this summer for an impactful tour, with stops in Paris, Amsterdam, and The Hague. Presenting repertoire at ITS Festival and NDT Shortcuts XL, workshops with top-talent international choreographers, taking in shows at elaborate theatres, and exploring the city between classes gave dancers a glimpse of a bright future. Experiences like this are life-changing for young people, and Arts Umbrella is dedicated to offering opportunities like this to students in every discipline and from every background.
---
Creative Arts
A new program at BC Children's Hospital brings art to young people in the Child and Adolescent Psychiatry Units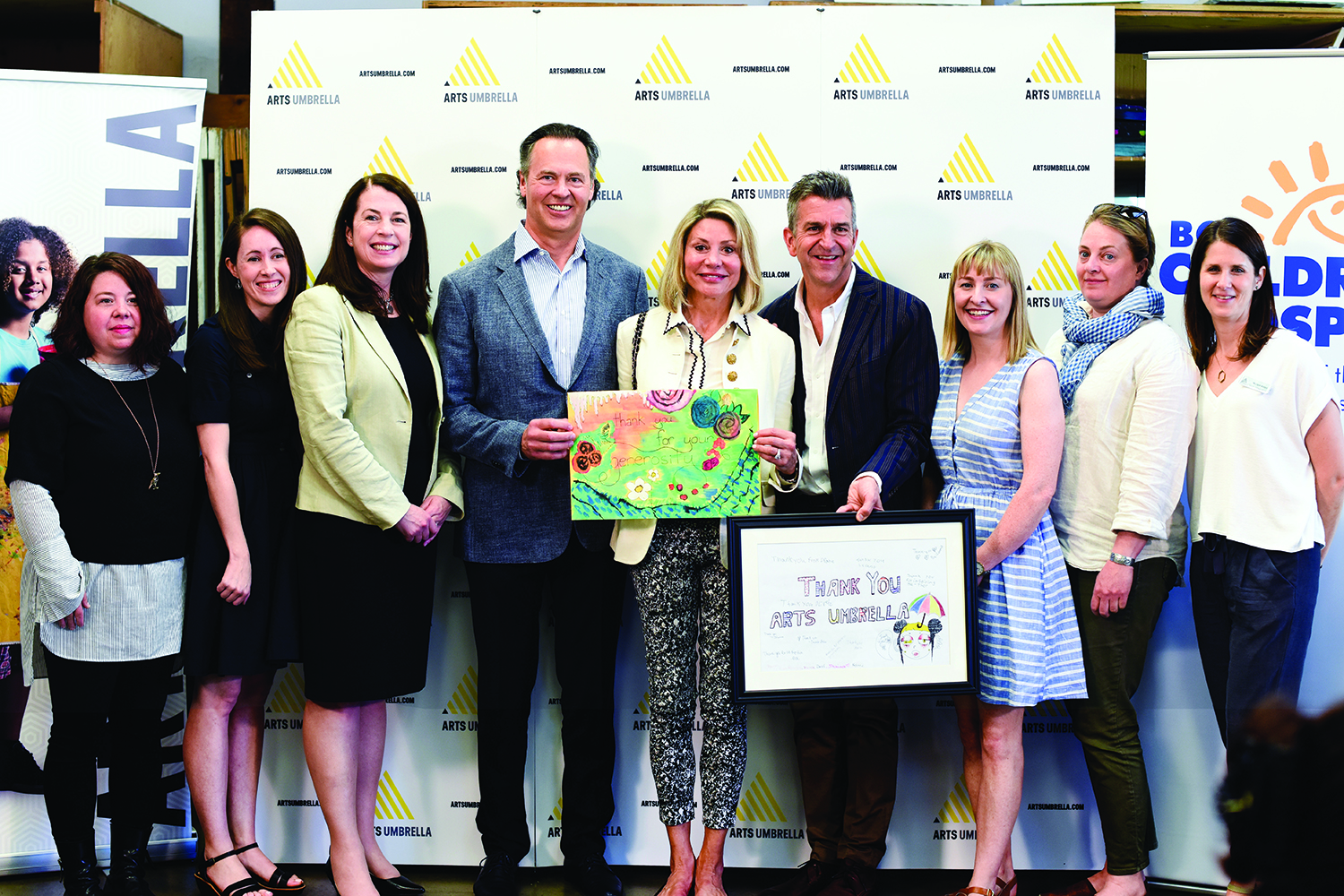 Arts Umbrella staff, with donors Dave and Pamela Richardson, and BC Children's Hospital staff and teachers. Photo: BC Children's Hospital
Children and teens from across the province come to BC Children's Hospital (BCCH) for all variety of treatment. In the Child and Adolescent Psychiatry Units, patients often come from remote communities. With stays stretching up to four weeks, the Vancouver School Board (VSB) operates a school program to provide stability and education to these vulnerable youth.
Ali Thomas, a special education teacher in the Child Psychiatry Unit at BCCH says that hospital art experiences have the capacity to both inspire and terrify students.
"Inspiration, in that they could remarkably express ideas and feelings through art that we weren't always able to access in our work with them on the unit," she explains, "but also the terror of a blank piece of paper and experiences of frustration, judgement, and fear of making a mistake."
BCCH was sure, however, that with the right instructors and program, art-making could have a positive impact on their patients. Enter Arts Umbrella. Following an awe-inspiring six-month pilot made possible by lead funding from Dave and Pamela Richardson, with generous support from Stephanie Carlson, Ali has witnessed some remarkable transformations during artist-instructors Jamie Hume and Catherine Falkner's spirited monthly visits.
One boy came from a remote community in the north, where he'd had many disruptions in his young life, including times when he was uncertain of where he would live, or if there would be food on the table. On Arts Umbrella Day, he was wary about entering the classroom and participating, but Jamie encouraged him inside and connected with his imagination.
"In no time, [he] was creating an imaginary character named Gary," says Ali. "He cut out denim cloth for his pants, used some buttons for his eyes and nose, and some feathers for a scarf to keep him warm. Soon, a sturdy suitcase was crafted for Gary, along with a home where he could live. The crafting and storytelling that was sparked in this young boy really brought him out in a way that we had never seen before." Through his art, this child was able to communicate his desire for a safe place where his needs are met.
---
Raise a Glass
Splash 2016 overcame windy obstacles to raise record-breaking donations for the Arts Umbrella Bursary Fund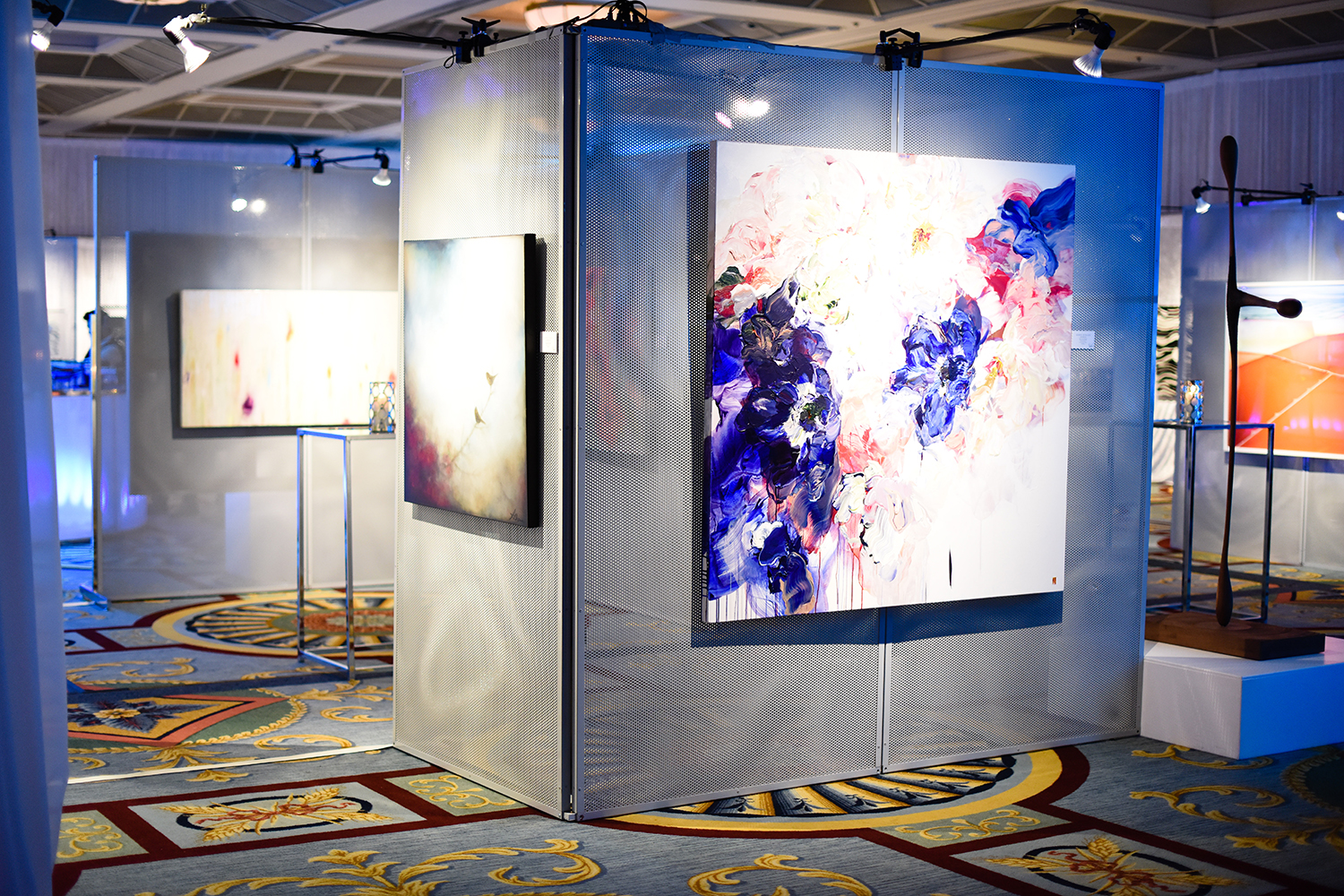 Auction items hang in the gallery at the Fairmont Hotel Vancouver for Splash 2016. Photo: Renata Sinclair
THE 34TH ANNUAL SPLASH ART auction and gala, presented by Blake, Cassels & Graydon LLP and TD Bank Group at the Fairmont Hotel Vancouver, was an inspiring evening. We are profoundly grateful for the incredible outpouring of community support after the heartbreaking cancellation of our original Splash date, at Performance Works on Granville Island, due to severe weather conditions.
The evening, co-chaired by Beverley Steinhoff and Jeffrey Merrick, and the auction, energetically led by Hank Bull and Bruce Munro Wright, raised a record-breaking $430,000 in net proceeds.
Thanks to our guests, artists, sponsors, and volunteers, Splash 2016 was our most successful yet. Every year, Splash helps us deliver arts education where it's needed most in Metro Vancouver, reaching vulnerable youth through bursaries and free programming. Certainly worth raising a glass over.
Spotlight on Barry Scott
For 33 consecutive years (1982-2015), Barry Scott volunteered as our Splash auctioneer, raising more than $5 million in support of Arts Umbrella's mission. At Splash 2016, we announced the Barry Scott Legacy Fund to support the hundreds of youth who receive bursaries to attend our programs. During the event, the first $10,000 paddle raise was generously matched by donations from Terry and Charlene Krepiakevich, and Peter and Joanne Brown. Attending as guests, Barry and his wife Drinda stepped up to donate an incredible $50,000 to the fund, for a grand total of $70,000. Thank you!
2016 Splash Artists
Pernilla Ahrnstedt
Thomas Anfield
Omer Arbel
Carole Arnston
Marta Baricsa
Michael Batty
Athena Bax
Judson Beaumont
Shannon Belkin
Lisa Birke
Bocci Design & Manufacturing Inc.
Matthias Boening
Kevin Boyle
Christine Breakell-Lee
David Burdeny
Bobbie Burgers
Paul Burke
Anne Carson
Chris Charlebois
Peter Chen
Vicky Christou
Lil Chrzan
Richard Cole
Emily Cooper
Jack Darcus
Daniel de Regt
Halin de Repentigny
Ross den Otter
Jamie Evrard
Kendra Feller
Mary Fox
Tim Fraser
JG Freedman
Sunshine Frère
Gregory Geipel
Ann Goldberg
Dina Goldstein
Anna Gustafson
Bradley Harms
Gabryel Harrison
Kerensa Haynes
Kate Henderson
Richard Henriquez
Joshua Jensen-Nagle
Krista Johnson
Patricia Johnston
Ted Jolda
Jow
Kendal Kendrick
Tiko Kerr
Katsumi Kimoto
Kari Kristensen
Chris Langstroth
Kevin Lanthier
Michael Levin
Jolinda Linden
Joanna Lovett
Enrique Manchon
Gerda Marschall
Casey McGlynn
Federico Méndez-Castro
Steven Nederveen
Christian Nicolay
Lisa Ochowycz
Markian Olynyk
Marisa Pahl
Jim Park
Glenn Payan
Ross Penhall
Tristesse Seeliger
Jay Senetchko
Golnar Sepahi
Robert Shiozaki
Danny Singer
Trig Singer
Stuart Slind
Tanya Slingsby
Gordon Smith
Ed Spence
Peg Steley
Karl Stittgen
Scott Sueme
Carla Tak
Terrence P.R. Turner
Van Dop Gallery
George Vergette
Marleen Vermeulen
Alex Waber
Ken Wallace
David Wilson
Jeff Wilson
Lucas Wolf
Paul Wong
Arleigh Wood
Andy Wooldridge
---
A Hole in One
Nicola Wealth Management made a big commitment to youth access to the arts in June 2017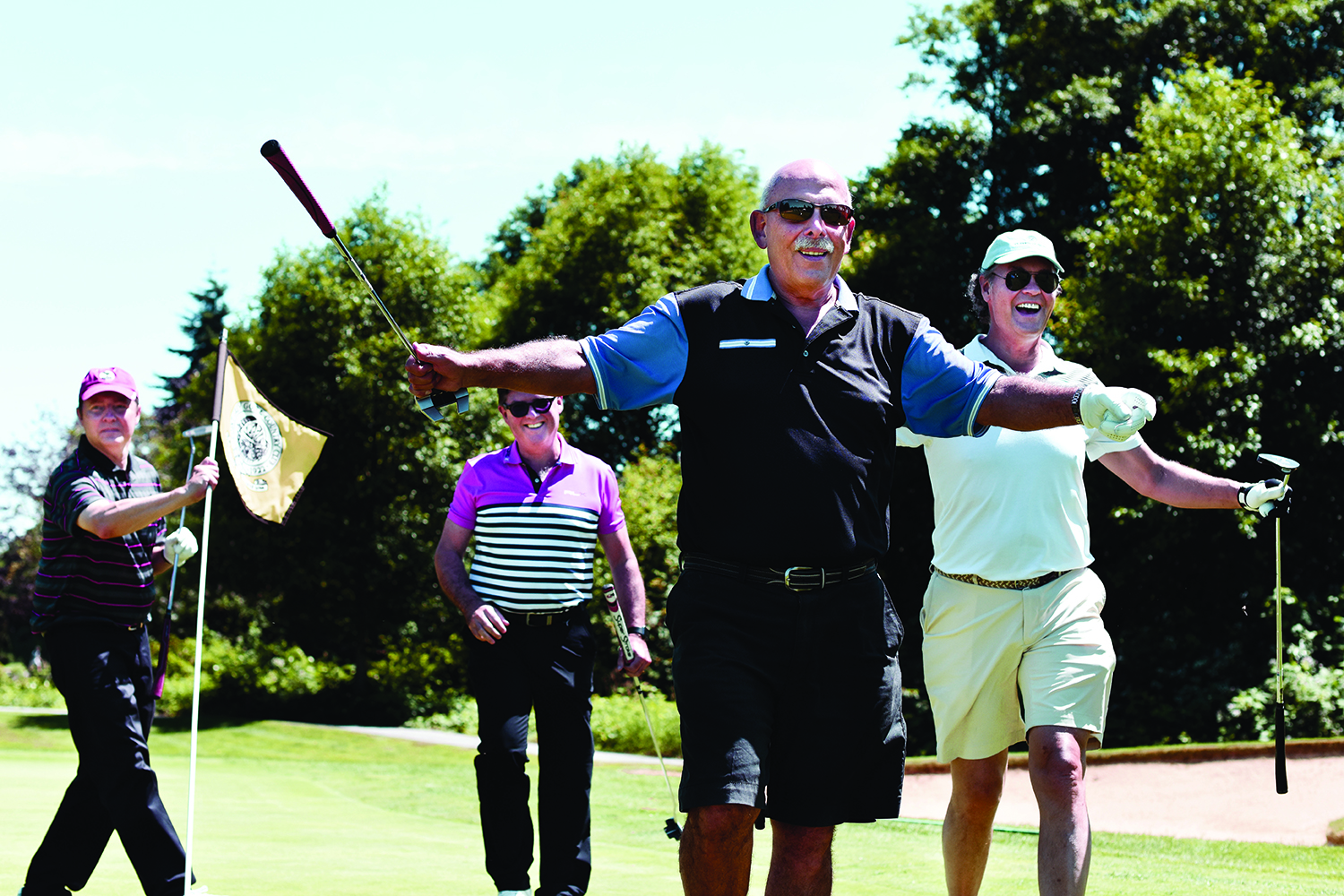 Golfers play at Point Grey Golf & Country Club in the Nicola Wealth Management Invitational to benefit Arts Umbrella. Photo: Renata Sinclair
The 20-year-old Arts Umbrella Invitational has a new name this year. Thanks to a five-year partnership with Nicola Wealth Management as our title sponsor, the annual golf event has been renamed the Nicola Wealth Management Invitational to benefit Arts Umbrella. With that, we're off to a splendid start. Not only did a participant score the coveted hole-in-one, but the event raised a record-breaking $240,000 net proceeds, with over $90,000 going toward the Arts Umbrella Bursary Fund. Before the thrilling auction led by Fred Lee began, our Musical Theatre Troupe performed an awe-inspiring rendition of "Don't Stop Believing" from Glee.
---
Thank You to Our Fundraising Committees
Volunteers for Splash 2016, Golf Tournament 2017, and the AUDC Parent Executive Committee
Nicola Anderson
Angela Austman
Eve Aymong
Kyle Besuschko
Randall Chatwin
Diana Cheung
Blaire Chisholm
Lanie Collins
Terrene Conway
Martine Cunliffe
Suzanne Daley
Celia Dawson
Sara Dubois-Phillips
Elizabeth Dylke
Victoria Emslie
Ariel Grue Lee
Kari Henshaw
Bryan Hicks
Beatrice Hsu
Fiona Keller
Conor Kinsella
Tyronne L'Hirondelle
Maggie Lo
Natasha Lymburner
Jeff Merrick
Kirsten Mihailides
Debbie Musil
Riko Nakasone
Thomas O'Shaughnessy
Angela Preece
Craig Rollins
Ilona Scharer
Beverley Steinhoff
Cindy Sutherland
Paula Temrick
Vanessa Wellington-Clark
Katherine Wreford
Trudy Van Dop
Michelle Yung
Learn more about volunteer opportunities at Arts Umbrella here.
---
Financial Statements
---
Our Supporters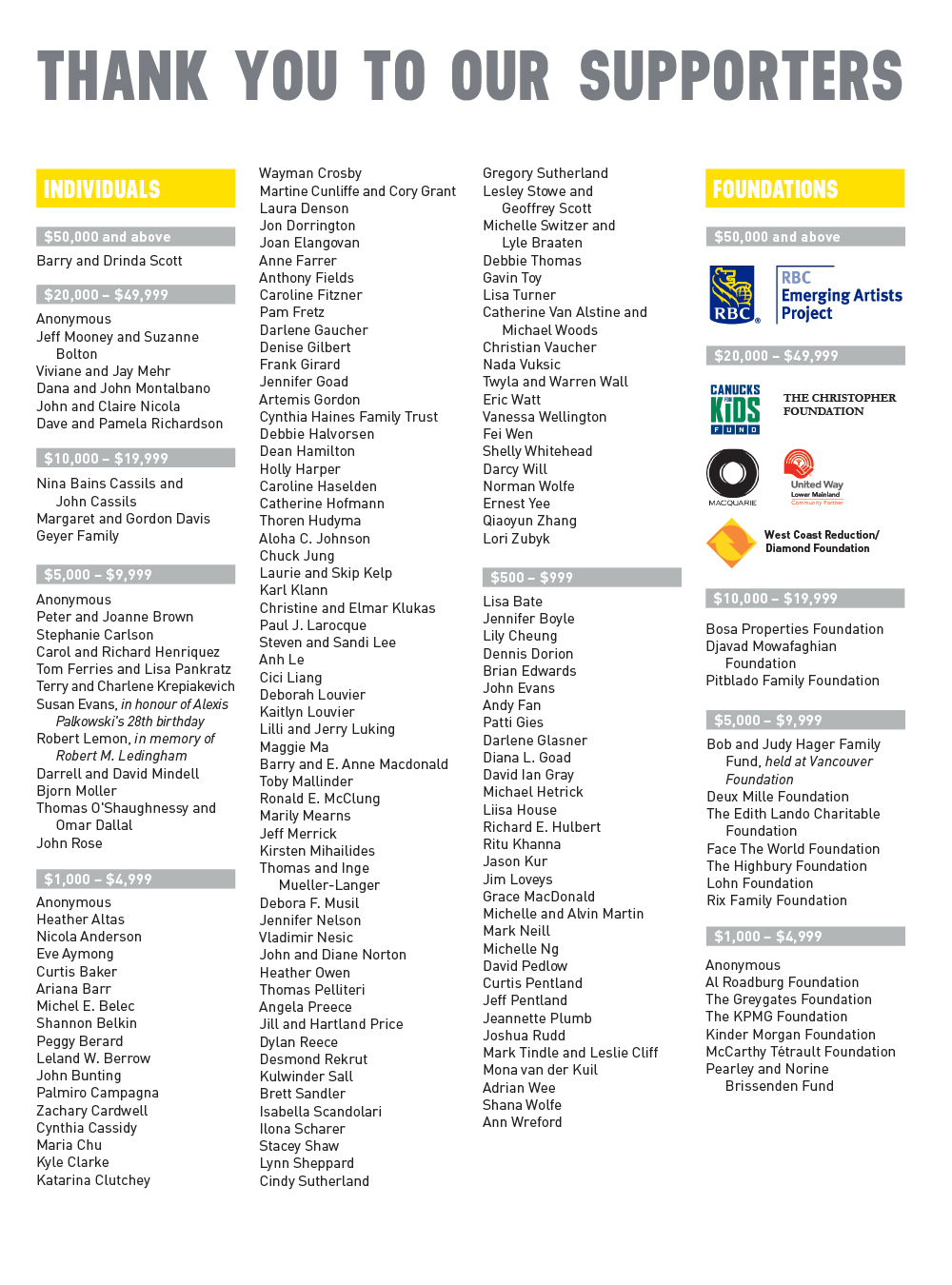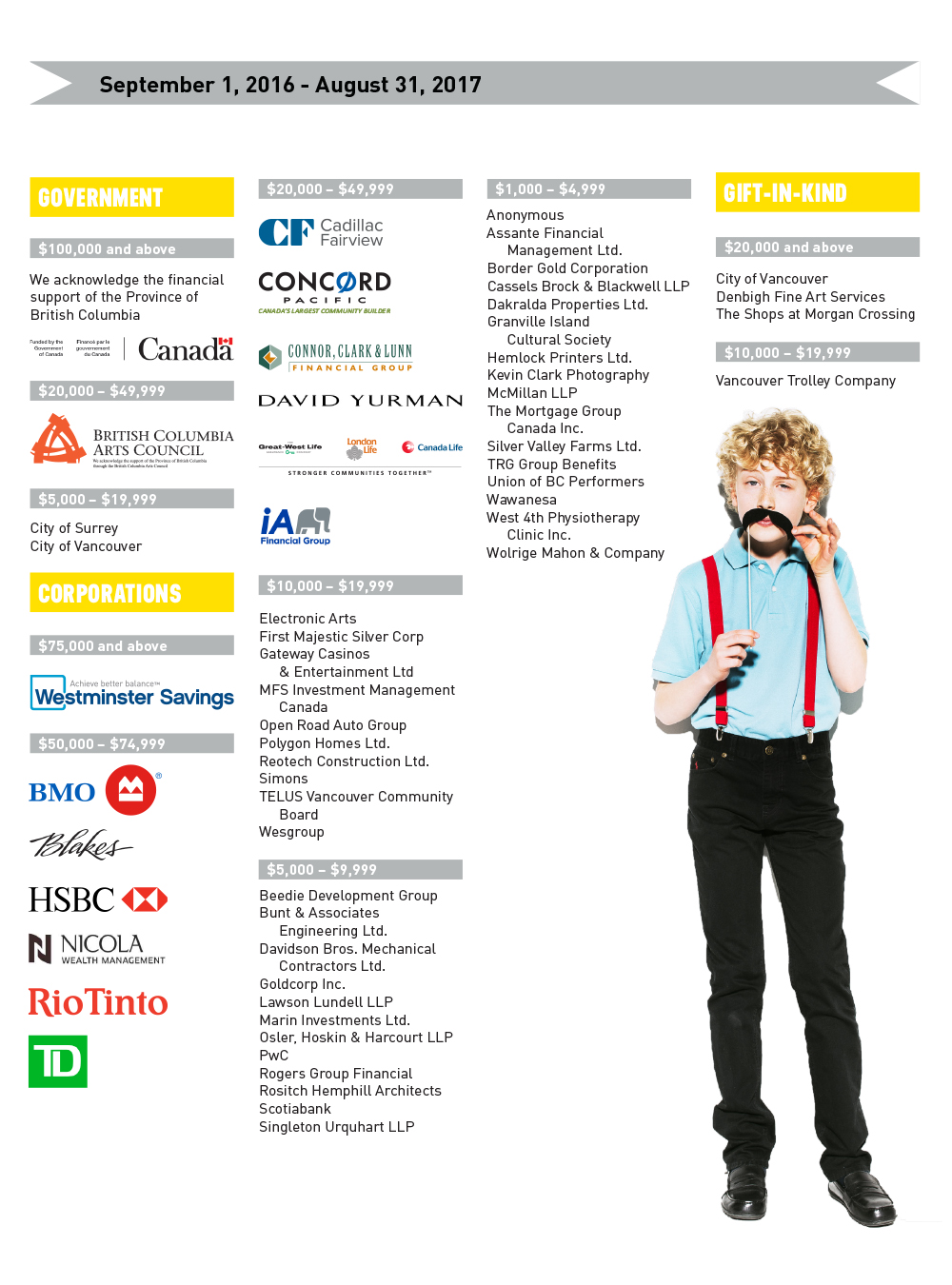 Current at time of publication
---
Meet our board
View our current Board of Directors and Association Board