Proud to support Arts Umbrella and BC kids.
—Sir Anthony Hopkins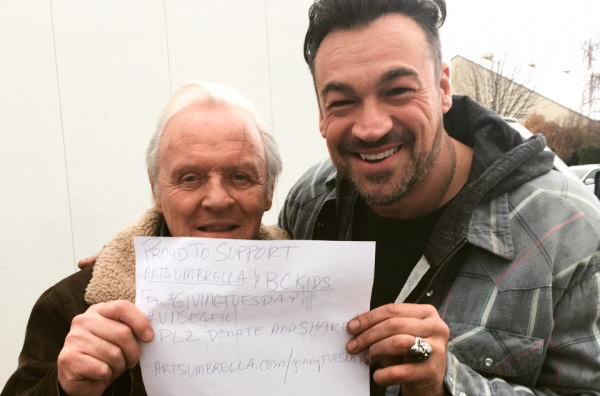 Vancouver, BC – Local and international celebrities, including Sir Anthony Hopkins and Ms. Julia Stiles, are supporting Arts Umbrella for #GivingTuesday. Sir Hopkins and Ms. Stiles, along with Vancouver natives and actors, Alexander Ludwig (The Hunger Games, Lone Survivor), Tahmoh Penikett (BSG, Man of Steel, Strange Empire)  and Aleks Paunovic (Go With Me, Arctic Air, This Means War), posted their #UNselfie on social media in an effort to raise funds for Arts Umbrella's free-of-charge outreach programs.
"Last year, 14,219 children from across Metro Vancouver took part in Arts Umbrella programming at no cost to their families," said actor Aleks Paunovic. "The arts have made an incredible impact on my life and being able to give back is a great feeling. It's a great cause worthy of our support."
"I'm very proud to be supporting Arts Umbrella and accessible arts education for BC's kids," said actor Tahmoh Penikett. "When friends at Arts Umbrella reached out and asked for my support for #GivingTuesday, I didn't hesitate."
Arts Umbrella aims to raise $7,000 to help support its free-of-charge outreach programs, where arts programming is offered to at-risk youth in their community. For its #givingtuesday campaign, Arts Umbrella is asking people to donate and create their own #UNSelfie social media post to share their support using the hashtag #iartchange. The campaign kicks-off December 2, 2014 and runs for the entire month of December. More details are available at www.artsumbrella.com/givingtuesday
With an estimated 30% of British Columbia's children considered vulnerable, quality programs and care are needed for all young children in Metro Vancouver. Extensive research continues to show that arts education plays a critical role in a child's development, particularly in the early years.
About GivingTuesday
Launched in Canada for the first time in 2013, GivingTuesday is a new Canadian movement for giving and volunteering. The aim is to transform how people think about, talk about and participate in the giving season. GivingTuesday will harness the power of social media to create a national moment around the holidays dedicated to giving. To learn more about GivingTuesday, please visit: www.givingtuesday.ca.
About Arts Umbrella
With a mission of "inspiring kids for life through the arts", Arts Umbrella is a not-for-profit centre for high‐quality arts education, offering a wide breadth of tuition based and free-of-charge visual, applied, and performing arts programming for young people ages 2-19. While thousands of children participate in its tuition‐based programs on Granville Island and Morgan Crossing each year, Arts Umbrella reaches thousands more in their own neighbourhoods through outreach programs around Metro Vancouver and in Surrey, at a Central Surrey Arts Umbrella studio, bringing the arts to kids who otherwise would not be able to participate. For more information about Arts Umbrella, please visit www.artsumbrella.com.
Arts Umbrella contacts are available for interviews. To arrange for interviews and for more information about Arts Umbrella's GivingTuesday campaign, please contact:
Ann Byczko, Development Officer, Arts Umbrella
604-681-5268 ext. 271 or abyczko@artsumbrella.com
Derek Delost, Marketing & Digital Media Coordinator, Arts Umbrella
604-681-5268 ext. 103 or ddelost@artsumbrella.com