Audition Process
Auditions for 2023/24 cohort will be held on January 28th, April 15th, and June 18th, 2023.
If you would like to be considered for the Professional Training Program in Musical Theatre Performance you must fill out an audition application as listed above. Upon submission, you will be assigned a 15-mintue audition slot.
At your audition, you will present a song from the Musical Theatre canon. Make sure you have sheet music to bring with you to your audition. Sheet music can be found in hard copy at libraries, or online at resources including composers' personal websites, musicnotes.com, and sheetmusicdirect.com
AND
You will present this dance combo posted posted on Vimeo (password: MTAudition). For rehearsal purposes, "Seize the Day" from "Newsies" can be found on Youtube and Spotify (the combo starts at around 4:40). Music will provided at the audition.
Our Training
20 to 25 hours per week of professional teaching artist and guest artist instruction
Advanced instruction in singing and musicianship, acting tools and techniques, and Broadway-style jazz dance
A private voice lesson every week
Performance opportunities, including at least one full-length musical each year
The tools to help you prepare mentally and physically for the demands of a career in the performing arts
Tuition costs for 2022/23 were $7,800 including all instructional hours, rehearsals, technical rehearsals, performance fees, and production costs.
Finances should never prevent a young person from participating in the arts. As a non-profit organization, Arts Umbrella is committed to making our programs accessible to as many students as possible. The Arts Umbrella Bursary Fund allows hundreds of students to register in tuition-based programs at a reduced rate, based on your family's financial need. Applications for bursary funding are open to everyone. To view eligibility and submission details, click here.
Academics
With more options than ever to support online and distributed learning, it has never been easier to combine high-level performing arts training and academics.
Many students will choose to attend Magee Secondary School's SPARTS program. Other options include King George Secondary, home schooling, and distributed learning. The Province of British Columbia has launched a new Learning Management System to help more students learn independently from wherever they are.
Sample Schedule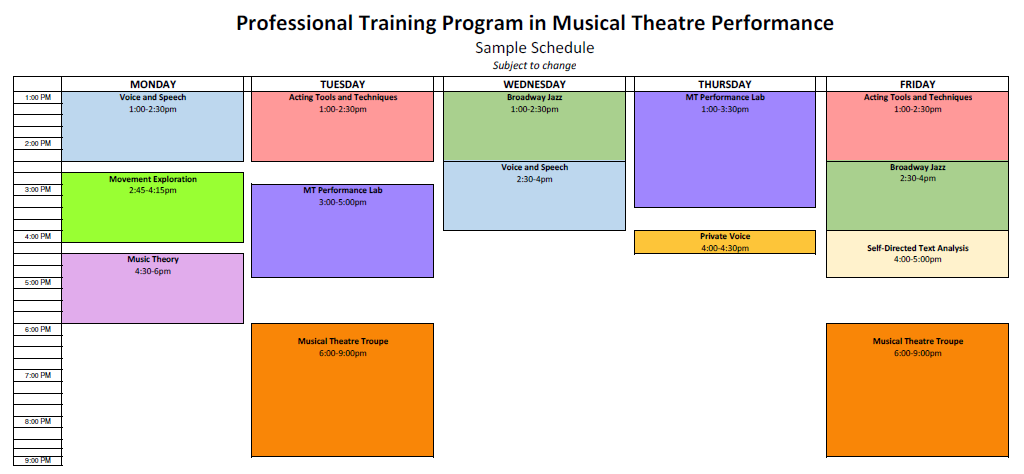 The really wonderful thing about Arts Umbrella is how practical it is. When I came to Post-Secondary training, I felt like I knew some of the expectations and was therefore able to exceed them, because I'd had this practice.
—Bonnie Duff – Musical Theatre Program, 2010-2015