Important Dates
January 7, 2022
Registration deadline for January auditions
January 22, 2022
Auditions in Vancouver, open for Video auditions
March 29, 2022
Registration deadline for April auditions
April 10, 2022
Auditions in Vancouver
April 30, 2022
Video audition deadline
Our Training
20 to 25 hours per week of professional teaching artist and guest artist instruction
Advanced instruction in singing and musicianship, acting tools and techniques, and Broadway-style jazz dance
A private voice lesson every week
Performance opportunities, including at least one full-length musical each year
The tools to help you prepare mentally and physically for the demands of a career in the performing arts
Tuition cost of $7,800 includes all instructional hours, rehearsals, technical rehearsals, performance fees, and production costs.
Academics
With more options than ever to support online and distributed learning, it has never been easier to combine high-level performing arts training and academics.
Many students will choose to attend Magee Secondary School's SPARTS program. Other options include King George Secondary, home schooling, and distributed learning. For the 2022-2023 school year, the Province of British Columbia will launch a new Learning Management System to help more kids learn independently from wherever they are.
Sample Schedule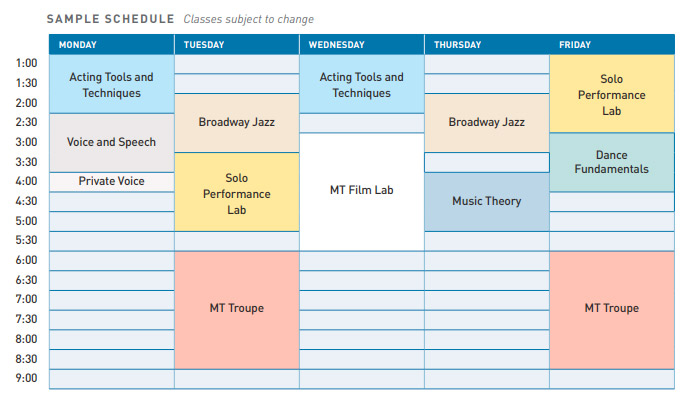 The really wonderful thing about Arts Umbrella is how practical it is. When I came to Post-Secondary training, I felt like I knew some of the expectations and was therefore able to exceed them, because I'd had this practice.
—Bonnie Duff – Musical Theatre Program, 2010-2015