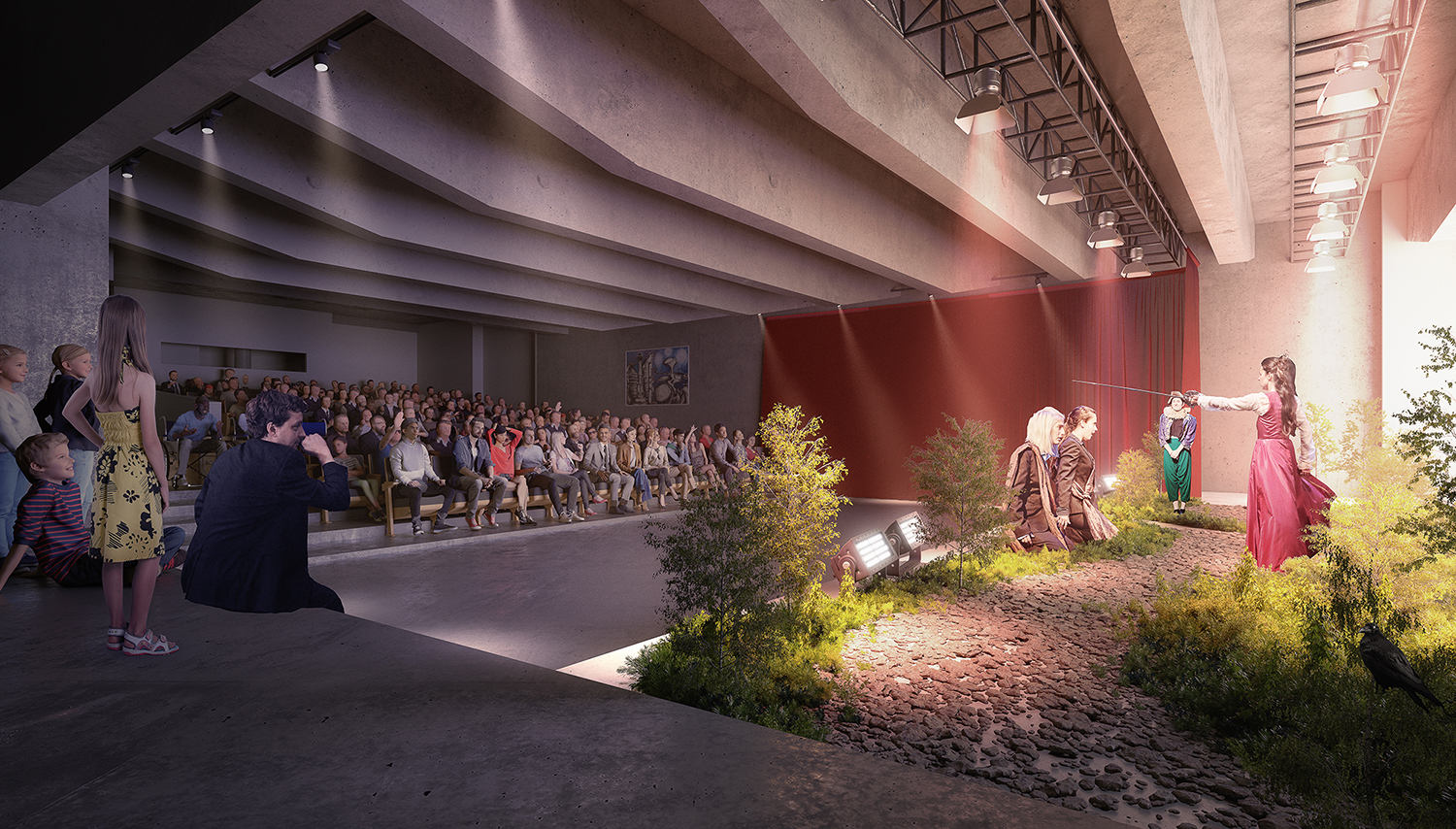 Vancouver, B.C. (March 4, 2021): Arts Umbrella announces the name of the 132-seat theatre in its new home on Granville Island. Philanthropist Darlene Poole has made a $2-million contribution to Arts Umbrella's capital campaign in honour of her late husband Jack. To celebrate their appreciation for and dedication to youth education, the Jack and Darlene Poole Theatre will provide young people with opportunities to share their creativity on stage and experience the power of live performance.
Born in Saskatchewan, Jack Poole was a builder and engineer by profession, with a long and successful career as one of North America's leading real estate developers. In 2001, Jack was asked to bring his passion for sports and professional expertise to chair the Organizing Committee for the 2010 Olympic and Paralympic Winter Games. His leadership was integral to bringing the Games to Vancouver, an event that has had a long-lasting impact on the region's international reputation.
Jack and Darlene Poole have long demonstrated their commitment to the community. Darlene was an early member of the Arts Umbrella Board, introduced to the organization by Arts Umbrella co-founder Carol Henriquez. "There are, and always have been, so many good people with Arts Umbrella," said Darlene. "The commitment to their mission of bringing arts education to as many children as possible is very special."
Over the years, the Jack and Darlene Poole Foundation has made philanthropic contributions to health, education, and animal welfare organizations, among others. When Darlene was approached by her dear friends Darrell and David Mindell to tour the construction site for Arts Umbrella's new 50,000 net-square-foot building, she immediately thought of Jack and how the Foundation could be a part of this project.
Richard Henriquez of Henriquez Partners Architects is leading the repurposing of the Patkau Architects-designed building on Granville Island. "Because Jack was a builder, I've been on quite a few construction sites," said Darlene. "It is so difficult to repurpose a space; it takes huge talent, and I was just amazed at what Richard was planning, and what he has since accomplished."
Originally designed as a lecture hall, the theatre had a small stage – a space Arts Umbrella needed to expand significantly to accommodate theatre and dance performances. This was just one of many design challenges that a team of leading consultants came together to solve. Now a 1,500 square-foot sprung floor stage has been installed, as well as sound, lighting, and stage drapery design completed in consultation with DWD Theatre Design and Consulting.
"This theatre is so much more than a performance venue," says Paul Moniz de Sá, Artistic Director of Theatre, Music & Film, at Arts Umbrella. "It represents an opportunity for our students to take ownership of the space, and, by doing so, allow for the vulnerability that is so important for an actor. There's no better feeling than the sense of pride that develops when you feel a space is yours to discover, and it will hugely benefit young people in their creative process."
To Darlene, naming the theatre felt like a wonderful opportunity to give something meaningful to children and youth in the arts education realm. "It will be thrilling for those young people who have aspirations in the field to have a venue like this. The new site is going to be the gold standard."
The organization currently serves more than 24,000 young people across Metro Vancouver every year, and, within the next 3-5 years, the new core facility will welcome approximately 15,000 children and youth annually, through a wide range of programs, including community initiatives, distance learning for children in Canada's remote North, bursaries, and scholarships. Additionally, the Jack and Darlene Poole Theatre will welcome students from across Metro Vancouver to attend performances, many funded by generous community support, ensuring that all young people may experience the joy of live performance.
"Arts Umbrella has been serving young people through arts education for 42 years," said Arts Umbrella President & CEO Paul Larocque. "We are thrilled to now be able to provide a dedicated performance space to children and youth. It will be an incredibly empowering experience for student performers and audience members alike, and we are beyond grateful to Darlene Poole for this inspiring gift."
About Arts Umbrella's New Granville Island Building and Campaign
Over $33 million in funding secured toward $37-million capital and endowment goal
The 50,000 net-square-foot building more than triples Arts Umbrella's current space
Within 3-5 years, the new facility is projected to welcome 15,000 young people annually, including increased access for vulnerable children and youth.
Arts Umbrella reaches more than 24,000 young people every year, with more than 80% served through bursaries, scholarships, and donor-funded programs.
The state-of-the-art building will house six spacious dance studios; four theatre, music and film studios with specialized technical and audio equipment; 10 art and design studios, including a media hub, ceramics studio, and photography darkroom; a 132-seat theatre; a public exhibition space; and a dedicated workshop area for woodworking, stagecraft building, and general fabrication that will enhance capacity to train future industry professionals.
---
About Arts Umbrella
Arts Umbrella is where young artists ages 2-22 cultivate their creativity in Art & Design, Dance, and Theatre, Music & Film. As a non-profit centre for arts education, we believe that art is powerful. Powerful enough to change childrens' lives in incredible ways. When young people connect with the arts, they gain self-confidence, develop self-discipline, and discover creative expression—qualities they carry with them for life. Arts Umbrella has four locations in Vancouver and Surrey, as well as donor-funded programs at schools, community centres, neighbourhood houses, and healthcare facilities across Metro Vancouver. The organization reaches more than 24,000 young people every year, with more than 80% served through bursaries, scholarships, and donor-funded programs.
artsumbrella.com | thenewlimitless.com
Media Contacts:
Nine Point Agency | www.ninepointagency.com
Gemma Bishop | 604-375-6953 | gemma@ninepointagency.com
Anna Stuber | 604-562-0722 | anna@ninepointagency.com