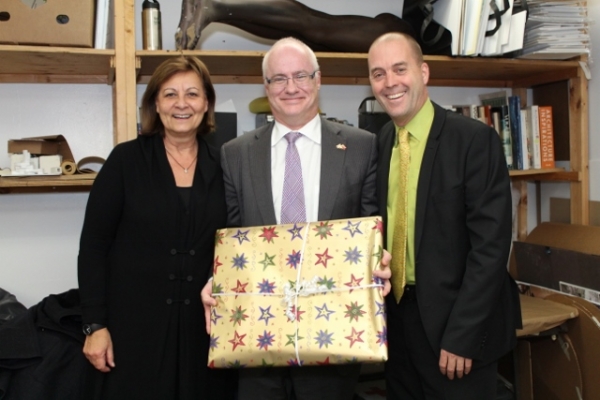 Thank You Barry Macdonald
It's with mixed emotions Arts Umbrella says goodbye to long-term board member Barry Macdonald, who is resigning from the Association Board after seven years. Barry joined the board in 2008 and got to work immediately, joining the Resource Development and Finance committees, before becoming Finance Committee Chair in 2010.
Barry brought an in-depth understanding of our business and the challenges Arts Umbrella faces in maintaining the commitment to our mission. He provided the leadership in refining our reporting processes for the board and his professional contacts /relationships gave us a wider stage from which to be recognized.
Emotions are mixed because while we are sad to see Barry step-down from the association board, we are thrilled he is moving into the Chair of the Foundation Board where his leadership will be directed to developing initiatives that will support the long term health of Arts Umbrella. He will continue to sit on the Finance Committee of the Association as a cross over to the Foundation Board.
Thank you Barry for your years of dedication and hard work. You may be gone, but not lucky for us, not going far.
Arts Umbrella Honours Its Lifetime Members
For nearly 35 years Arts Umbrella has been providing children from across Metro Vancouver with quality, accessible arts programming. And as we look forward to the years ahead, it's important to look back and recognize everyone who helped get us to where we are today.
On December 10, 2013 we had the privilege to honour the first of our Lifertime Members – those who were instrumental in establishing Arts Umbrella as a leader in children's art education and programs. Recognizing our Lifetime Members is our way of saying thanks for their ongoing belief in our work and our vision.
Without their tireless efforts and dedication in those early years Arts Umbrella would not enjoy the same level of trust, visibility and support we enjoy in the community today.