The Phoenician Women
Senior Theatre Troupe FAQs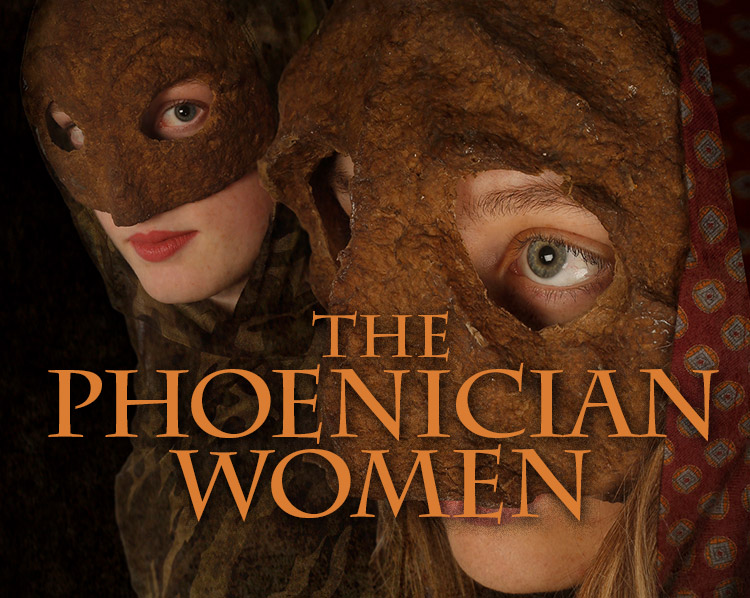 What is The Phoenician Women about?
Set in Thebes, the play is centered on the fateful history of the house of Laios following the tragic fall of Oedipus Rex. As the two sons of Oedipus battle over control of the city, the chorus of Phoenician Women find themselves trapped in Thebes by war on their way to Delphi.
What it is the history of Oedipus?
In Greek mythology, Oedipus is sent away to be killed as a baby but he is rescued by a shepherd and adopted instead.  When Oedipus grows up, he unwittingly, kills his birth father and marries his birth mother, Jocasta. Oedipus and Jocasta have four children, who are at once his siblings and his children: Eteocles, Polyneices, Antigone and Ismene. When Oedipus learns of Jocasta's true identity, he gouges out his eyes and curses Thebes. His two sons, Eteocles and Polyneices, take over the kingdom, but because it is feared that they are also cursed, they decide to take turns ruling the kingdom. Polyneices is sent away while Eteocles stays to rule Thebes. Eventually, Polyneices makes a claim on the Theban crown, causing him to be banished. As a result, Polyneices raises an army, returns to claim Thebes, and the two brothers fight in hand to hand combat, killing each other in the process. Jocasta's brother Creon takes rule of Thebes and banishes Oedipus in order to rid Thebes of the curse.
Where are Thebes and Phoenicia?
Thebes is a town in central Greece which has been continuously inhabited for five millennia. It is the setting for many Greek myths including Oedipus, Cadmus, Dionysus, and others.
Phoenicia was an ancient civilization composed of independent city-states located along the coast of the Mediterranean Sea stretching through what is now Syria, Lebanon and northern Israel.
What are some important themes in the play?
The play explores the repercussions of fate, interspersed with the ever-present power of will, the consequences of war, control, innocence and patriotism.
How did you select this show for performance?
It is important for theatre students to explore all styles of theatre from modern to the classics. Physical Theatre and Mask is a wonderful way to tell stories and what better way to look at the history of theatre than to explore a classic Greek Tragedy using Mask. It forces the students to go beyond just the text and understand the story from a physical place.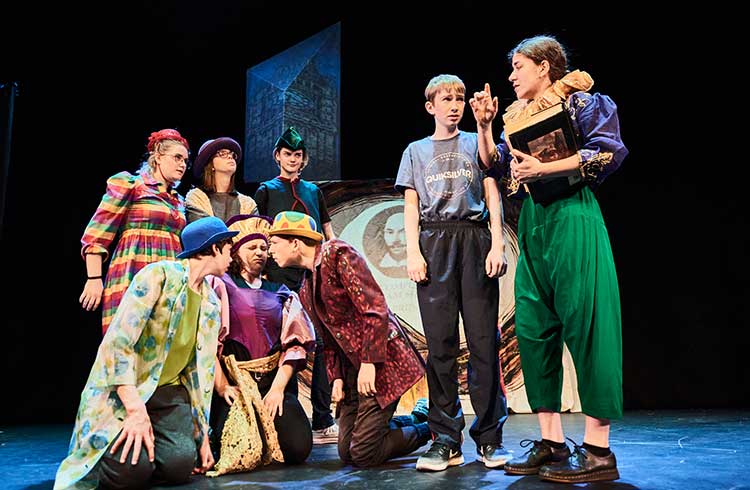 What is the Senior Theatre Troupe?
The Senior Theatre Troupe is for students between the ages of 15-19 years old. Students are selected by audition in June, and September, of each year. This yearlong program is structured to offer aspiring actors a space to sharpen their skills, increase their confidence, and expand their network. Vocal, movement, and theatrical exercises help develop teamwork and cooperation, discipline and technique, creative expression, and individual artistry.  Students rehearse on Wednesdays (6-9 pm) and Sundays (2-5 pm) every week from September to June. The Senior Theatre Troupe explores professionally developed theatrical works, from the classic to contemporary, which tour to Secondary Schools, across the lower mainland, and perform at the Expressions Theatre Festival at the Waterfront Theatre in May of each year.
How do people join the Senior Theatre Troupe?
Arts Umbrella holds auditions for the Pre-Professional Theatre Program in June, and September, (round one auditions – Sunday, June 10th in 2018) Students are selected and placed in the Troupe that best fits the students' age, experience, skill, schedule and goals (we have 4 other Troupes – JR, SR Musical, JR Musical and Laboratory – which creates original work.) People auditioning need to prepare a monologue and be ready to engage in group exercises.
For more information about this program, and our Theatre Intensive Program, for 9-16 yr. olds, please visit www.artsumbrella.com/pptp or www.artsumbrella.com/theatre-intensive