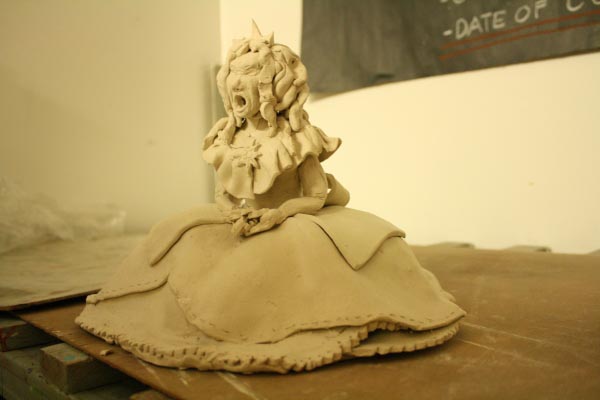 I stopped by Suzy Birstein's Teen Clay Sculpture class last week to see what studio 106 looks like on a Saturday afternoon. It was no 'Introduction to Playdough', that's for sure! This winter session the students are creating sculptures inspired by the 17th century painting Las Meninas by Diego Valázquez.
For the teen class, this is the only theme they'll be working on for the nine-week session. The students usually do just one or two pieces during this time because their work is so detail-oriented. They will also have to let the piece dry, be fired in the kiln, and also painted or glazed – all of which takes a long time.
I spoke to a few students about their art and about some of the challenges that are part of sculpting with clay.
Sally Tan has been a student of Suzy's for nine years, but also enjoys drawing, painting, and sketching. She points out that sculpting a piece out of clay can be more difficult than painting on a canvas because you have to think in 3D as opposed to 2D.
"Getting the structure to stand without breaking isn't easy. Pushing how far the clay can go with breaking or collapsing in on itself. This one is getting pretty big so hopefully nothing happens," she says. "I had a tea pot once that totally blew up in the kiln. Usually whenever I make something, I make them with really delicate parts, so it's easy for fingers or hands to break off."
But Sally doesn't think that should scare anyone away from clay sculpture. "Have fun!" she says. "Build what you like, and don't fuss too much over the small stuff."
Hannah Goddard Rebstein has also been taking Suzy's sculpture classes for many years, but unlike Sally, clay sculpture is Hannah's primary focus at Arts Umbrella. "I've never really been that good at drawing, so clay sculpture is my substitute," she says.
With almost any project Hannah works on in class, she creates characters that are animals or people, and always have a lot of personality. This session, Hannah created a series of faces and then made them a part of her figure's gown. Hannah enjoys reading, so I asked her if she has a story behind the characters she brings to life. "Not really a story. I have a personality in mind. A person I want to create," she says. "With drawing I have a harder time getting across what I'm trying to, but with clay it's much easier."
Her advice for potential clay sculpture students: "It's a fun thing to try. Once you start, you really get into it."
The third student I talked to was Emily Motherwell Richardson, who's been taking Suzy's classes since she was six! (Emily is now sixteen.) Over the years she's done a number of courses at AU – everything from digital animation to cartooning – but because of other extracurricular activities at school and through her church, she only has time for one art class right now. Sticking with clay sculpture was a no-brainer.
Emily explained different sculpting techniques and the importance of poking air holes in the clay before firing it in the kiln. (This helps to keeps artwork from overheating and exploding, like the tea pot Sally mentioned.)
I asked if she's noticed a different between the art she's making now and the art she was making ten years ago when she first started sculpting. "Yeah, the difference is now I can actually look at my pieces!" she jokes. "I've learned the beauty of water! (To make my sculptures smooth.) I've also learned what shapes will support each other. And I've learned it's possible, though difficult, to build anatomically correct figures out of clay. It's possible but very difficult. It takes practice."
Not everyone has the chance to join AU's clay sculpture class for 6-year-olds like Emily did, but according to her that doesn't matter. "You can start at any age you want," she says. "It's a really great element to work in because there's such satisfaction in making something that's not just 2D on a piece of paper, but you can actually pick it up and hold it and move it around. There's such gratification in clay work, even when you're just starting out.  It's still very rewarding to create things out of clay."
Arts Umbrella offers clay sculpture classes for groups aged 6-8, 9-12, and 13-19.