YOUR VIEWING EXPERIENCE
Tonight's Art Auction & Gala will be approximately 2 hours. In order to fully participate, you will need two screens. One to watch the broadcast from, and one screen or mobile device, to bid from.
SCREEN 1. BROADCAST
This is the screen that you will watch the Splash Live Broadcast and Auction from.
WATCH. Open the personalized link that was emailed to you. To enjoy the full experience, we recommend watching on as large of a screen as possible. Share your computer screen onto a television or projector.
BROWSER. Use Chrome or Firefox browser for optimal streaming.
INTERNET CONNECTION. Check to ensure you have a strong, reliable internet connection in advance. If your Wi-Fi is not reliable, connect using an Ethernet cable.
VIEWING DETAILS. Press play and control volume for your broadcast from the link on your computer.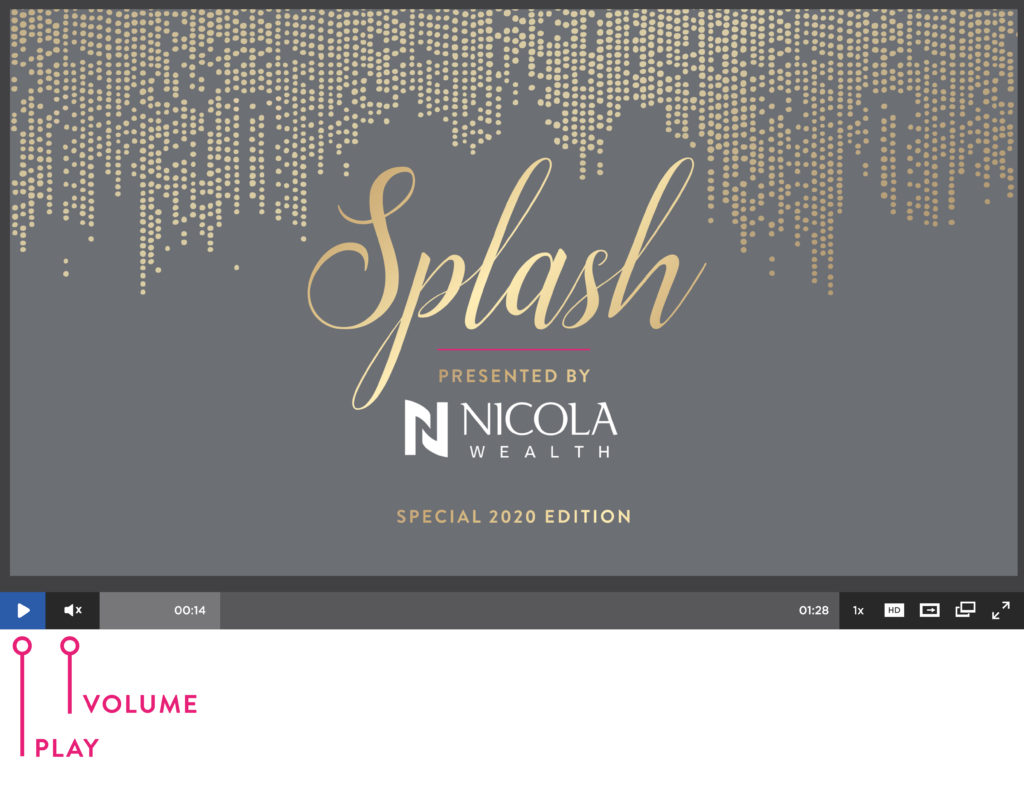 SCREEN 2. AUCTION
This is the screen that you will use to bid on the Live Auction, make a Bursary Fund donation and purchase a Tiffany & Co. Draw ticket.
REGISTER. Be sure to register in advance of the event.
SIGN IN. At the beginning of the event, ensure you are signed in before placing any bids.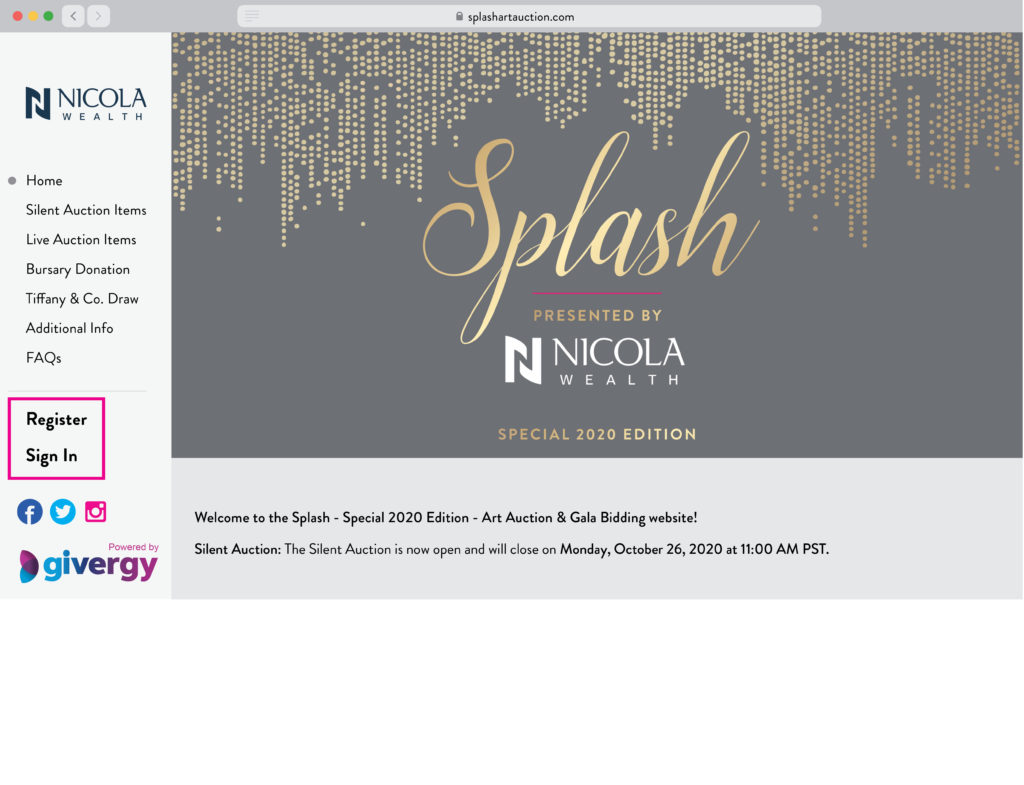 PLACE LIVE AUCTION BIDS:
Step 1. Enter amount as prompted by Auctioneer.

Step 2. Click Place Bid.
Note: If you are not already signed in, you will be prompted to sign in at this time. To avoid delays, ensure you are signed in before bidding.

Step 3. Click Place Bid again.
We recommend that At Home bidders do  not place Anonymous bids.
Step 4. Your bid has been submitted.
Step 5. Confirm that your bid has been accepted  by listening to the Auctioneer.
Step 6. To bid again, refresh your web page.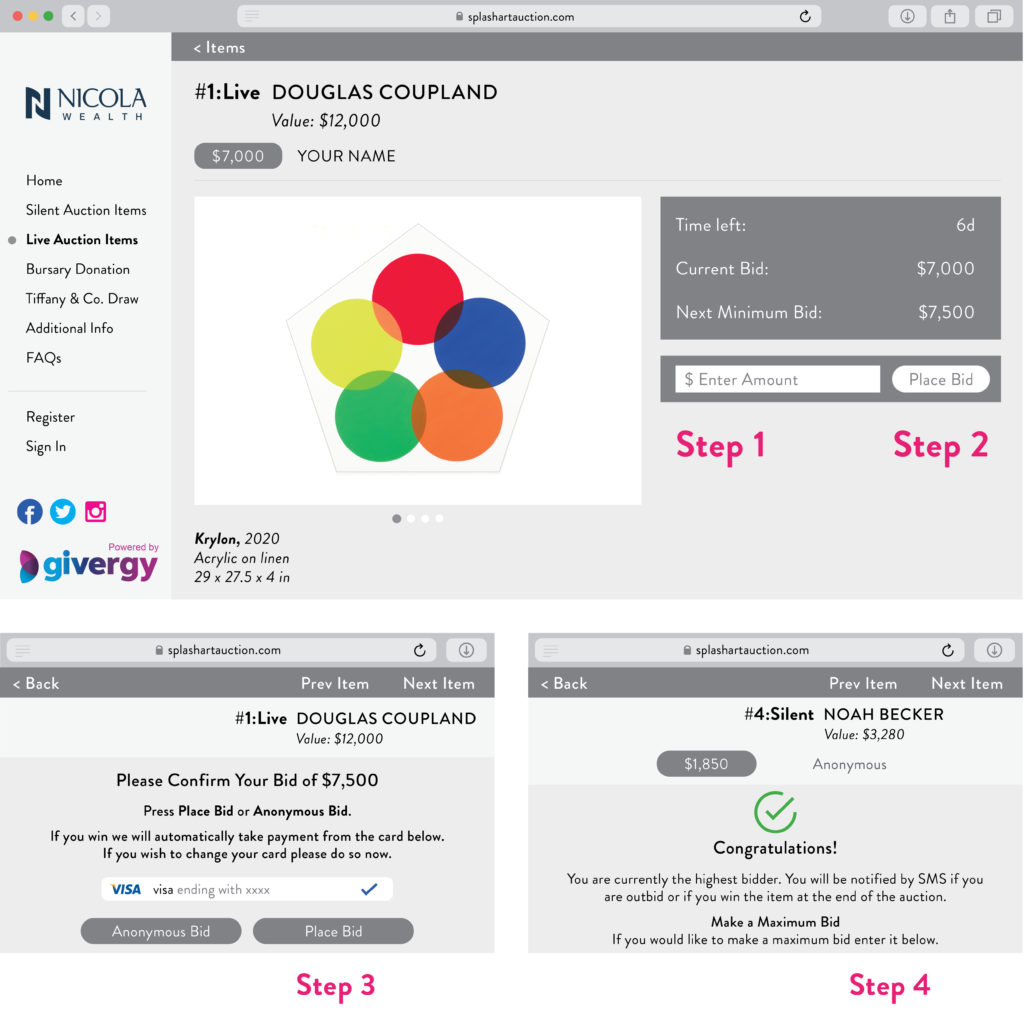 ---
Dedicated Bidding Support
This bidding platform is entirely new, and we endeavour to make this technology work in the best possible way. We thank you for your patience and understanding.
If you plan to be bidding from home on a specific piece and would prefer to have telephone assistance, Arts Umbrella would be pleased to arrange for a dedicated phone bidder. This will ensure that any unforeseen technical difficulties do not impact your ability to bid on a piece.
To request a dedicated phone bidder, text 778-233-7544 before Saturday, October 24th at 4:00 PM.
---
LIVE AUCTION DETAILS & RULES
Live Auction items will close in the order in which they appear online by the Auctioneer.
Minimum Bids.
The next minimum bid noted on the bidding site is a reference only. Bids made must reflect what the Auctioneer has stated verbally. Bids submitted that are less than what the Auctioneer is asking for are subject to approval by the Auctioneer.
Bid Early.
The broadcast that you will be watching will have an approximate 10 second delay. Therefore, when bidding, we recommend not waiting until the final call to place your next bid.
Increase Your Bid.
If you press Place Bid and receive a "Sorry" message, a bid has already been submitted for that amount. At any point, you can choose to bid at a higher amount than what the Auctioneer is asking for. Bids higher than what the Auctioneer is asking for must be in $500 increments. Bids that are less than $500 increments are subject to approval by the Auctioneer.
Accepted Bids.
The Auctioneer will be receiving bids from both In Person and At Home bidders. When the Auctioneer verbally accepts a bid, that bid stands. For At Home bidders, you may see a notification saying that you are the highest bidder; however, the only way to know if you are officially the highest bidder, is when the Auctioneer verbally confirms it. We encourage you to closely follow the Auction, bid early, and bid often. You will be required to refresh your screen in order to place your next bid.