Oklahoma!
Musical Theatre Troupe FAQs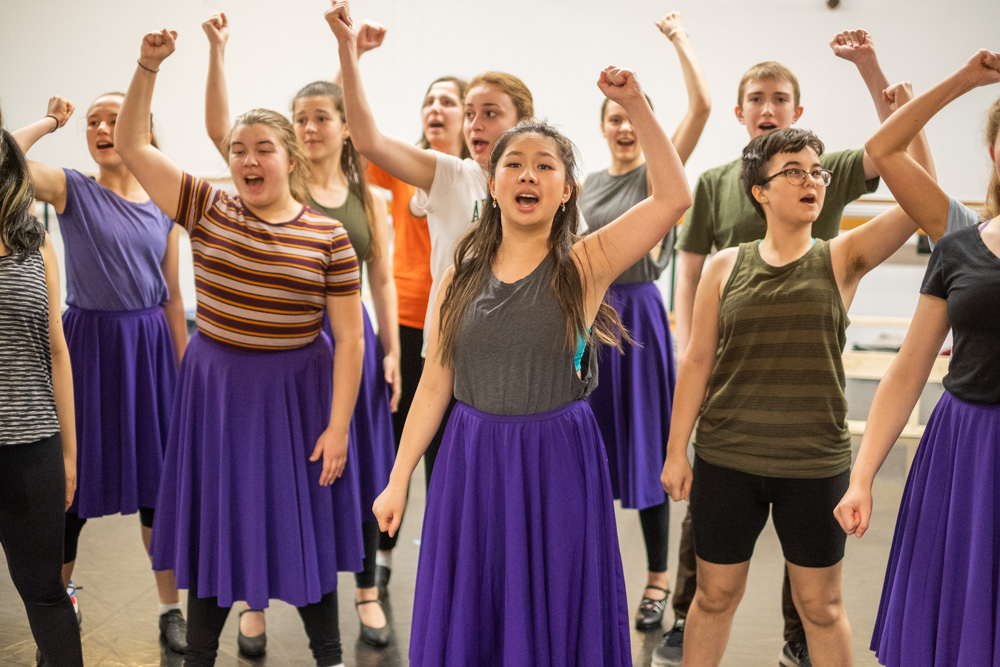 What is Oklahoma! about?
Set in a Western American Indian territory, just after the turn of the century, the high-spirited rivalry between the local farmers and cowboys provides the colorful background against which Curly, a handsome cowboy, and Laurey, a winsome farm girl, play out their love story. Although the road to true love never runs smooth, with these two headstrong romantics holding the reins, love's journey is as bumpy as a surrey ride down a country road.
What are some important themes in the play?
Oklahoma is filled with both the optimism and hope that come with the promise of Oklahoma territory becoming the newest of the United State along with the fear of the other that often arises when groups of people are forced to interact with each other.
What makes Oklahoma! a seminal piece of the Musical Theatre canon?
Oklahoma! is the first musical written by the team of composer Richard Rodgers and librettist Oscar Hammerstein II. It epitomized the development of the "book musical", a musical play where the songs and dances are fully integrated into a well-made story with serious dramatic goals that are able to evoke genuine emotions other than laughter. In addition, Oklahoma! features musical themes, or motifs, that recur throughout the work to connect the music and story. It is the first musical the use choreography as a way of moving the plot forward. Most notably with the fifteen-minute Dream Ballet at the end of Act 1 where Laurey discovers her true feelings and fears surrounding her two suitors.
How did you select this show for performance?
Rodgers and Hammerstein's Oklahoma! is celebrating its 75th anniversary this year. It was their first collaboration and, in many ways, their most innovative, having set the standards and established the rules of musical theatre still being followed today. After such strong productions of contemporary classics like The Drowsy Chaperone and Urinetown, I thought it was time to take the students through the production of a classic piece of musical theatre.
How old is everyone in the show?
This year, the age range is 14-19 years old.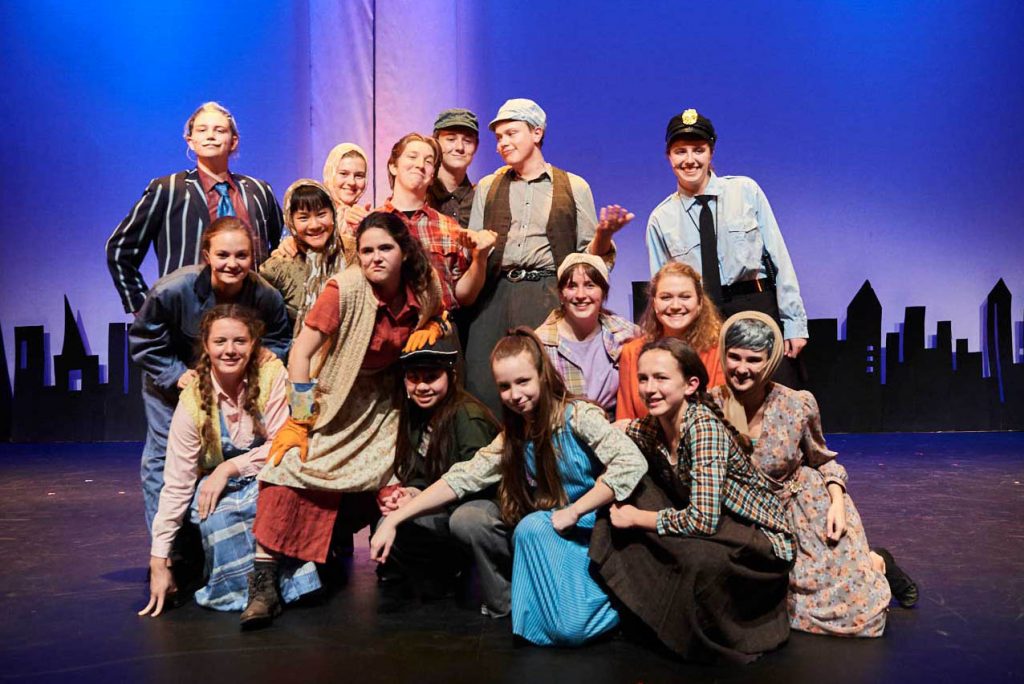 What is Arts Umbrella's Pre-Professional Theatre Program?
Commit, collaborate, and excel. The Arts Umbrella Pre-Professional Theatre Program offers intensive training in our Troupes and Young Directors Program.
These yearlong programs are structured to offer aspiring actors, and directors, a space to sharpen their skills, increase their confidence, and expand their network. Vocal, movement, and theatrical exercises help develop teamwork and cooperation, discipline and technique, creative expression, and individual artistry.
Our instructors are industry professionals who help students explore their artistic potential. Many of our students have gone on to post-secondary theatre programs or professional acting careers around the world.
How is Senior Musical Theatre Troupe different from the other Troupes?
Musical Theatre Troupe members undergo intensive training to gain valuable ensemble and solo performance experience, and make the connection between performer and audience. Polishing their audition repertoire, develop their actor's voice, and learn advanced singing, dancing, and acting techniques. There are four other yearlong troupes – 3 of them (Junior, Senior, and Junior Musical) present professionally developed and written plays; the Laboratory Troupe writes and creates their own work. All productions have a run at a professional theatre venue as part of the Expressions Theatre Festival in May.
How often do you rehearse?
The students cover full instruction on acting, vocal, and dance technique. We have a three hour class Wednesday (6-9 pm) and a three hour class Friday (6-9 pm). We almost immediately start writing and skill building in September, the beginning of our year. In total, it takes seven months to create the show.
How do people join the Senior Musical Theatre Troupe?
Arts Umbrella holds auditions for all Troupes in June (Sunday June 10thin 2018) and students are selected and placed in the Troupe that best fits the students' age, experience, skill, schedule and goals. People auditioning need to prepare a monologue and be ready to engage in group exercises.